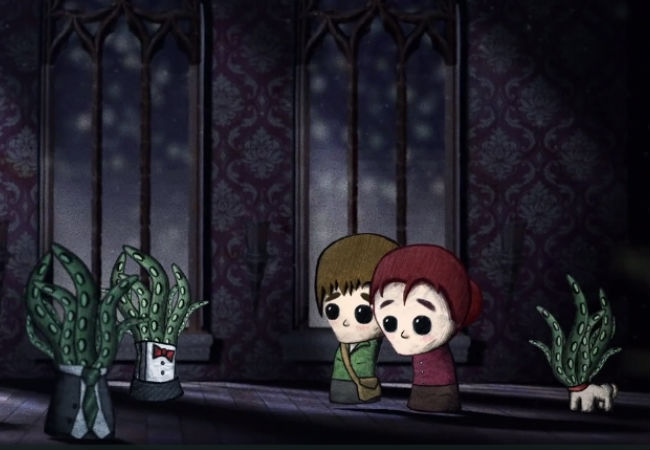 SNAPSHOT
Sinister secrets await as Mary helps her girlfriend Marsha escape from her parent's gothic mansion one dark and eldritch night in a film which features a blend of hand-drawn art and 3D assets and takes us on a Lovecraftian escapade through the Manor of Madness. (synopsis via Vimeo)
We are reminded a lot these days, and thank goodness for that given the bigoted evil that still sadly exists in our world, that love is love is love.
It may sound trite to some ears, but it is as far from a saccharine Hallmark sentiment as you could ask for, possessed a muscular truth that love is strong, powerful and authentically real, no matter your race, creed or sexuality.
Kris and Kurtis Theorin bring this essential truth to gorgeously animated life in their delightful short film, Mary & Marsha in the Manor of Madness, which uses a pleasingly surreal style to underscore how real and powerful love can be, and how despite the opposition you might encounter, that it can your salvation and your life.
It's whimsical film that is, notes the Theorins themselves, a mix of two completely different styles and genres:
"Our goal with this film was to combine the creeping horror of H.P. Lovecraft with the wacky action of classic Saturday morning cartoons. This bizarre juxtaposition of styles helps emphasize both the weirdness of the horror and the silliness of the humor. Also the idea of 'Scooby-Doo chases in H.P. Lovecraft' is just inherently funny, to us at least."
It's a gleeful delight but also wrestles magnificently and with great success with deep, substantial truth, a winning combination that makes viewing it one of the best things you'll do this week (or year).