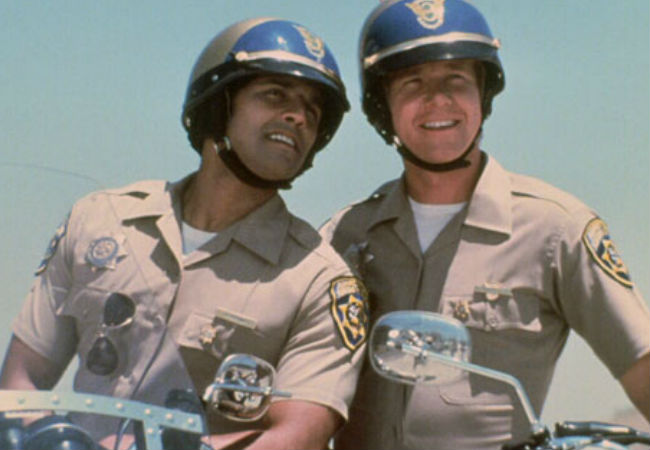 SNAPSHOT
The show was created by Rick Rosner, and starred Erik Estrada as macho, rambunctious Officer Francis ("Frank") "Ponch" Poncherello and Larry Wilcox as his strait-laced partner, Officer Jonathan "Jon" Baker. With Ponch the more trouble-prone of the pair, and Jon generally the more level-headed one trying to keep him out of trouble with the duo's gruff yet fatherly commanding officer Sergeant Joseph Getraer (Robert Pine), the two were Highway Patrolmen of the Central Los Angeles office of the California Highway Patrol (CHP, hence the name CHiPs). (source: wikipedia)
It's not exactly an age old dilemma since television hasn't really been around long enough to be accorded that status (and nor should I mention have I!) but it is a dilemma nonetheless.
What do you do when nostalgia comes a-creepin' up behind you unbidden – I am normally a forward-facing guy, always eager for the next exciting piece of pop culture goodness coming my way – and you're compelled, in a sudden, gloriously rose-tinted moment, to re-watch a television show from your youth, a show that at the time was the pinnacle of must-see television?
Do you give in? Do you resist?
If you give in, you run the risk the show will not have aged well, and that with the child-like glasses of innocent evaluation removed, it's not quite the stellar piece of storytelling you remember.
On the other hand, it could every bit as good as you remember and you will be instantly taken back to sitting cross-legged on the carpet – back in the days when you could sit cross-legged anywhere and not rupture some knee cartilage either getting down or up – sipping a milkshake, wrapped up once again in a world a thousand times removed from your own.
I am at heart an optimist and so when, one slightly drunk Friday night, my friends and I decided to re-watch CHiPs on YouTube, I decided it was going to be a wonderful trip down memory lane.
But was it? (Cue the drum roll of dramatic tension if you will.)
Yes and no.
"Ponch" (Erik Estrada) and Jon (Larry Wilcox) were as entertaining as ever on the surface, zipping off in the episode in question "Ride the Whirlwind", season 2) to apprehend drug makers high in the hills around Los Angeles who were in trouble more for the disturbances their noisy trail bike riding was causing rather their manufacture of meth amphetamines.
That was of course after the requisite shift-starting briefing by Sergeant Joe Getraer (Robert Pine) who talked in sombre, serious tones about the hooligans causing trouble in the hills and the good people who were being affected by it.
Every episode pretty much started this way before launching into a storyline that mixed moments of what can only be called melodrama with a light comedy subplot – thank you wikipedia for reminding me of this – and ended, naturally enough with the baddies being apprehended and taught a much needed lesson … after a major chase scene of course. ("Dog Gone" in season 1 is a perfect example of this).
So far, so Scooby Doo-ish right?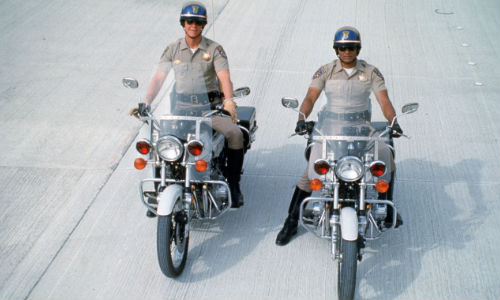 And yet, for all their wafer-thin narratives, and minimal character development – Ponch and Jon were essentially the same at the end of their final season together, season 5, as they were at the start of the show – and Murder She Wrote-esque everyone's-laughing endings, CHiPs somehow manages to be watchable and yes even enjoyable, 30 years later.
Don't get me wrong – it will never be considered one of the greats of a golden age of television, and lacks any kind of claims to enduringly great HBO-quality drama but I am fairly certain that was never what the show's creator, Rick Rosner, a a reserve deputy with the Los Angeles County Sheriff's Department at the time of the show's creation was gunning for.
(Incidentally, neither Ponch nor Jon ever fired a shot on the show, only drawing gun in the made for TV Chips '99 reunion movie.)
I was tempted to laugh, and did here and there at the over the top melodrama (and the special riding dirt bikes uniforms both men were assigned for "Ride the Whirlwind") but in the end decided to simply go with the flow and enjoy CHiPs for what it was intended to be – light, breezy comfort food TV well done.
I can't say I will be watching CHiPs every spare moment I get but if I am in an end of the week, kick back and watch undemanding TV (but not cross legged thank you; I can't afford the physio bills), then it will be one of the first shows I go for.
Oh and they still look every bit as good in their uniforms as I remember. Just sayin' …