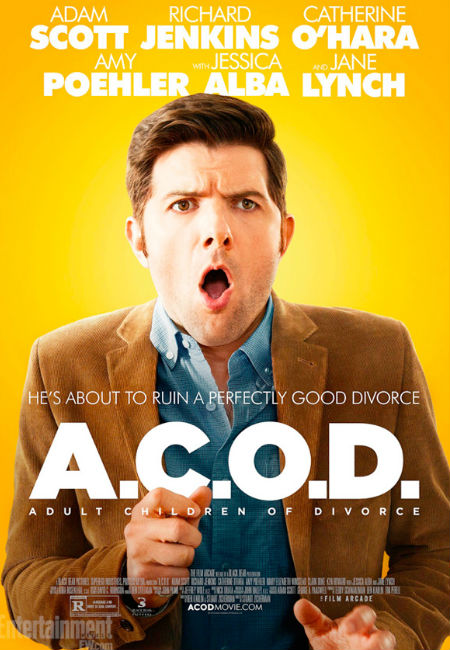 SNAPSHOT
The satirical comedy tentatively titled "A.C.O.D." (Adult Children of Divorce) is the story of a grown man still caught in the crossfire of his parents' 15-year-old divorce. The lead character discovers he was unknowingly part of a study on divorced children. He's enlisted in a follow-up years later that wreaks new havoc on his family. (source: comingsoon.net)
Right so you love Adam Scott and Amy Poehler together in NBC's Parks and Recreation?
Of course you do.
So naturally enough you'd be more than happy enough to see them in an hilarious new movie, A. C. O. D., which premiered at the Sundance Film Festival in January this year and is opening nationwide in the USA on 10 October?
Like we even need to ask!
A. C. O. D. focuses on Carter (Adam Scott), a man with a girlfriend he adores (Mary Elizabeth Winstead), and a job he loves, who prides himself on having escaped unscathed from the emotional chaos that followed his parents' (played by Richard Jenkins and Catherine O'Hara) divorce 15 years before. But all this existential self-satisfaction threatens to come undone when he has to bring his still warring parents together for the wedding of his younger brother (Clark Duke) and the chaos reignites in spectacular and, it goes without saying (but I'll say it anyway; you know I will) hilarious, fashion.
Here's what Ethan Anderston from firstshowing.net had to say about the movie, directed by Stuart Zicherman with a script he co-wrote with producer Ben Karlin (The Daily Show, Modern Family)  when he saw it at Sundance:
"The film is full of energy, hearty laughter, witty banter and transcends the romantic comedy subgenre. Stu Zicherman is a fresh new filmmaker who will hopefully bring more great comedy in the years to come, and A.C.O.D. is more than a fine directorial debut; it's a remarkable comedy full of heart and will leave you with a big goofy smile on your face."
A. C. O. D. opens in October this year – you can view the newly released trailer here.