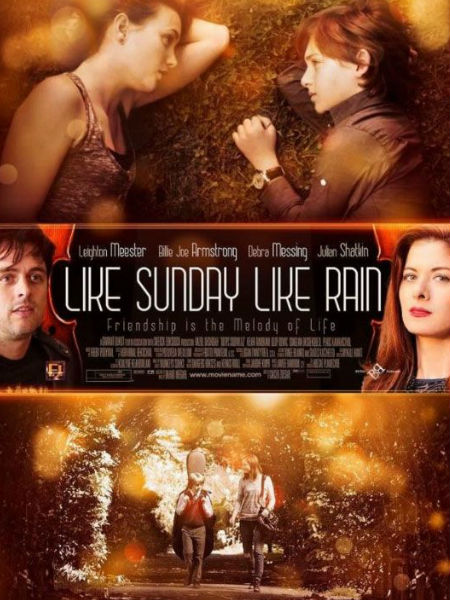 SNAPSHOT
Surrounded by wealth and living with abundant resources in Manhattan, 12-year-old cello prodigy and all around genius Reggie (Julian Shatkin), lives a solitary, bookish life lacking only frequently absent parents and friends. Estranged from family, having slacker boyfriend troubles, and fired from her waitressing job, sometimes musician 23-year-old Eleanor (Leighton Meester) needs a new place to live and a new job. Fate winds her lovely fingers around these two lives to unexpectedly place the inexperienced Eleanor as the new au pair for a skeptical Reggie and the music in their hearts and souls intertwines to create this beautiful story about discovery and acceptance. (synopsis via Ace Showbiz)
The idea of two lost souls coming together is appealing in so many ways.
Loneliness is banished for one as is a grinding sense of alienating insularity, and more often than that, if they're open to it, the two often heterogenous people find themselves learning from each other and meshing in ways neither of them might have initially expected.
And done well, it can be an authentically cathartic experience for the viewer too as we're reminded that it's not just those who you think you'll get on well with, or who share similar interests, who can become lifelong friends of infinitely precious value.
In fact, it's often those people you least expect will become important to you, or who you dismiss when you first meet them, who end up becoming companions on the road of life that you couldn't possibly be without.
That certainly seems to be the case with Reggie and Eleanor, two vastly different people in age, life experience and possibilities who find themselves brought together in ways that neither see coming.
Reviews such as this one at Cinehouse seem to bear out this theme:
"This is a consistently good film with a charming plot. It's intriguing to see the friendship of Eleanor and Reggie play out, the influence they have on each other and the journey both of them take throughout the timeframe of the movie."
As does this review from Sara Galvão  at Critics Associated:
"Eleanor (Gossip Girl's Leighton Meester) is having a particular bad day – after breaking up with cheating boyfriend Dennis (Green Day's Billie Joe Armstrong) she also loses her job as a waitress and ends up with nowhere to go. In the meantime, in the upper part of town, 12-year-old prodigy Reggie (Julian Shatkin) just lost his usual nanny that went back to Panama. In the hands of destiny, the two join paths for a little while, realising that, despite appearances, they share more in common than it seems at first sight."
No word yet on a wider release schedule – the film, written and directed by Frank Whaley, and also starring Debra Messing and Billy Joe Armstrong from Green Day, played at a number of film festivals in 2014 including Napa Valley and Denver International – but NME reports that "Like Sunday, Like Rain is expected to receive a limited release in the US within the next few months."
No word on other countries as yet.