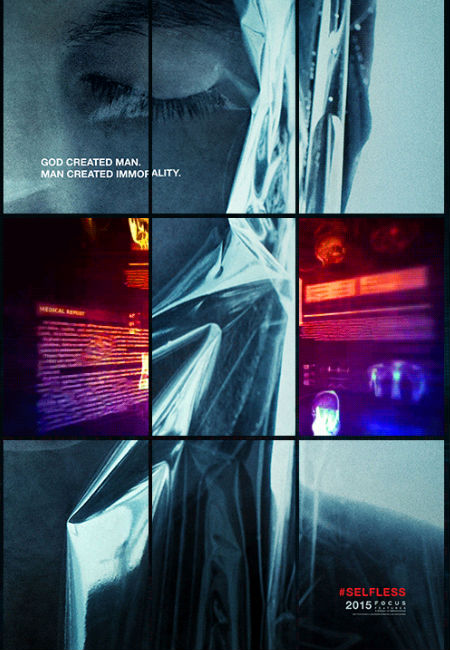 SNAPSHOT
An extremely wealthy man (Ben Kingsley), dying from cancer, undergoes a radical medical procedure that transfers his consciousness into the body of a healthy young man (Ryan Reynolds). But all is not as it seems when he starts to uncover the mystery of the body's origin and the organization that will kill to protect its cause. Self/less is directed by Indian filmmaker Tarsem Singh, of the films The Cell, The Fall, Immortals and Mirror Mirror previously. He's directing from a screenplay by David Pastor & Àlex Pastor (of Carriers, The Last Days, Out of the Dark previously). (official synopsis via First Showing)
Who doesn't want to live forever?
It has been the overriding imperative since humanity first walked upon the Earth, and despite such drawbacks as watching those you love die while you move on immortal (Forever, The Age of Adaline), it's been the impetus for storytelling by everyone from Herodotus to Prestor John and the indigenous peoples of the Caribbean (source of the famed Fountain of Youth), for religious theology (John 3:16 promises eternal life to those who follow Jesus for instance) and science-fiction.
A new movie by the pastor brothers however moves this long held dream into the realm of science fact with the story of one man's quest to achieve immortality even if it comes at the cost of another's life.
Of course, he doesn't know that at the time, and you get the sense from the trailer, that when the true source of his new younger body is revealed, that he is intensely conflicted about the price paid to keep his dream of youthful vigour and ambition fulfilled alive.
Quite whether he will be conflicted enough to hand the body back to its original owner, since doing so will mean his conscious oblivion, is another thing entirely and the basis no doubt for the philosophical wrangling and action that look to underpin Self/less.
It's an intriguing premise for a film, and a rich seam of drama to mine, and with actors of the calibre of Ben Kingsley, Matthew Goode and Ryan Reynolds involved it promises to be a rollicking good ride indeed, a sentiment shared by Screenrant:
"Even if a bit cliched, the sci-fi premise at the heart of Self/less is perennially resonant for good reason (it's something we all continuously contemplate). Moreover, Singh's surrealist visual style seems to be significantly restrained here, only coming out in sporadic bursts at appropriately abstract points – such as when Damian is experiencing the memories and impressions of his body's previous owner. That's all to say, Self/less seems to have found a balanced middle ground between worn out sci-fi ideas and an overly stylistic director, to the greater benefit of the film."
Self/less opens on 31 July 2015 in UK and USA and on 6 August in Australia.