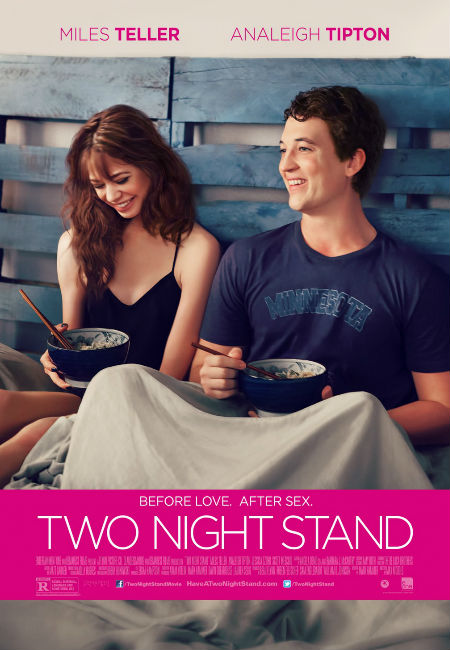 SNAPSHOT
A no-strings-attached, online hook-up turns into a morning-after disaster for twenty-something New Yorkers Megan (Analeigh Tipton of Crazy Stupid Love) and Alec (Miles Teller of The Spectacular Now and Whiplash). When a paralyzing blizzard hits the city trapping them in Alec's cramped Brooklyn apartment, they are forced to get to know each other far beyond the confines of a typical one-night stand. (synopsis via First Showing)
Despite everything, I still believe in romantic comedies (aka rom-coms).
Granted most of the rom-coms, save for a favoured few such as Daniel Radcliffe's upcoming gem What If, which is being widely credited as the best and only good rom-com of the entire year, are based on hackneyed premises, dull, unimaginative executions and pedestrian, almost absent chemistry between the stars but still … I BELIEVE.
Even though I sit in the cinema cursing the day I decided X, Y  or Z rom-com looked cute, sweet and oh-so-much fun, realising all the candy in the world won't be enough to assuage the sense of my soul being eaten by romantic vacuity, I STILL BELIEVE.
And the reason I still believe is not simply because I am an extrovert, and we are by nature largely optimists with all that hope springing eternal and such, but because movies come along like Two Night Stand that might, just might, revive the form even just a little.
Now I don't pretend for a second to think this looks as good as What If, whose trailer reveals the sort of witty banter and easy romantic chemistry that a superlative rom-com must possess in large red heart-shaped candy-filled box-sized quantities to succeed but it does star the amazingly talented Miles Teller, who can move between glibly silly and profoundly serious in a The Spectacular Now-type heartbeat, and that is a major plus in my books.
Now his charm and charisma weren't quite enough to save That Awkward Moment as a whole but he was easily the best thing about that film (apart from Zac Efron's penetratingly beautiful blue eyes and fabulous wardrobe), but Two Night Stand has a cute premise, some promising banter and also Analeigh Tipton (Warm Bodies, Crazy Stupid Love) so I will BELIEVE it will a worthy addition to the rom-com genre.
I will BELIEVE Miles … do not let me down.
Two Night Stand opens in USA on 26 September 2014.