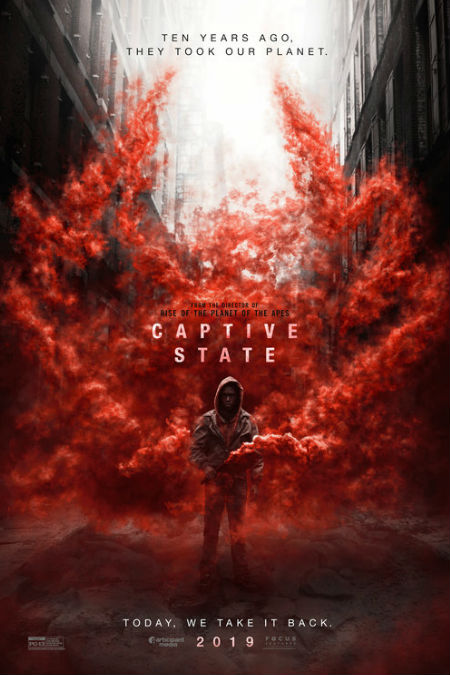 SNAPSHOT
Set in a Chicago neighborhood nearly a decade after an occupation by an extra-terrestrial force, Captive State explores the lives on both sides of the conflict – the collaborators and dissidents.

The sci-fi feature is directed by Rupert Wyatt (Rise of the Planet of the Apes, The Gambler), who also co-wrote the original screenplay with Erica Beeney. The cast features John Goodman (10 Cloverfield Lane), Ashton Sanders (Moonlight), Jonathan Majors (When We Rise) and Academy Award and Golden Globe nominee Vera Farmiga (The Conjuring). (synopsis via Coming Soon)
It's hard to argue with the idea that humanity needs saving from itself. After all, we're hardly covering ourselves in honour and glory at the moment are we?
But the idea that the solution is some outside power stepping in is anathema to most people I think, although as late TV show Colony, and now Captive State, make chilling plain, not everyone.
In fact, there are those who will embrace such a development with some of the less than good people of Earth throwing their lot in with new alien overlords who rule through a body known as The Legislature.
Sounds deliciously benign right, but the cessation of petty division and strife and that poisonously double-edged word "unity" come at the great price of our freedom and Captive State looks like it will be fascinating examination of those at peace with that loss and those who see it as far too expensive and needing to be resisted at all costs.
Captive State opens 29 March 2019 in USA, 12 April in UK with a date TBD for Australia.