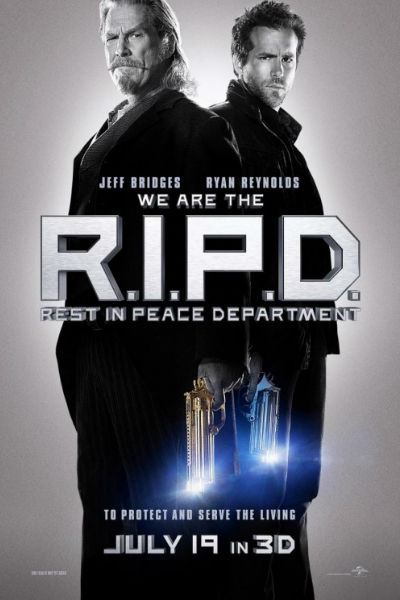 MOVIE SYNOPSIS
Directed by Robert Schwentke (Red), R.I.P.D. centers on dead cops who work for the "Rest in Peace Department," with Ryan Reynolds playing Nick Walker, a newly deceased cop and Jeff Bridges taking on the role of his partner, a seasoned R.I.P.D. veteran.  The film also stars Mary Louise-Parker, Kevin Bacon, Stephanie Szostak, Marissa Miller, and James Hong. (source: collider.com)
R.I.P.D. being touted as Men in Black for the undead.
And while that may not be an entirely fair representation of the movie, which is based on the Dark Horses Entertainment comic book Rest In Peace Department by Peter M. Lenkov – let's face it, how many of these references back to old movie hits are; they're usually simply shorthand and an almost lazy way for Hollywood marketing departments to sell an idea – it does give you some idea of what to expect.
Certainly, it bristles with the sort of post-modern asides and quips that gave Men In Black such an engaging and surprisingly intelligent presence.
And the casting of Jeff Bridges in particular, who brings to R.I.P.D. the appealing swagger and deadpan wit that he used so effectively in his Academy Award winning role as Rooster Cogburn in True Grit, is a master stroke.
It's inspired casting like that, and the addition of Ryan Reynolds as the wide-eyed newbie sidekick to Bridges' seen-it-all gruff veteran, which will ensure that R.I.P.D., released at the heart of the US summer blockbuster season (July 19), doesn't get  lost in the mass of other movies hitting cinema's peak viewing season.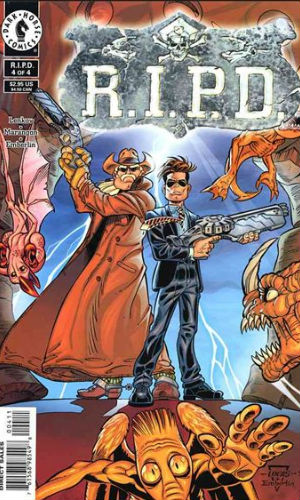 Now of course no one is saying that this will be an Oscar contender.
But not every movie needs to, or should be, part of that rarefied echelon of films.
It is, purely and simply, an entertaining movie with lots of action, ready wit and a reasonably straightforward premise.
Certainly with the inspired comic book pedigree that it wears proudly – Peter Lernov is listed as one of the production team – it will likely be a lot ore intelligent and clever than many other movies of its ilk.
It may just prove you can watch your light-as-air blockbuster and have your brain engaged at the same time.
Well, fancy that!