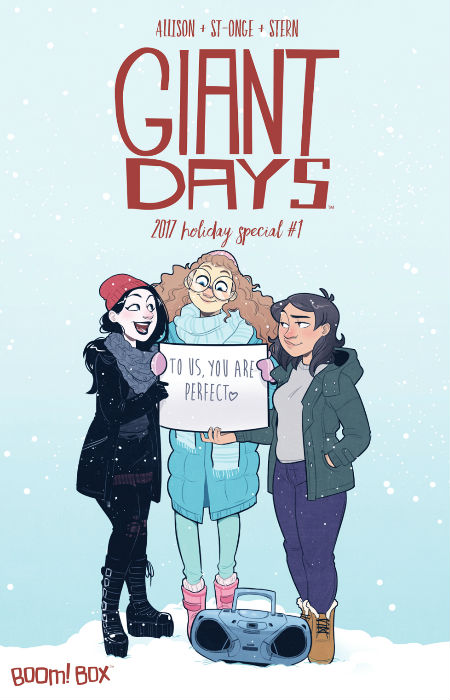 Love, Actually is not everyone's idea of the perfect holiday movie, but to me, it is perfect (look it up – it's a "cannily"-woven in line from the film) and Giant Days, one of the best, most heartfelt comic strips to emerge in recent years, has made inspired use of the themes of love, romance, connection and belonging that join together a cast of disparate but like-minded (they all want that someone special, like we all do) characters.
In this year's holiday special, which follows last year's 2016 Holiday Special which was suffused with a distinctly It's a Wonderful Life feel, Esther de Groot, Susan Ptolemy and Daisy Wooton, close university friends despite being vastly different personalities with considerably different upbringings and outlooks on life, head to London to see their Susan's lucky-in-career-unlucky-in-love friend Shelley Winters.
They're barely in London, with not much money or big city experience to their name, when they realise they'll have to intervene in Shelley's love life, which is currently split between the debonair, cool motorcycle-riding Grant, hunky nerd neighbour with the heart of gold Cecil and Sid from work who's shooting an in-work documentary that seems to suspiciously feature Shelley.
Shelly for her part declares she doesn't want to be died down but it's this indecision which quickly a mess of improperly raised expectations by all three men who think they're in with a chance.
What to do, what to do? Why employ every romantic comedy trope in the book in the hope of setting Shelley's love life on the Cupid-approved straight and narrow, which is where the Love, Actually and Bridget Jones allusions come in, according to Eisner Award-nominated Giant Days creator John Allison (Bad Machinery):
"It's a tribute to the films of Richard Curtis, and the Bridget Jones movies, by someone who has seen those movies perhaps once, and maybe not all the way through." (source: Comic Buzz)
As usual in the world of Susan, Esther and Daisy, their time in London in what Allison refers to as "the fictionalised London-as-written for Americans, [where] iconic locations are presented as if they're a brief walk away from each other, 1950s throwbacks still seem to walk the streets, it's very clean, there are no poor people. Further "the ghosts of Mary Poppins and bad dentistry loom large, but not as large as Colin Firth. He's everywhere" is spent with only the best of intentions.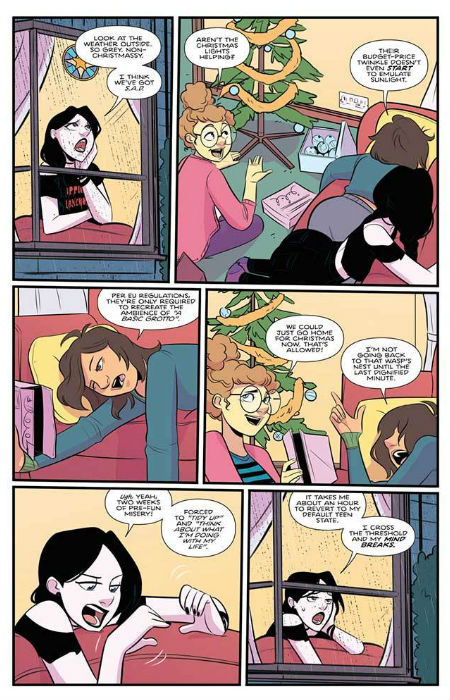 Frankly, I'm quite OK with the romanticised view of London since it matches perfectly the delightfully fey and sweet of the Giant Days special, which takes us to Oxford Street in all its festive light-bedecked glory (though with the attendant crowds so maybe not so perfect after all?), gentrified Soho, and to Shelley's huge, cute apartment which in the tradition of sitcoms and romcoms since time immemorial bears no resemblance to its occupant's actual earning power.
It fits with these kinds of festive tales which are supposed to take a magical step away from the everyday in a season where we're supposed to believe, and actively do, that some tinsel, carols and TV specials will make the world around a better place.
They don't, of course, well not enough really, but it's the artful pretense, the heartwarming make believe of it all that makes the season such a wonderful place to be, and in many cases, all this elaborate planning becomes its own self-fulfilling prophecy anyway.
Quite whether that's the case with the Giant Days special is up for debate, especially with its hilariously openended finish where things don't really go according to plan, but hey even if the best laid plans of Daisy, Susan and Esther go awry involve luxurious trope-heavy Christmas shopping, late night wines with cute guys and festive meet cutes, then they're not that far off a holiday happy ever after are they?
As always Allison and artist Jenn St-Onge serve up a lovely, rich, warm, and funny tale of three close friends out of their depth but plowing on regardless, beguiled by romanticised ideas of London, love and what's possible at the most wonderful time of the year.
And so what if things don't exactly deliver as advertised? That's kinda life generally, a theme brought home again and again in the Giant Days comics, and given the kind of festive touch that makes the 2017 Special a wonderful, reality-removed delight, a welcome return by three of our favourite ladies who enter into the spirit of the season in a way that will a little extra loveliness, mirth and good cheer to your Christmas observances.