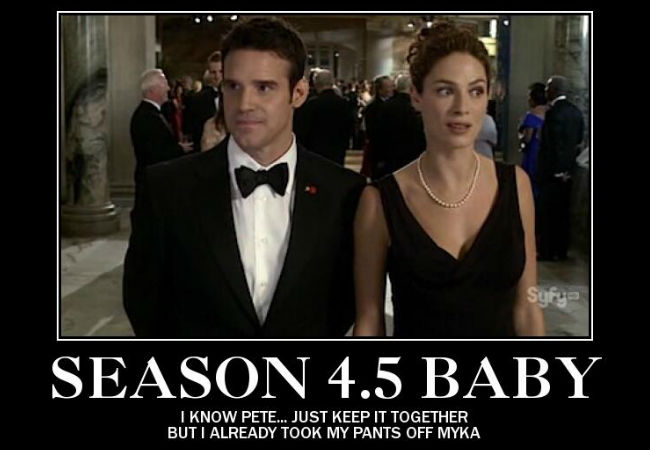 Pete and Myka are almost back in our lives people!
We have just over 2 weeks till Pete (Eddie McClintock), Myka (Joanne Kelly), Claudia (Allison Scagliotti), Steve (Aaron Ashmore) and the unstoppable, not to mention, lightning fast Mrs. Fredric (CCH Pounder) return to our TV screens to do battle with evil Artie (Saul Rubinek), who has unleashed plague and pestilence upon the world.
It looks dark and dire, and distressingly hopeless, but hey these people handle that kind of stuff for breakfast.
Just another day in the office really.
And as always it will be Peter and Myka, the emotional core of the show, who will be front and centre battling all manner of oddities, strangeness and rampant evilness before they lock it away in the depths of Warehouse 13.
So it's fitting that someone somewhere – alas I cannot locate the site I originally got this from [if it's yours please let me know and I will properly attribute it) has made the fearsome twosome the star of this wonderful meme which captures the characters and the playful yet dedicated dynamic between them.
Warehouse 13 is back on Monday 22 April 10/9c.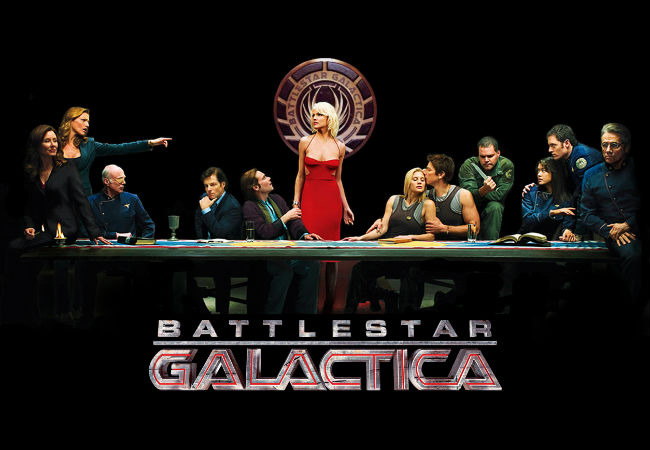 And while I know Battlestar Galactica has shuffled off this mortal TV coil, after a stellar, dramatically captivating five seasons, someone god bless them has brought them firmly back into the zeitgeist by imagining what would happen if you paired pivotal scenes from the series with the Friends theme song.
Yes you heard me right – Friends.
It shouldn't work but it does, and beautifully!
Sit back, enjoy and wonder what might have happened if Joey and Starbuck had shared the same show.
The mind boggles with glee.