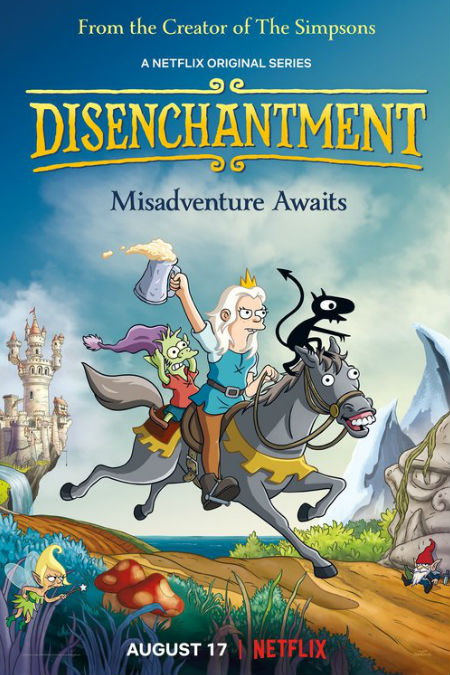 SNAPSHOT
In Disenchantment, viewers will be whisked away to the crumbling medieval kingdom of Dreamland, where they will follow the misadventures of hard-drinking young princess Bean, her feisty elf companion Elfo, and her personal demon Luci. Along the way, the oddball trio will encounter ogres, sprites, harpies, imps, trolls, walruses, and lots of human fools.

The series will feature the voice talents of Abbi Jacobson (Broad City) as Bean, Nat Faxon (Tammy) as Elfo and Eric Andre (The Lion King) as Luci. They will be joined by John DiMaggio, Billy West, Maurice LaMarche, Tress MacNeille, David Herman, Matt Berry, Jeny Batten, Rich Fulcher, Noel Fielding, and Lucy Montgomery. (synopsis via Coming Soon)
I love a well-executed piece of post-modern animated fun and honestly Disenchantment (I also adore a clever play on fairytale words which this title delivers in glitter-filled handfuls), the new comedy from Matt Groening looks like it has the capacity to deliver that in spades.
Not everyone is convinced – see this critique from Rolling Stone – but these character profiles, which are an absolute hoot to watch (yes I used the word "hoot" so you just know I really liked them) indicate that we're in for a brilliantly quirky romp into the land of princesses and medieval familial expectations.
Take time to watch them all since they're a great primer for the series. How do I know this without having seen a single episode?
Well, Groening has demonstrated with both The Simpsons and Futurama that characters, beautifully-written, appealingly-executed characters are at the very heart of every one of his shows, and given how well the characters do their thing in these short videos, it's obvious that Disenchantment won't be an exception to the rule.
How right I am will be come obvious today when Disenchantment premieres its full 10-episode first season on Netflix.