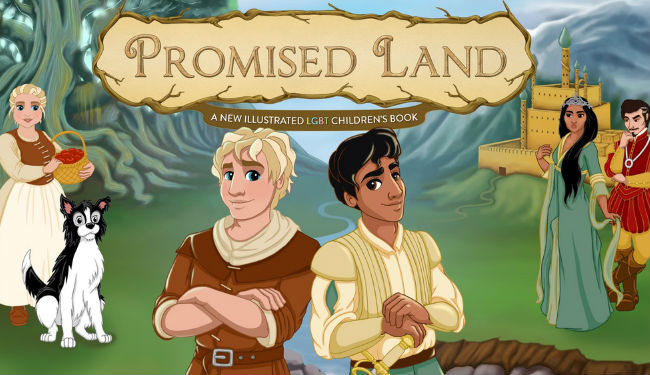 SNAPSHOT
In Promised Land, a young Prince and a farm boy meet in the forest and a growing friendship between them blossoms into love. However, when the Queen re-marries, her sinister new husband seeks control of the enchanted forest and the land the farm boy's family are responsible for protecting.
We live in a world that can be wonderfully, generous and endlessly encouraging.
But it can also be cold, cruel and brutishly intolerant; not fun when you're an adult but often cataclysmically devastating when you're a kid, particularly a LGBTI kid who is slowly coming to an awareness than they are not like all the other kids around them.
I was one of those kids growing up, feeling like I was perversely, horribly out of place, with no touchstones to tell me that I was just different; not bad, not terrible, just different.
Thankfully today's kids are increasingly able to appreciate that being gay is not something weird or strange but just another type of normal, and one book that's going to play a key part in that is Promised Land, a New Zealand Kickstarter-funded book for children.
There is no doubt that the small-minded and bigoted among us will try to paint the book as some sinister plot to brainwash kids but as Hypable makes clear, this is powerful book with lofty, worthy aims and the talent and execution to make them come to pass:
"Not only is it visually gorgeous, the story is inspiring and normalizes same-sex couples in the context of a children's book. Plus, the story teaches children about responsibility, standing up to bad guys, and overcoming obstacles."
I've already touched on why a book like Promised Land is so vitally important but let's hear from the authors Chaz Harris and Adam Reynolds, both of whom experienced the same kind of treatment as I did growing up:
"I experienced a lot of homophobic bullying during my teen years at school, as did my co-author Adam Reynolds. We believe books like this can make a difference for future generations to make them kinder and more inclusive to their LGBTQ peers, and we hope to be able to provide more LGBTQ youth with the representation they need in stories because if you don't see yourself in stories, you don't see yourself in the world."
Proof that there is a need for books like this is manifest but in nuts and bolts figures, people who backed the Kickstarter contributed NZ$ 43,362, far exceeding the NZ$ 25, 000 goal, and the book sold out within 3 weeks of its printing in February 2017.
Yes, today's kids need, and want, this book!
If you'd like to pick up a copy and you should, head to Promised Land is available now on its official website, Amazon, and iBooks.