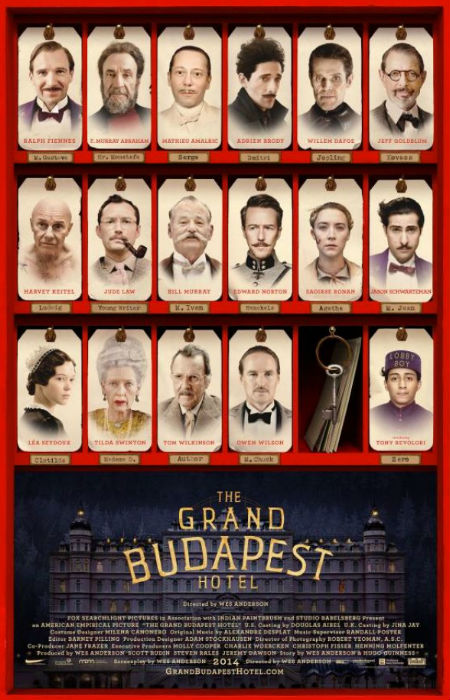 SNAPSHOT
The Grand Budapest Hotel tells of a legendary concierge at a famous European hotel between the wars and his friendship with a young employee who becomes his trusted protégé. The story involves the theft and recovery of a priceless Renaissance painting, the battle for an enormous family fortune and the slow and then sudden upheavals that transformed Europe during the first half of the 20th century. (source: screenrant.com)
I would love to live in Wes Anderson's brain.
I imagine it would be stuffed with all sorts of eccentrically dressed characters with idiosyncratic mannerisms and a mastery of quirky, densely-worded dialogue, curios of all kinds, and a retro colour wash that is one part sepia, one part hyper luminous and all parts lush.
It would be a marvellous place indeed.
But given (a) the inability to shrink myself down to a nano-sized being and Wes Anderson's understandable reluctance to have me tromping around his neural pathways, I shall have to settle for checking into The Grand Budapest Hotel instead.
And what a cast of players you will encounter when you do.
Jude Law, Jason Schwartzman, Tom Wilkinson, F. Murray Abraham, Tilda Swinton, Bill Murray, Owen Wilson, Adrian Brody, Edward Norton and a host of others are part of the cast of the movie which will involve all manner of storytelling peculiarities, quirky characters and dialogue that, as cinemablend correctly observes, when "delivered properly, [is] pure poetry".
Granted his movies can confound those who like their narrative with much more of an A to B feel, and sometimes depending on the mood that can include me, but usually I love his unexpected left and right turns, his retro-styled worlds and his characters who studiously refuse to behave according to the dictates of our humdrum world.
The thing is, off the wall unusual though it is, his worlds make absolute sense in and of themselves and it's always a delight to subsume yourself into them, and see where they take you.
In this case, to The Grand Budapest Hotel which opens 7 March 2014 in USA and on 10 April 2014.