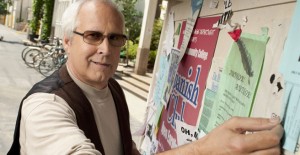 Are we shocked that Chevy Chase is leaving Community?
No, and I am reasonably sure no one really is.
In news first reported by Deadline, and swiftly carried by everyone else, it was announced that Chevy Chase, who was known to be unhappy about his role as bigoted Pierce Hawthorne on the show, and had a less than cordial relationship with former showrunner, Dan Harmon, would be leaving the show immediately.
The exit surprises no one who has paid even passing attention to the ups and downs of Community, the oddball little-sitcom-that-could, despite NBC's half-hearted support of and recent shunting of its season 4 debut from October 19 this year to February 7, 2013.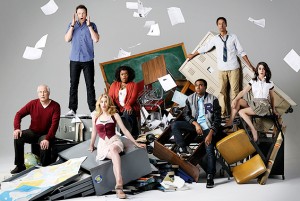 In fact it's a wonder it didn't happen much earlier if this quote, carried in the Deadline post, is representative of his attitude to the show and by all accounts it is:
"He has been vocal about his displeasure with the Community gig, telling The Huffington Post UK in an interview this fall, 'It was a big mistake! I just sort of hung around because I have three daughters and a wife, and I figured out I might as well make some bread, every week, so I can take care of them in the way they want … The hours are hideous, and it's still a sitcom on television, which is probably the lowest form of television.'"
In addition to his dislike of the show in general (odd in a way since it is one of the most creative and least formulaic shows on television at the moment; surely a dream for a comic of Chase's talent and standing) , former showrunner Dan Harmon (which boiled over last year into a public verbal brawl) – no word on his regard for new showrunners Moses Port and David Gaurascio – there were also apparently tensions with the rest of the Joel McHale-led cast culminating in an on set tirade last month.
Fortunately for the show, most episodes for season 4, including the finale, have been filmed, and for the one or two that haven't been, it should be a simply matter of a minor rewrite here or there and his absence will be easily explained.

With season 5 still up in the air, despite fans repeating the show's mantra "six seasons and a movie" like it has mystical powers (it does doesn't it?), it's impossible to say what effect Chase's absence will have on any future seasons.
But I suspect with a cast as strong as Community's, and a reportedly energetic new team eager to pay appropriate homage to one of the funniest shows on television, I have every confidence the show will go on in style.
Just as soon as NBC figures out that you need to telecast the show as well as make it.
You know guys so we can, um, see it …