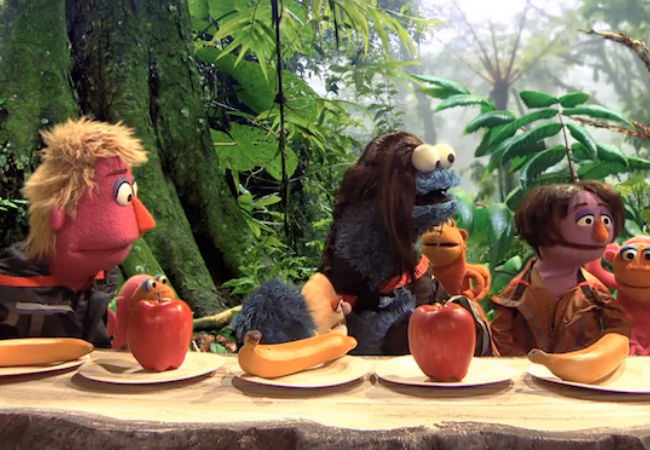 Sesame Street have always had their hands on the pulse of pop culture, delivering up timely parodies of the shows, movies and songs of the moment, that are both charmingly irreverent while also containing a valuable teaching lesson of some sort to their impressionable young demographic.
It's hard to do those sorts of parodies well, and on a repeat basis but Sesame Street seems to manage it effortlessly, offering up gently hilarious and instructive takes on Downton Abbey (Upside Downton Abbey), Homeland (Homelamb), Sons of Anarchy (Sons of Poetry), Les Miserables and Boardwalk Empire (Birdwalk Empire), to name but a very few.
They also regularly feature celebrities from across the world of TV, movies and music interacting with Elmo, Big Bird and the rest of the gang teaching all sort of lessons on everything from the meaning of the words "deciduous" and "prickly" (thank you Ken Jeong and Joel McHale from NBC's Community) and what it means to be "courteous" (featuring Cobie Smulders from How I Met Your Mother).
Their latest parody, a pitch perfect take on The Hunger Games franchise, the latest instalment of which Catching Fire has just hit cinemas worldwide this week, is another more than worthy entry in their much-envied catalogue of send ups.
In this case, they've retitled it Hungry Games: Catching Fur, and it features Cookie Monster "[teaming] up with her friends Finnicky, Tick Tock Lady, and Pita (a piece of delicious looking flat bread that's a riff on Josh Hutcherson's character Peeta) to try and win the competition and escape from the nefarious poking monkeys and insidious tickling winds by solving puzzles to eat food." (source: time.com)
It's a delight from start to finish, teaching us – OK kids but hey you're never too old to learn right? – all about patterns … and how to affectionately parody an of-the-moment piece of cinema in a way that entertains the adults and teaches their children.
Oh and one more thing …
"May the cookies be always in your flavour."