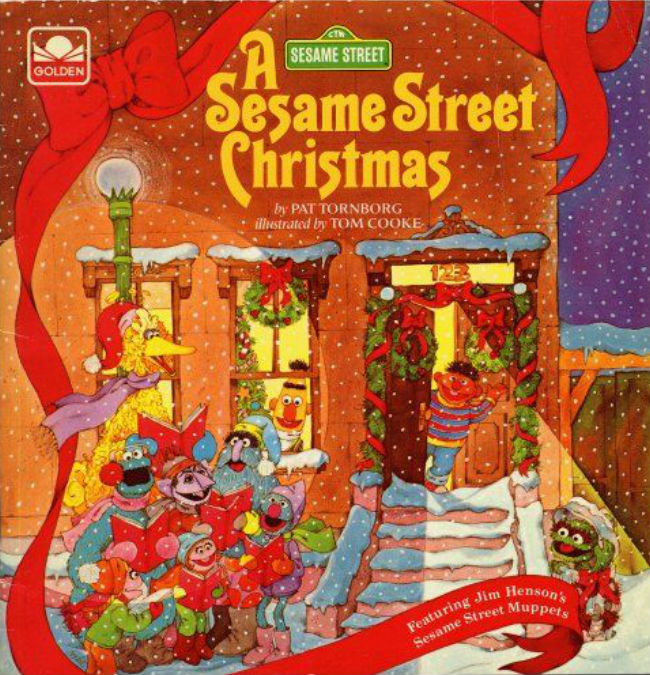 If you're a big kid at heart, and honestly where is the fun in not being one, then you'll adore the idea of immersing in the loveliness and bonhomie of A Sesame Street Christmas.
First published in by Golden Books in 1982 with a delightful story of the Muppets of Sesame Street making the best of a rainy, not snowy Christmas (much of course to Oscar's disappointment; he was delighted by the early disappointment with the absence of a White Christmas) at its centre, the book is a delightful collection of festive crafts such as Big Bird's Bird Feeder, poems, recipes such as Nutcracker Sweets (thank you Grover and Herry Monster) and DIY ornaments, courtesy of Bert, who makes good use of his much-loved bottle cap collection.
While many of these activities were dropped in the shorter 1987 paperback version – was Oscar the editor? – they're front and centre in the lushly-illustrated original hardcover version, which weaves these communally-minded activities in amongst the main narrative.
Naturally being Sesame Street, the narrative stresses the importance of togetherness and friendship, especially when your expectations for a holiday as wonderful as Christmas don't quite go to plan.
In this instance, the hoped-for snow has not fallen while the mood-dampening rain has, and at first Grover, Ernie and Bert, Cookie Monster, Big Bird, the Count, Betty Lou and Prairie Dawn are bummed out.
Gone are thoughts of building a Bert snowman (Ernie), counting snowflakes (guess who?), eating of snow-cones (Cookie Monster) and a general stirring up of Christmas fun and in its place?
Well the kind of dreariness that makes a certain Grouch's heart glad.
But not anyone else's, and being the upbeat crowd that they are, Betty Lou and the others decide that milk and cookies, Christmas carols and storytelling will make for the best festive gathering ever!
Everyone takes it turns to tell poems – "The Night Before Christmas on Sesame Street" is a delight – stories, to teach crafts and just spend time with each other, with the party so successful that Grover is led to exclaim "Christmas is Christmas, whatever the weather!"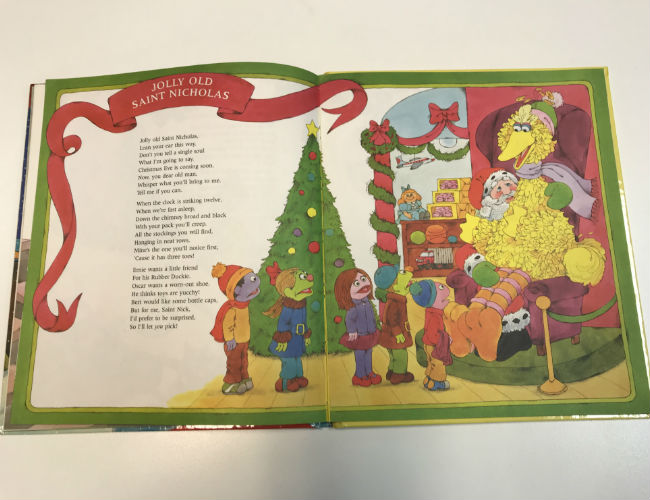 Granted I am considerably older than Sesame Street's core demographic (and that of Golden Books for that matter), but even in the early stages of my sixth decade on earth, I find it warmly reassuring to be surrounded by all this positivity and good cheer.
Even despite my best efforts, and as a Christmas-aholic my efforts are considerable, the season doesn't always meet expectations and you can be left wondering what else you could have done to make it as wonderful as you pictured it.
Honestly, and I don't think I'm being simplistic here, A Sesame Street Christmas, contains a fundamental truth that makes this most wonderful time of the year every bit as good as we imagine it's going to be.
The truth is that what makes Christmas, and indeed any celebration a real and sustainable joy, is simply being with people who you love and care for; yep, that's it, simple but profound.
They may not be your direct family since some people aren't gifted with the kind of families of which fond memories are made but it could be your found family, those friends who have gather together, formed bonds as tight, if not tighter than the "blood is thicker than water" variety, and who know that any celebration gains more meaning and happiness simply because those people are there.
While A Sesame Street Christmas doesn't directly address the darker side of the festive season, beyond the wrong kind of inclement weather, it does acknowledge that things go wrong and that life doesn't meet expectations – in Christmas's case, a year in the making – and that that can be disappointing.
But rather surrender to Oscar's hilariously bleak view of the world – example A: he can't understand why you'd want to change anything about the version of Mr Scrooge who haunts the start of A Christmas Carol – everybody bands together and wraps presents with whatever is at hand (yes, even Oscar) and enjoys the company of their friends.
While it does start snowing, and even Mr Hooper turns up to celebrate, the party is a success long before this, with A Sesame Street Christmas reminding us again and again that Christmas is special because we are with each other, and if that;s in place, then everything else is icing on the cookie ornaments that Cookie Monster makes with Betty Lou.