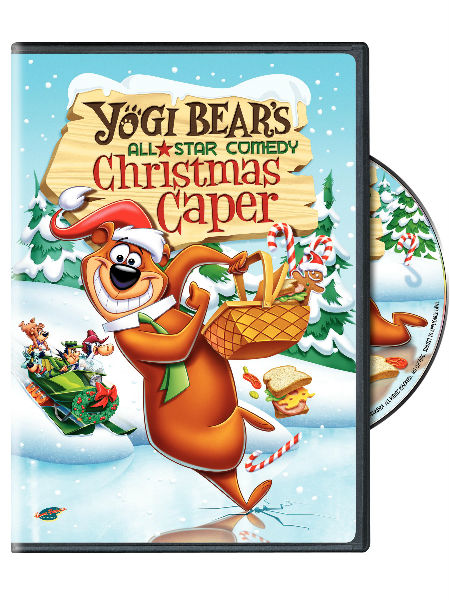 First airing, in seasonally-appropriate style, on 21 December, 1982, Yogi Bear's All-Star Comedy Christmas Caper was the third and final festive special for Jellystone Park's favourite pic-a-nic loving resident. (Yogi Bera is voiced by the legendary Daws Butler)
Gathering together a panoply of Hanna-Barbera characters from the well known likes of Huckleberry Hound, Quick Draw McGraw, Snagglepuss (all three voiced by Daws Butler) and even a cameo Fred Flintstone (Henry Corden) and Barney Rubble (Mel Blanc) dressed as charity fundraising Santas (who, rather amazingly, have not developed frostbite in the snowy, wintery conditions, despite being barefooted) through to the lesser-known but still lovable Hokey Wolf (Daws Butler), Augie Doggie (Daws Butler) and Doggie Daddy (John Stephenson), Snooper and Blabber (Daws Butler), Wally Gator (Daws Butler), Magilla Gorilla (Allen Melvin) and Pixie (Don Messick), Dixie and Mr. Jinks (latter two by Daws Butler) and Yakky Doodle (Jimmy Weldon), the special feels like a return to the grand old TV specials of yore.
This is more in style than content, with the special not a singing and dancing fiesta so much as a gathering together of all kinds of stars who have enjoyed major and minor times in spotlight, and who are featured for reasons extraneous but believable since it is, after all, a Christmas special when anything is possible.
And by anything is possible, we mean anything is possible.
In 24 short but mostly crisply-executed minutes – the happy-ever-after, warm-and-fuzzy is wrapped up super quickly with hearts changed and realisations made in sitcom-ready time – a rich, workaholic father, J. Wellington Jones (Hal Smith) who is frankly an oblivious douche at times, okay all the time, discovers how much he misses and loves his daughter Judy (Georgi Irene) who has found the kind of fun, love and acceptance she never had at home on a special Christmas jaunt around the city with Yogi, Boo-Boo Bear (Don Messick) and the rest of the gang.
In real life, Yogi would likely be imprisoned and sued for kidnapping etc etc but in a Christmas special like this, which is all warm and wonderful – even Ranger Smith (Don Messick) goes from exasperated to happily, joyously inclusive – everything is forgiven, the world becomes a better place and lives are changed for the better.
It might seem a bit hokey but you'd have to have a heart of concrete and steel not to have a ball with the irrepressibly Yogi who, dragging, as always, Boo-Boo along in his wake, stows away on the last tourist bus to the city – which looks suspiciously New York City-like which makes the journey from Montana pretty speedy – ready to spend Christmas with Huckleberry, Snagglepuss (who, naturally, has the best lines, including a snarky out-of-time dig at the presence of Fred and Barney) et al.
There is no stopping one of Hanna-Barbera's most well-loved characters from having the time of his life, which he begins doing by eating everyone's snacks in the luggage hold, which in this special includes joining a Santa Claus class at Macy's, running gleefully in a snowmobile from security staff and zookeepers who are as gloriously and comically inept as ever, and bringing sunshine to the lacklustre life of a little rich girl.
Thing is, we have just as much fun as Yogi, probably because (a) everything is possible in a Christmas special and so we buy pretty much every narrative twist and turn but (b) because he's the kind of character who gets to do and say all the stuff we could never get away with.
He's cheeky, hilarious and endlessly-brave, convinced that he deserves all the things he's getting because life is there for the taking.
Sure, he's breaking rules and creating havoc, and yeah generally being a nuisance, but who's going to begrudge someone so garrulously fun as him, especially when, through the magical everything can happen power of animation, we can go along with him.
It's not just of course; in Yogi Bear's All-Star Comedy Christmas Caper all of our favourite Hanna-Barbera characters get to come along too, a reflection of the spirit of these specials as previously noted, but also of that lovely dynamic of the festive season which sees the coming together of all kinds of people that otherwise don't get to see each other a lot.
It feels like an extended Hanna-Barbera Universe at work – see it's not just Marvel who does this; most studios did it for years in variously expansive and limited forms – the continuation of things like Yogi's Gang and Laff-a-Lympics, the latter of which saw a huge contingent of characters together, the strictures of their tightly-controlled cartoon worlds broken to fun effect.
As someone who spent my childhood watching Hanna-Barbera comics near constantly and feels a huge emotional attachment to characters big and small – I remarked to my boyfriend that while Looney Tunes cartoons are narratively and conceptually superior, there's something about Hanna-Barbera vast array of characters and their animation style that holds a greater place in my heart – having them all together in one special is a joy.
As is the fact that Yogi gets to save the day, reuniting work-obsessed father and longing-for-love and companionship daughter, and making Christmas, my favourite of the year, as wonderful for them as his cartoon friends who go to Jellystone and back just to have Christmas with Yogi (it's the classic he goes to the city, they go to him mix-up that works a treat).
If you want a redemptive tale of hope, love and togetherness, and the closeness of all your cartoon favourite friends, then Yogi Bear's All-Star Comedy Christmas Caper is the special you need to watch, full of glossy, fun festive visuals, an over-the-top life-affirming storyline, delicious oneliners and sight gags, and the presence of characters who are all allowed to do their thing, especially Yogi for whom it is, let's be fair, Christmas all year round.