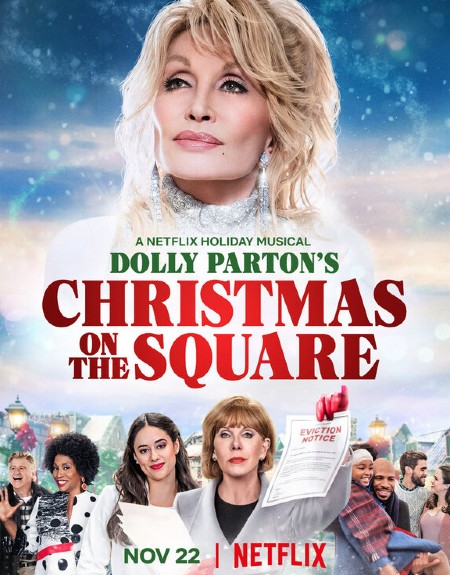 Among the many constants of Christmas storytelling is the undeniably appealing idea that transformation isn't just possible, it is all but inevitable.
Such is the power of a season that celebrates love, hope, dreams and starry-eyed possibility that even the darkest of developments can be triumphed over if you just believe strongly enough.
One person who has embraced this with great gusto and musical verve is Dolly Parton, the driving creative force behind Christmas on the Square, an old-fashioned musical that celebrates the idea that restorative love can make even the most seemingly irredeemable of circumstances bright and sparkling new again.
Filled to the festive brim with songs written by Parton, who leaves the directing duties to Debbie Allen, Christmas on the Square is in many ways an archetypal Christmas musical, the kind that warms the heart and fill the souls with goodwill and cheer.
That is is both its great strength and underlying weakness.
On a positive note, you would have to be a hard-hearted Scrooge or Grinch indeed to watch the story of Christmas on the Square and not be moved in some way.
Centering on Regina Fuller (Christine Baranski) who returns to the town of Fullerville (no narcissistic naming practices there, thank goodness) her father founded and ruled over with semi-authoritarian benevolence to kick everyone out so she can sell the land to the Cheetah Malls corporation – yes, they're going bricks-and-mortar while the world heads online, the brave souls that they are – and retire to her New York penthouse to live out her years in sumptuous peace and quiet, Christmas on the Square is a trope heavy story of evil afoot at the most wonderful time of the year.
Not only is Regina going to kick our Pastor Christian (Josh Segarra; and yes, the naming regime employed by screenwriter Maria S. Schlatter is not subtle) and his wife Jenna (Mary Lane Haskell), her one time great love Carl (Treat Williams) and best friend Margeline (Jenifer Lewis) from their homes and businesses but she's doing it on Christmas eve!
The cad, the bounder, the epitome of all that is not Christmas!
You don't begrudge Christmas on the Square its rather hackneyed plot since it's one shared by a thousand others Christmas stories, all of which rely on the idea that life can be irrevocably changed for the better by the season, and its executed so nicely that you can't help but emerge from its climactic scene with a smile on your face and a spring in your step.
The songs are for the most part, upbeat and catchy and well executed, though they do sound, at times, like they're out of the book of Musicals 101, and the choreography is a delight to watch, even when things are looking a little dire and everyone is doing their best to remain upbeat.
Having said that, it does feel like everyone is trying just a little too hard.
You can practically see all the moving parts whirring along and while the story is involving and affecting, it does often feel like its moving a well-worn checklist with all its players moving on to the next requisite scene, not necessarily because it's an organic development but because, of course, that's where you'd go next.
It is, in other words, not entirely sure how to make the trope heavy and cliche bound musical feel like something fresh and original.
You could argue that with a story as well-trodden as this one, that was all but inevitable, but the fact is that Christmas on the Square benefits from some dazzling performances from the likes of Baranski, who imbues her 2D villain with some deeply moving 3D humanity against all the odds, Lewis who brings power and pizzazz to her performance and young Violet (Selah Kimbro Jones), daughter of innkeeper Mack (Matthew Johnson) who neatly sidesteps a cloying child prodigy sensibility in favour of being delightfully grounded and delightful to watch.
On these performances alone, Christmas on the Square should be one of the unqualified highlights of the season.
Unfortunately for all its heartwarming seasonal bonhomie and joy, Christmas on the Square also suffers from a suffocating sense of been-there, done-that, weighed down by an earnest saccharine tweeness that comes close to sinking the good ship transformation.
Among the weakest performances is Parton herself, not when it comes to the singing of course which she nails as you'd expect, though the songs do let her down here, possessed of insipid lyrics and comatose tunes (in contrast many of the other songs are vitally bombastic and alive) but in a role which is trying so hard to be earnestly likeable that it is drained of almost all personality.
Part of that dynamic is due to the film's faith-centric focus which while not a bad thing, since Christmas is a Christian festival and Parton is a woman of vibrant, authentic faith, does mean Christmas on the Square doesn't let loose quite as manically as it might otherwise have done.
When it does put the festive pedal to the metal, it is when other people are involved, especially Baranski and Lewis and when the script dares to get a little cheeky and out there rather than intensely well-meaning.
Too often Christmas on the Square favours sweet treacly sentiment over real, gritty humanity, which is a pity because its story has the capacity to be incredibly intensely human, something it toys with but never fully commits to, delivering up a final act which feels wonderful but whose effect is fleeting at best.
There is nothing wrong of course with being sincere and earnest and wanting to get an important, faith-based message aside, but Christmas on the Square gives into this impulse far too often, resulting in a film which is warm and uplifting in many ways, with a deeply affecting storyline of life lost and found again at its attractively beating core and some great songs and brilliant performances to carry it along, but which ultimately fails to have any substantive effect, its happy-ever-after ending, which is all but inevitable, feel leached of any real emotional impact as a result.