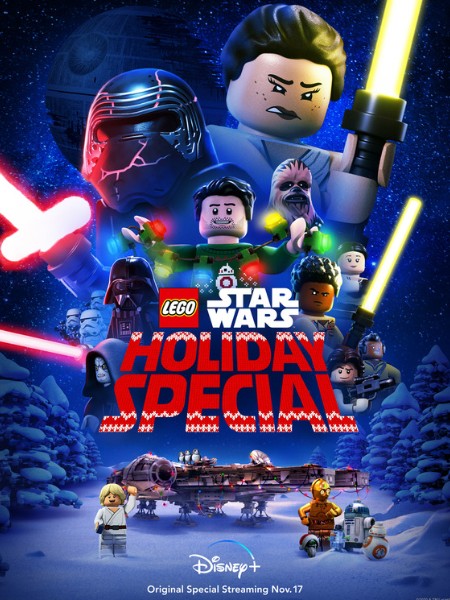 Debuting 42 years exactly since the much-loved but slightly infamous 1978 Holiday Special, the LEGO Star Wars Holiday Special is a delightful throwback to the Christmas TV specials of old like Rudolph the Red-Nosed Reindeer (1964) and A Charlie Brown Christmas (1965), combining iconic characters, a cheekily seditious sense of humour and a heartwarming message that isn't so twee you need a cleaning droid around to clean up afterwards.
Set around the Wookiee festival, Life Day, as was the original special, the LEGO Star Wars Holiday Special, which takes place after the events of The Rise of Skwalker, is set on the planet Kashyyyk where the Millenium Falcon where Poe (Jake Green), Finn (Omar Benson Millar), Rey (Helen Sadler), Rose Tico (Kelly Marie Tran) and C-3PO (Anthony Daniels) are getting things nice and festive ready for the big day.
Chewbacca's whole family is coming over the festivities and so the race is on, in one of those rare times where everyone is fighting some titanic battle or another, to make this the best life day ever.
So far, so very delightfully Christmas special-y.
And then things kick up a gear.
Frustrated, as the last remaining Jedi in the galaxy, that she hasn't managed to train Finn up to the required standard, despite referencing every last Jedi How-to manual she can get her hands on, Rey decides there is nothing for it but to set off for an ancient Jedi temple on Kodoku wherein lies a way that the old ways that help create the new.
The big catch, and a bummer given the impending Life Day festivities planning? The only day this information is available is on Life Day itself.
Way to wreck the holidays Rey!
It's at this point that the LEGO Star Wars Holiday Special becomes a split tale with Rey and BB-8 trying to get the Force-ful inspiration they need to make Finn the best Jedi he can be while Poe, in the best ugly Life Day sweater that a droid can knit, and the gang get the tree up, string up some decorations and cook up a feast for Chewbacca's family.
And, it is also at this point that the silliness really breaks loose, even on Rey's serious mission which quickly becomes a chaotic mix of iconic Star Wars moments as the vortex she can open with a special crystal takes to a slew of memorable moments across the entire franchise's canon including Luke on Dagobah with Yoda (The Empire Strikes Back), Obi-Wan and Qui-gon on the Trade Federation ship (The Phantom Menace), the X-Wing attack by Luke and the others on the first Death Star (A New Hope), Battle of Exegol (The Rise of Skywalker) and even The Child and Jin from The Mandalorian. (For the full list of iconic moments, go to Deseret News.)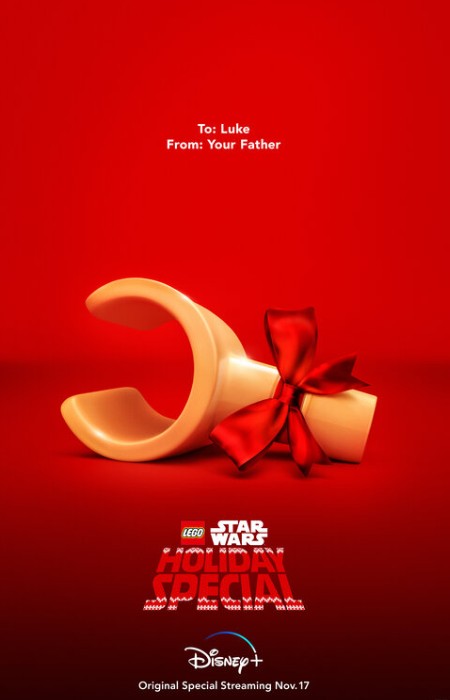 As a galactic trip down memory lane, the LEGO Star Wars Holiday Special is hugely enjoyable, especially since Rey doesn't observe these moments from afar but ends up in the thick of some of them, with chaotically hilarious results, with which anyone who has seen the LEGO movies will be intimately and happily familiar.
There is one classic moment where Rey and BB-8 end up in the very cramped cockpit of the X-Ring in which Luke is readying himself for his Death Star destroying run and actually help him, despite making movement all but impossible, to carry out his mission.
It's funny and thrilling all at once to see these moments recreated, quite faithfully in fact but with the added element of LEGO-worthy quips and sassy, silly oneliners.
Keeping with the spirit of the original Christmas specials that inspired the team behind the program, the LEGO Star Wars Holiday Special is a delightful mix of warmhearted affirmation of the importance of friends and family and Rey finding her back to a place where she feels not only equipped to train Finn but where she understands that the most important thing are the connections she has with her friends.
Honestly though while the messaging does fill you with an eggnog-warming glow, the real fun to be had is in the silly little moments that fill the special to present-bursting fullness.
Take Rey landing on Dagobah and taking off her LEGO hair to dry it off or Kylo Ren (Matthew Wood) being found shirtless by his aide or Rey accidentally acquiring a host of characters including old and new Han Solos (A.J. LoCascio) and Darth Maul (Ben Prendergast) from across the Star Wars film in a chaotic vortex-mixing jumble, all of whom end up fighting on Tatooine, or Emperor Palpatine (Trevor Devall) who is determined to not be thrown down a reactor shaft by Darth Vader (Matt Sloan) and does his best to change history and rule the galaxy forever (spoiler: he does not but ends his days in an hilarious, very Scrooge having an epiphany kind of way).
While the LEGO Star Wars Holiday Special isn't probably quite the timeless Christmas special triumph that producer James Waugh envisaged when he was making it – "I want it to be timeless. That was always our hope. 'Let's try to make something that is as timeless and everlasting as those holiday specials we love'" – it is a huge amount of silly fun that tells an important story, gives everyone a delightful nostalgic romp and reminds you that being with the ones you love, training up the next ranks of Jedis aside and oh, finding a good recipe for roast Tip-yip, is probably the most important thing of all on Life Day, and yes even a smaller festival like Christmas.