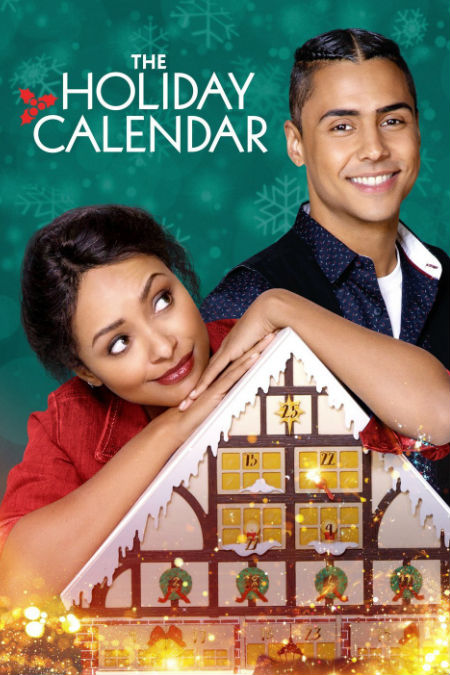 If you are to believe Hallmark, and frankly who are we to disagree, Christmas is the ideal time to fall in love.
Movie after movie – 33 this year in total, up from last year's Grinch-ly paltry 28 – extols the wonder and magic of a time of year in which the odds of you finding the love of your life is vastly increased by the presence of carolers, eggnog and enough Christmas decorations to sink a large tanker (painted in red and green, naturally).
Recognising the sage wisdom inherent in that festively-situational life philosophy, Netflix has jumped onto the Good Ship Holiday Romance in a far bigger way this year, giving us a sequel to last year's sigh-worthy schlocky rom-com hit The Christmas Prince (A Christmas Prince: The Royal Wedding naturally) and the magical realism of The Holiday Calendar.
The trailer tips you off to the fact that The Holiday Calendar, written by Amyn Kaderali and directed by Bradley Walsh, is not going to be a subtle, obtusely-concocted affair.
This is an all-caps ROMANCE movie, draped in tinsel, festooned with a bewildering, power plant station-sapping array of lights and visible to Santa passing overhead in his sleigh – more proof that Christmas is for romance? Mrs Claus – and signposted, in frosted candy cane red and white, to within an inch of its gorgeously-decorated life.
In one sense, that's not a bad thing.
The Holiday Calendar never once pretends it is anything but a high-caloric, sugar rush of giddy romantic bliss, setting out as it means to go on with good-natured vengeance.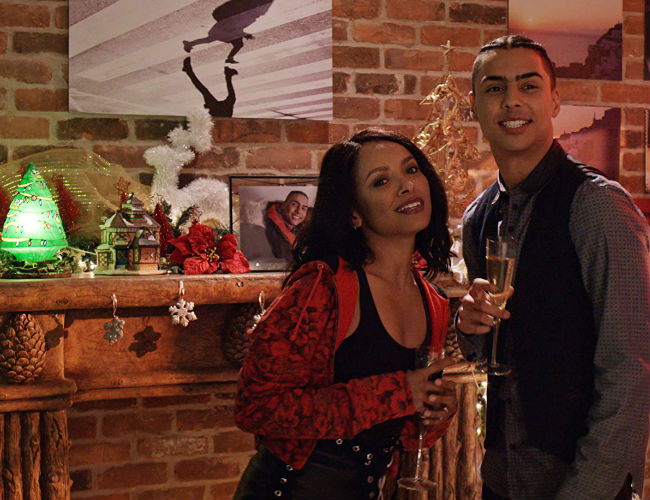 Take the opening scene which is set on one of those perfect main streets filled with happy, present-clutching shoppers – some have bags but some, enamoured with their gaudily-wrapped altruistic purchases want to hold them close to their bosom as they walk along – shops covered in twinkling lights and kilometres of tinsel, awash in carolers and smiles, laugh and happy conversation.
It is meant to be an overly-delicious Whoville-level of lovely and it succeeds brilliantly; you would have to be a level 10 Grinch to not be swayed by the sheer "most wonderful time of the year" of it all.
Of course, all this joy outside must mean that there is a protagonist somewhere inside feeling less than festive and it's not long before we meet talented photographer Abby Sutton (Kat Graham) stuck in her deadend job taking photos of happy families in a small, soul-less studio run by the demanding Mr Singh (Ali Hassan) who is as one-note driven-by-the almighty-dollar as they come.
Into this perfect storm of thwarted dreams and lost opportunities – Abby wants to open her own studio space but one devoted to her impossibly-artistic photos that have life and soul and a noticeable absence of snotty kids in dirty Santa hats – comes her oldest friend in the world, Josh Barton (Quincy Brown) who is handsome, sweet, cute and might as well be holding a sign saying "Kiss and marry me now."
Alas, he is not, and so while we nod and smile knowingly at the sheer romantic inevitability of it all, Abby goes on dates with the devastatingly handsome and kindhearted Dr Ty Walker (Ethan Peck), makes a hash of her life and moves from happiness to junk food-fuelled sorrow and back again, all while Josh watches on, wishing she'd notice HE LOVES HER.
Kudos to the guy, who's been a family friend forever to her mum and dad, Rudolph (Kevin Hanchard) and Judy (Laura de Carteret) – yeah, they totally went there with the father's name, thank you o god of narrative subtlety begone – sister Sarah (Genelle Williams) and wise, sparkly-eyed granmps (Ron Cephas Jones), for not being pushy and demanding.
BUT time and again when normal people might have said something, Josh stands by, good at cute, fun, lighthearted conversation with Abby but really, really bad at saying what's on his mind.
What to do, what to do then?
Why get Gramps to give Abby an old wooden European advent calendar as a gift, a mysteriously locked-up artifact bought in a French market, that only opens one door or window at midnight to reveal a talisman of some kind – boots, Christmas tree, skates, horse or snowflake to name a number of them – which ta-dah prophesies what is going to happen to Abby that day.
Call it fate, call it magic, or call it a great, big golden-hued plot contrivance, but the calendar, which Abby initially treats as a sentimental curiosity and nothing more, is damn good at skewing events so Abby finds love, loses love – with the wrong guy naturally; are you not paying attention? – loses her job, gets down, gets up, and all in 1 1/2 hours.
That's pretty fast going, and while The Holiday Calendar does leave you in a pretty escapistly-happy frame of mind – I actually left for work whistling, having watched it at 6am (thank you Netflix) – and you want to wallow in that happy, bubbly, rose-tinted glow for the rest of time, there are pretty big holes in the whole thing, big enough to charge a giant red and white candy cane through (another object spat out, in golden-draped light, by the interfering advent calendar).
Or if not holes, then issues; why for instance does Josh observe some sort of self-sabotaging vow of silence? Yes, this is a rom-com, and a festive one at that, so bringing any kind of completion too early is a recipe for premature romantic satisfaction, but seriously dude, NOT. A. WORD.?
The way too that everyone just blithely accepts the magic of it all, well for the most part – Abby does try to get Josh to see how weird it all and Ty too but that's about the extent of it – and goes along with it all is hilarious, as if Nostramian advent calendars were a dime a dozen and sitting on every light-bedecked street corner.
More of an issue since the two points made above are the kind of narrative contrivances that are damn near obligatory for rom-coms generally and Christmas ones in particular, is how emotionally un-resonant the whole thing is.
We should be swooning and sighing with the romantic majesty of it all, and yet all the big plot markers – the meet cute with Ty, the inevitable breakup because Josh DUH, the change in work situations and yes even the big get-together of Abby and Josh feel curiously empty.
The atmosphere and setting of The Holiday Calendar is a delight, as is, plot weirdness aside, the premise of the calendar's meddling machinations, and you honestly want to fall in love with the film on appearances alone but it all just feels a little emotionally hollow and off, so much so that by the end when you should be subsumed in the wonder of Christmas love, you're shrugging your shoulders, musing at the richness of the set decoration, and wondering where you can get yourself your own life-altering advent calendar.