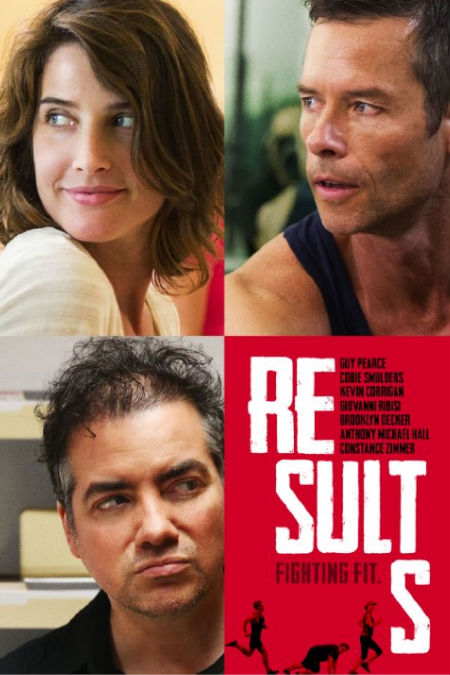 SNAPSHOT
Recently divorced, newly rich, and utterly miserable, Danny (Kevin Corrigan) would seem to be the perfect test subject for a definitive look at the relationship between money and happiness. Danny's well-funded ennui is interrupted by a momentous trip to the local gym, where he meets self-styled guru-owner Trevor (Guy Pearce) and irresistibly acerbic trainer Kat (Cobie Smulders). Soon, their three lives are inextricably knotted, both professionally and personally. (official synopsis via Indiewire)
It kinds sucks when we can't get what we want doesn't it?
It sucks even more when you're rich like Danny (noted indie actor Kevin Corrigan), miserable, flabby and looking for something new to lift you from your despondency and the object of your ardour gives you a big fat "NO" (both the short and long versions).
It's not an easy response to process especially since we live in a society that promotes anything being possible as long as you give it your all.
That positive message of getting what you want works of course when it comes to things getting fit since you control what you eat and how often you exercise; in other words the results are wholly and solely in your hands.
Alas, such an approach doesn't work quite so well when it comes to affairs of the heart since ideally that involves you and one other person, a rogue factor you can't control no matter how much you might want to (and Danny appears, in his own sweet hangdog way willing to give it a red hot go).
And that appears to be the central conceit from the so-called "Godfather of Mumblecore" Andrew Bujalski (Funny Ha Ha, Mutual Appreciation) who looks he has a great deal of fun contrasting the hard and fast results-oriented world of fitness, one of the thriving religions of the 21st century, with the far less predictable, often messy and uncontrollable world of love and romance.
It's borne out by Variety's review of the film, which premiered at Sundance this year, where they observe:
"A healthy body does not always make for a healthy spirit in Andrew Bujalski's Results, a wry relationship comedy about a team of personal trainers, their clients and their shared desire for progress in and out of the gym."
It seems that for people like Trevor and Kat who are used to putting in the effort and getting results – there's that word again! – navigating the human heart is not as cut-and-dried as they imagine it to be.
The same could initially be said for Danny, for completely different reasons, but it is he, notes Variety, who ends out figuring out that which eludes the fitness-duo of Trevor and Kat:
"But the high-energy boost in Bujalski's protein shake comes from Corrigan, an invaluable side man in American indie movies for the last 25 years who has only occasionally (as in 2009's Big Fan) had a role this keyed-in to his highly particular, zonked-out rhythms and faintly menacing stoner-shaman air. His Danny starts out the movie as the person least likely to succeed and ends up as the one most capable of effecting change, for himself and others — a flabby Cupid in the land of Adonis."
It sounds like the kind of film that has some fun with preconceived notions, always a fertile ground for good drama.
Results opens May 29 in USA; no international dates (except for a screening at Riviera Maya Film Festival in Mexico on April 24) available at this time.