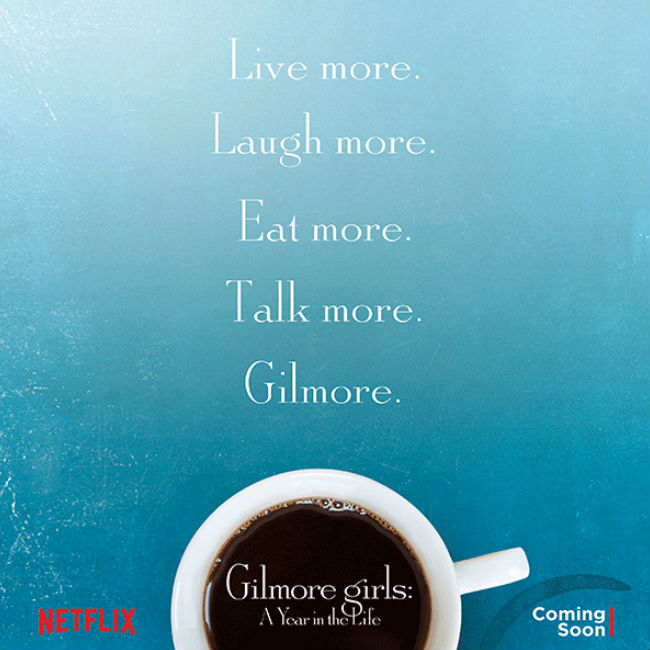 As a non-coffee drinker of long standing – too bitter and frankly it looks like mud; sorry, not sorry – I never quite understood Lorelai's obsession with drinking java at every possible opportunity.
Still, it was intrinsically and amusingly part of her character and so like everything else about Amy Sherman-Palladino's wondrous creation, Gilmore Girls, I adored it all the same.
With the release of four all new episodes, A Year in the Life, each of which covers a season in the life of everyone's favourite Stars Hollow mother-daughter combo, just over two months away, comes news that everyone has been waiting for – Lorelai is still enraptured, in love with and otherwise addicted to her much-loved brew.
The confirmation comes via the first page of the script for the first episode "Winter" which Sherman-Palladino released to the world and which captures in laugh-out loud wonderfulness, the cadence, wit and zeitgeist-relevancy of the relationship that underpins this most delightful of shows.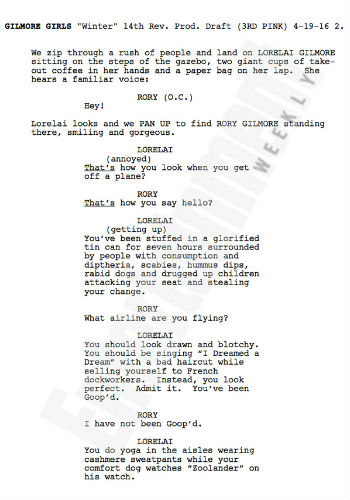 The confirmation of an undiminished coffee fixation is not the only reassuring note in the scripts which both Lauren Graham, who plays the caffeine-saturated Lorelai and Alexis Bledel who plays her daughter Rory, have commented via EW brings us back to everything we know and love about these characters:
"I didn't read the last episode for the longest time because I was scared. I loved how everything was teed up in the first three  and I, carrying the burden of everybody in my mind, was like, 'Oh God, what's going to happen?' And to me, it was deeply satisfying — and also it answered questions I didn't even think of. I thought, 'Oh how perfect, wow. I wouldn't even have wondered that.'
"Part of what was surreal was that we didn't have much time to look forward to it and prepare. We had wanted to do it for a while, but the amount of time in which it became a reality was really short." (Lauren Graham)
"I read the first three in one sitting, I was on page 7 or 8 when I remembered: Of course, this is that inviting town where everything is so familiar. And I felt like I was enveloped back into that time and place; wherever it exists in people's imaginations, I was reminded of where it was in mine. It was so easy to just jump back in and get to work. Which is lucky — because I had to the next day." (Alexis Bledel)
And that's the thing really.
While all of us want to see how Lorelai and Rory have moved and grown, we also want to be reassured that everything we know and love about them is in place from the witty repartee, the endless bonhomie (save for a few kinks in the harmony here and there) to the coffee and the long, pop culture-studded conversations that so defined the series.
And it appears it is, god bless their VHS-watching socks.
Which means that we can all relax and look forward to watching four more gloriously good episodes of the show Graham has described as "sneakily feminist", which promises to live on long after the last onscreen cup of java is downed.