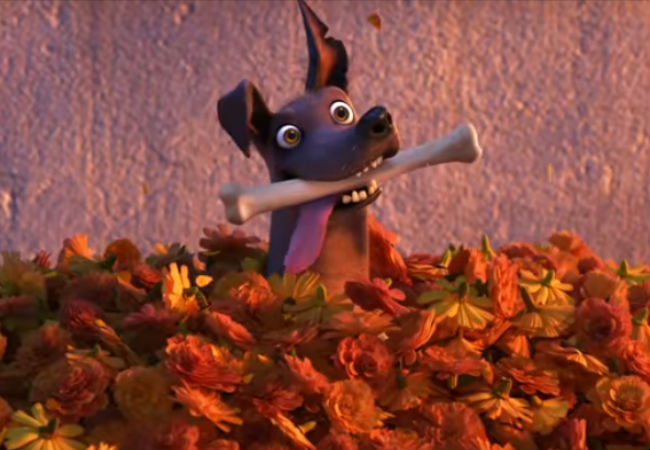 If the average dog could talk, and last we checked they can't, at least not in a language we can understand (save for love, which they fluently and exuberantly), they would tell you that bones not supposed to be able to lead them on a merry dance, eluding them every step of the way.
They are supposed to compliantly sit still, inert, and decidedly not sentient, and submit to be chomped and chewed on, to being a plaything of endless fun and possibility,, and of course, yummy diversion.
In the newly-released two minute animated delight that is Dante's Lunch, which acts as a spirited, hilarious calling card for Pixar's Coco, which releases this October, the dog of musically-aspirant protagonist Miguel thinks he has found a bone ripe for the taking.
The only catch is the bone belongs to someone who very much wants it back and is not about to let Dante feast on something very near and dear to him.
The spirited battle of wills that ensues is thoroughly entertaining, making you fall in love with Dante's irrepressible tenacity and will November, and its colourful, emotionally resonant depiction of Dia de los Muertos (The Day of the Dead) to hurry along just that little bit faster.
(source: Mashable)