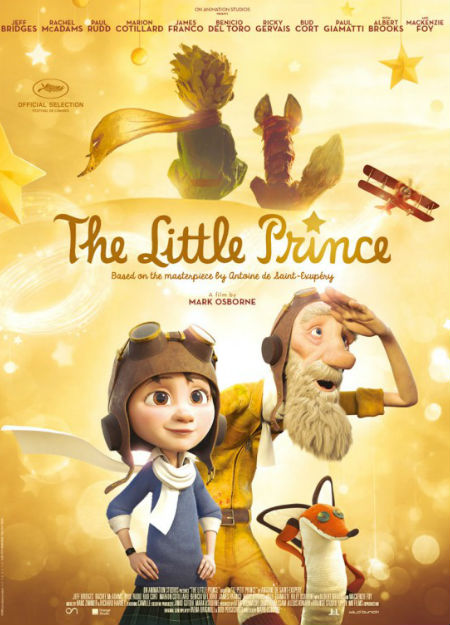 SNAPSHOT
The story centers on a fearless and curious child prodigy (Mackenzie Foy) who lives with her equally academically talented yet overachieving mother (Rachel McAdams). After moving into a new neighborhood, the girl meets her next door neighbor "The Aviator" (Jeff Bridges), an old yet eccentric and mischievous man. Soon, she discovers the story of The Little Prince, a story of a pilot who crashes in a desert where he meets the titular boy from a distant planet, a story that brings the girl and the Aviator together on an extraordinary adventure. (synopsis via Wikipedia)
It is well near impossible, unless your heart is made of concrete or hardened into a wizened husk, to remain unmoved after reading Antoine de Saint-Exupéry's The Little Prince (Le Petit Prince), a poignant tale of a young alien prince fallen to Earth from an asteroid who is befriended by a pilot stranded in the desert.
A deeply touching story of alienation and dislocation, accompanied by breathtakingly beautiful watercolour illustrations, the book mirrored the author's own traumatising experience of having to flee France during the nightmarish upheaval of World War Two.
According to a 1993 piece in The New York Times by Barry James, The Little Prince is "…an allegory of Saint-Exupéry's own life—his search for childhood certainties and interior peace, his mysticism, his belief in human courage and brotherhood…. but also an allusion to the tortured nature of their relationship."
With sales totally over 140 million copies to date, earning it the status of the third-most translated book in the world, this most emotionally-evocative of tales, has been turned it what appears to be an equally gorgeous, heartrendingly transformative film by Marc Osbourne (Kung Fu Panda), which will premiere at this year's Cannes Film Festival in the official selection.
Replete with exquisite animation and a spirit and tone very much in keeping with the much-loved iconic book from which it is drawn, The Little Prince looks like being one of this year's best animated films, quite an achievement in a year with two major releases from Pixar.
The Little Prince opens 29 July in France with international release dates throughout the months following.