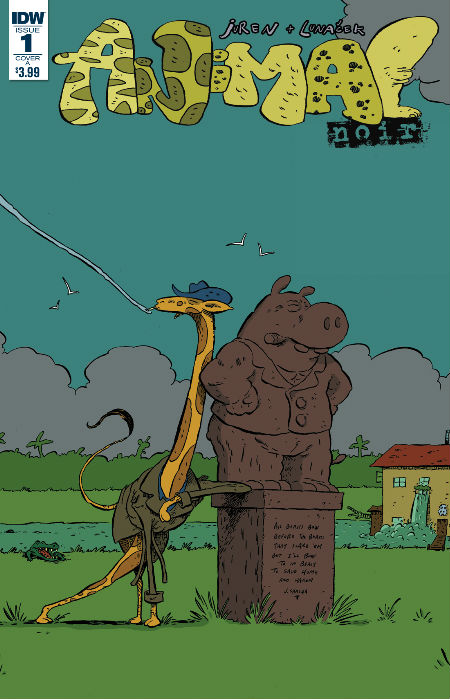 It is oft said that you should never discuss politics, religion or social issues.
As truisms go, this is one that still carries a great deal of cautionary weight, especially in today's world where people have retreated to hermetically-sealed belief towers into which no other line of thought should be allowed to pass, with all attempts to do so met with brusque, resilient, and sometimes, sadly, violent force.
But it's the very existence of these polarised camps, that necessitates comic book series like Animal Noir by writer Izar Lunacek and illustrator Jernej "Nejc" Juren (IDW Publishing) which brazenly, and with good humour and piercing honesty, discuss a great many things rotten in the state of man.
They do this very cleverly with a deliciously-twisted version of a Zootopia-like society where animals rule the boost – in the case of the birds quite literally – with giraffes as the judges and detectives, hippos as crime bosses (with a penchant for water-filled homes) and zebra as the much-maligned underclass, to whom every crime and societal ill is almost instinctually-ascribed.
As much a crime procedure as a window into our society, Animal Noir doesn't flinch from exposing the underbelly of a world where older women on the prowl are quite literally cougars, where lions have assumed positions of power, and the weak and the powerless, or the plain strategically-blind can quite literally fall prey to animals stronger than themselves.
It's not so much dog-eat-dog as hippo bashes hippo (and let's be honest anyone else who infringes on their criminal dealings), a duplicitous universe where Manny Diamond, the protagonist and a giraffe detective, has to track down a literal truckload of animal porn, all predicated on predator/prey fantasies, one of which features a judge's wife who would much rather her youthful indiscretions not find the light of day.
His investigations lead him to a very seedy underworld, one with which he appears to have a great deal of familiarity, as the mystery unfolds; but the series also takes a look at his personal life, as we meet his wife Cassy, depressed and still in mourning from the loss of their first child a year ago.
Quite how is never explained but then that is almost irrelevant as Animal Noir quite movingly examines loss, grief and mental health, as well as domestic violence issues when it becomes clear that Shasha, the hippo crime boss does not treat his wives at all well.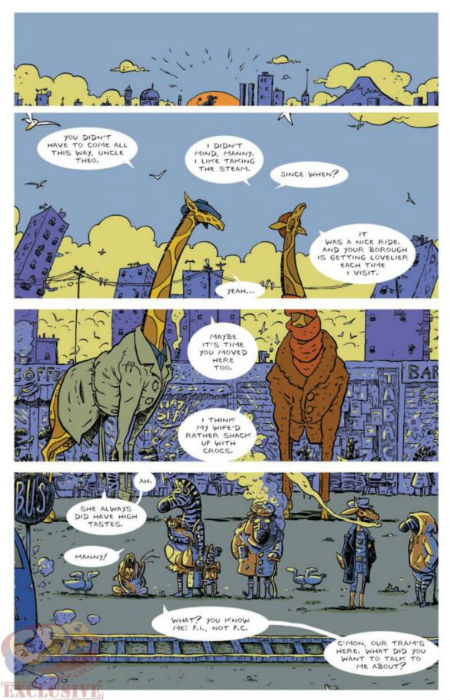 It's this skillful, nuanced deep-dive into the malignancies and flaws of the human condition that gives Animal Noir, which is beautifully illustrated with great detail throughout, so much of it storytelling power and emotional resonance.
Whether it is examining the great unspoken taboo crimes that happen behind closed doors, or the rampant crime and corruption of wider society, the series is searingly honest with light touches of humour to leaven things out just a little.
A cute and sweet Disney take on animal society this is not; what it is though is a highly-imaginative, warts-and-all examination of the way society really works, willing at every stop to be brutally honest if that serves the wider interests of the story and the examination of the issue at hand.
Each issue, which is full of inventively-realised pages like the above where the action and illustrations bleed down through every panel of the page, giving you a feeling that you have fallen, tumbling down Alice in Wonderland-like, deep into this alternate world.
Much of the artwork looks cast in shadows too, a wholly appropriate palette given how much of the storyline takes places in seedy theatres and back alleys, behind the scenes and away from prying eyes (those still looking anyway; many are conveniently turned away for one reason or another).
Each issue ends too with a lovely additional piece of world building; for instance issue #1 gives you a penetrating glimpse into a society as riven by conflict and inequality as our own (because of course, in ways too uncomfortable to mention, it is our own) as CBR explains:
"Animal Noir wraps up with an excerpt from the The Modern Gazette, an in universe publication focusing on the rise and fall of "equality" schools, the last of which was under the guidance of Harry Loveman, a lion. This backmatter deepens the hierarchy of the animal kingdom and gives us a peek at the blood tax and issues with the food supply without being heavy handed in its political nature. It's a juicy piece of prose, and altogether garnishes this issue with one last layer of intrigue."
It is a clever touch, one repeated throughout each issue, not only giving us further insight into Animal Noir society but continuing to build and flesh out issues that will come to play an increasing role in the narrative going forward.
The series may not quite live up to its IDW publicity billing as "Animal Farm meets Chinatown" – it is neither as clever nor as pithy or incisive as those two properties – but it shows real promise, both artistically and narratively, a comic book series that is willing to give down in the gutter and make it damn entertaining but also deeply-thought provoking, to be there.
I love this video review from TorAthena. Right on point and enthusiastically delivered … enjoy …