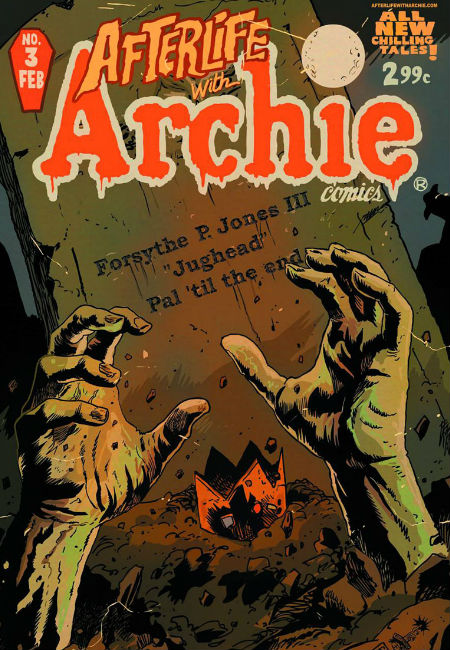 With The Walking Dead's return to our TV screens so imminent we can feel the undead breathing down our necks, and the fascination with all things zombie showing no signs of abating, it makes perfect sense that even Archie is getting in on the afterlife action.
And in a big way too!
None other than the Harvey Award-winning Roberto Aguirre-Sacasa (Fantastic Four, Carrie remake) created the new series of Archie comics, Afterlife with Archie which take place in once all too perfect Riverdale one fateful Halloween night.
With illustrations by Eisner award-winning artist Francesco Francavilla, the seriously delightfully spooky series features members of the Archie gang as you've never seen them before.
Chief among them Jughead, who becomes a drooling,flesh-craving member of the undead when a spell cast by Sabrina the Teenage Witch (whose track record with magic is dubious at best) to revive his recently killed beloved pooch Hot Dog, goes predictably wrong and Jughead's much loved pet is brought back not as his old lovable self but as a zombie canine who, of course, promptly bites his master.
And then all hell breaks loose in a town unaccustomed to such goings on.
It is definitely Archie as you've never known him and yet as you've always known him, as Aguirre-Sacasa explained to vulture.com:
"As much as this is a hardcore horror zombie book, it's still an Archie book. Who is Archie going to take to the Halloween dance? Betty or Veronica? Why does the zombie apocalypse start? Because Sabrina the Teenage Witch messed up a spell, which she is constantly doing in the comic book. Who but Reggie would be the guy who runs over Hot Dog? If anybody has a dark secret like 'I killed Hot Dog!' it's going to be Reggie Mantle."
The first issue has just gone on sale with more blood-issues to follow, perfectly timed for Halloween … and yes, of course, the return of The Walking Dead and its much-anticipated season 4.