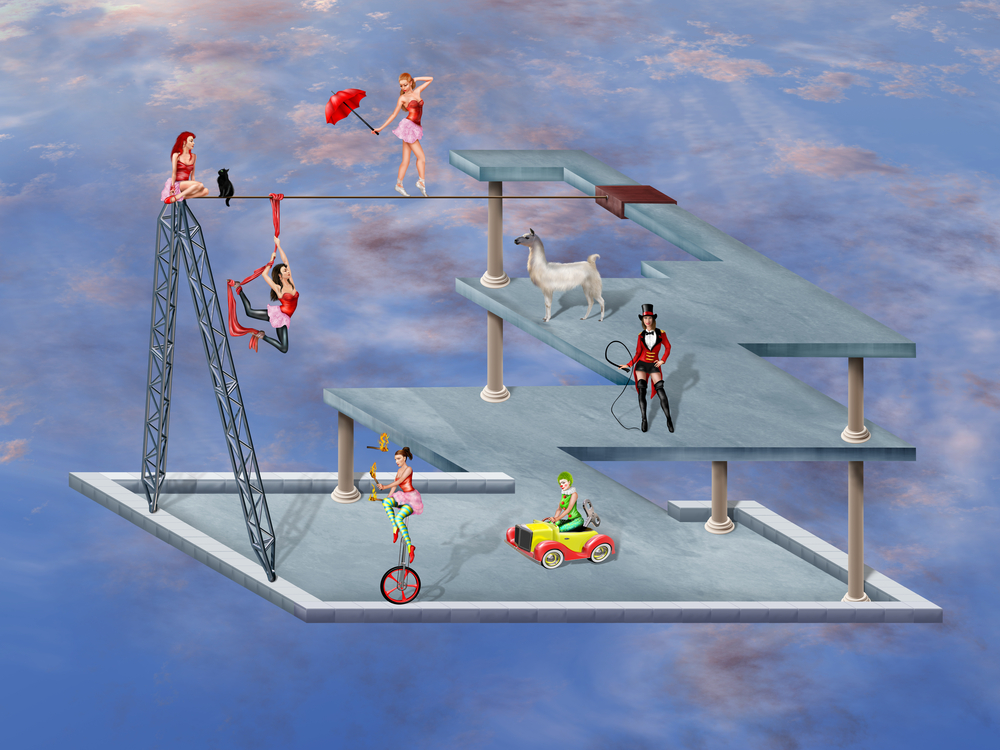 As always, Comic-con, which has just wrapped in San Diego (18 – 21 July), provided an embarrassment of pop culture riches for everyone who was there, and thanks to almost instant transmission via social media, even to those of us who couldn't make it.
There were panels galore, the usual long lines to get into them, surprise appearances (a standout being Johnny Galecki's Star Wars-disguised entry into The Big Bang Theory presentation in Hall H), and all sorts of new posters and trailers that debuted to the faithful.
Not all of the posters and trailers are available online right now but enough of them are to give us some idea of what's coming up for some of our favourite movies and TV shows.
I've selected five that have me really excited so press play, enjoy and look forward to the future …
ARROW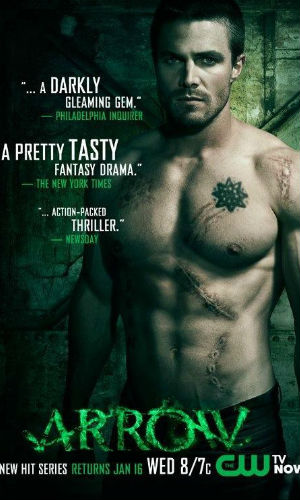 SNAPSHOT
After a violent shipwreck, billionaire playboy Oliver Queen (Stephen Amell) was missing and presumed dead for five years before being discovered alive on a remote island in the Pacific. When he returns home to Starling City, his devoted mother Moira (Susanna Thompson), much-beloved sister Thea (Willa Holland), and best friend Tommy (Colin Donnell) welcome him home, but they sense Oliver has been changed by his ordeal on the island. While Oliver hides the truth about the man he's become, he desperately wants to make amends for the actions he took as the boy he was. Most particularly, he seeks reconciliation with his former girlfriend, Laurel Lance (Katie Cassidy).

As Oliver reconnects with those closest to him, he secretly creates the persona of Arrow – a vigilante – to right the wrongs of his family, fight the ills of society, and restore Starling City to its former glory. By day, Oliver plays the role of a wealthy, carefree and careless philanderer he used to be – flanked by his devoted chauffeur/bodyguard, John Diggle (David Ramsey) – while carefully concealing the secret identity he turns to under cover of darkness. However, Laurel's father, Detective Quentin Lance (Paul Blackthorne), is determined to arrest the vigilante operating in his city. Meanwhile, Oliver's own mother, Moira, knows much more about the deadly shipwreck than she has let on – and is more ruthless than he could ever imagine.
(source: splash page.mtv.com)
While it got off to a slightly rickety start with some strong (dark, gritty tone, powerful narrative, well -drawn characters) and some not so strong elements (almost too much information and backstory), overall it told a compelling enough story to pique quite a bit of interest … and not just from the geekarati, becoming a bone fide CW ratings success in the process.
Having made quite a splash in its first season, expectations are high for Arrow in its second season, a show which has demonstrated its ability to balance a baddy-of-the-week storyline with a wider episodic arc.
And if this season two trailer is any guide (it helpfully includes a recap of key season one plot lines), Arrow looks set to keep dazzling us with gritty, in your face, larger-than-life storytelling, lots of action, and a possible new name for Oliver who no longer wants to be known as The Hood after failing to stop The Undertaking and save the life of his best friend Tommy.
It also introduces the Black Canary storyline although producers hint that the identity of that character may not be the one people are expecting; in other words it may not be Laurel who dons the fishnets.
And Summer Glau (Firefly, Dollhouse) joins the show as villainous businesswoman Isobel Rochev, who arrives with an eye on acquiring the Queen empire, which is in turmoil thanks to its part in the devastation of Starling City, any way she can. I doubt she'll be a match for Moira but ti will be fun watching the two of them square off against each other.
According to digitalspy.com.au, "Season two is all about Oliver's transition from 'Arrow' to 'Green Arrow' – "It's epic, it's big and I hope you guys like it," says exec Andrew Kreisberg"
The new season picks up five months after the end of the season one finale, with the premiere episode "City of Heroes" airing on Wednesday 16 October. (DVD of season 1 is released in USA on September 17.
DR WHO 50TH ANNIVERSARY SPECIAL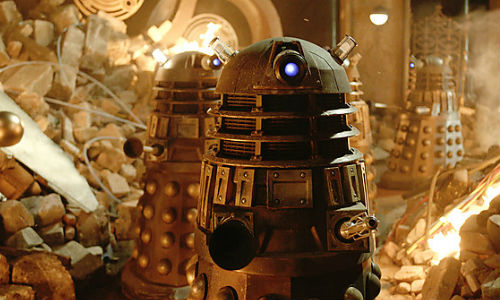 SNAPSHOT
Doctor Who is a British science fiction television programme produced by the BBC. The programme depicts the adventures of a Time Lord—a time travelling, humanoid alien known as the Doctor. He explores the universe in his 'TARDIS', a sentient time-travelling space ship. Its exterior appears as a blue British police box, a common sight in Britain in 1963, when the series first aired. Along with a succession of companions, the Doctor faces a variety of foes while working to save civilisations, help ordinary people, and right wrongs. (source: wikipedia.com)
When Matt Smith wasn't roaming the floor at Comic-Con in a Bart Simpson mask (see below) – he confesses to a great love of Springfield's finest dysfunctional family – and interacting with fans who are probably now kicking themselves to learn they were talking to the eleventh doctor in the flesh, he was on a panel with current companion Jenna Coleman (Clara), showrunner Steven Moffat, producer Marcus Wilson, writer/executive producer Mark Gatiss, and David Bradley who plays actor William Hartnell, the very first Doctor, in the forthcoming TV movie documenting the creation of Doctor Who, An Adventure in Space and Time.
The session was moderated by Scottish comedian and late night TV show host Craig Ferguson, who kept telling fans they were there to hear all about Sons of Anarchy, and asked fans to treat Bradley, who gained some infamy for his role in Games of Thrones' much-talked about "Red Wedding" episode, as nicely as possible.
And the main topic of conversation of course was the 50th Anniversary special, the title of which has yet to be announced, which premieres in the UK and USA on 23 November 2013, and stars the eleventh doctor (Matt Smith), the tenth doctor (David Tennant) and John Hurt who will play another previously unknown incarnation of the Doctor, possibly somewhere the 8th and 9th iterations.
The trailer, which has yet to be released online by the BBC, gave some tantalising insights into what fans can expect in the much-anticipated movie with the Daleks, who first appeared in an episode on 21 December 1963, just week after the first ever episode, "An Unearthly Child",  of Doctor Who aired on 23 November, playing a major role and forcing all the doctors to work together to save humanity.
Doctor Who executive producer Steven Moffat had this to say about the Daleks place in the special:
"The Doctor once said that you can judge a man by the quality of his enemies, so it's fitting that for this very special episode, he should be facing the greatest enemies of all."
Also making an appearance will be the shape-shifting Zygons, their first reappearance since they did battle with the fourth Doctor played by Tom Baker almost 40 years ago in "Terror of the Zygons" (1975).
Of course a Doctor Who anniversary special without his companions wouldn't be special at all, so current companion Clara Oswald (Jenna Coleman) and Rose Tyler (Billie Piper) will be joining in too, along with none other than Queen Elizabeth 1, played by Joanna Page (Gavin and Stacey).
It sounds like an enormously impressive undertaking and a fitting way to mark this much-loved show's major milestone.
Also discussed was Matt Smith's departure as the eleventh doctor – he has just been in America filming Ryan Gosling's directorial debut, How To Catch a Monster – which will take place in the Christmas special, which is still in the process of being written with Moffat admitting he is on page 22 of the script at present.
The announcement of who will play the twelfth doctor, which has been the subject of feverish speculation, with all sorts of names being bandied about including most hilariously Miranda Hart (Yes please! Such fun!), will take place a few weeks from now by all accounts.
* I will, of course, post the official trailer when the BBC finally releases it.
TRUE BLOOD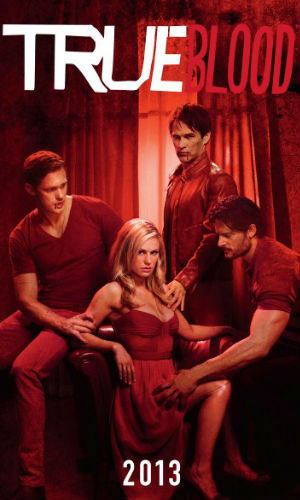 SNAPSHOT
True Blood is an American television drama series created and produced by Alan Ball. It is based on The Southern Vampire Mysteries series of novels by Charlaine Harris, detailing the co-existence of vampires and humans in Bon Temps, a fictional, small town in northwestern Louisiana. The series centers on the adventures of Sookie Stackhouse (Anna Paquin), a telepathic waitress with an otherworldly quality. (source: wikipedia)
It's going to be back to basics for the good folks of Bon Temps if Bryan Buckner has his way.
And given he is True Blood's showrunner, the man handed the reins to one of HBO's jewels-in the-crown by creator Alan Ball, there's a very good chance he will.
He had this to say about season 7 during the panel for the show which also included Rob Kazinsky (Ben/Warlow), Michael McMillian (Steve Newlin), Anna Camp (Sarah Newlin), Joe Mangianello (Alcide), Kristin Bauer van Straten (Pam), Deborah Ann Woll (Jessica), Nelsan Ellis (Lafayette), Rutina Wesley (Tara), Sam Trammell (Sam Merlotte), Ryan Kwanten (Jason Stackhouse), executive producer Brian Bruckner, and Anna Paquin (Sookie):
"I think you're going to feel like the show is going back to its roots. We're going to try to condense the number of stories we're telling, make you feel like you're coming home to Bon Temps.

"I feel like this show is ultimately about the relationship between vampires and humans. And it's about that town. I actually want to bring [the show] in a little bit. My hope is to get all these people we love living under the umbrella of one story and one thread, and really make this a show about a small town that we've all come to know and love."
But first there's the rest of season 6 to navigate, and as the trailer above shows, there's a lot about to go down.
For a start Sookie, not a stranger to man problems, has one doozy of a realtionship headache on her hands.
Maclyn Warlow (aka Ben Flynn, played by Rob Kazinsky), a 5500 old vampire – he was the first person turned by the mother of all vampires Lillith, and now answers to Bill, who has taken on all of Lillith's attributes including her "god-ness" as Paquin termed it – a half vampire/half faerie who is after Sookie in a big way, and ahem, also killed her parents.
Awwwk-waaard.
She, of course wants none of it, declaring at one point that "I'd rather walk the earth as a corpse than spend another minute thinking about you" , which are pretty strong words of rejection in anyone's language.
And yet it appears, I say appears because nothing is certain in the ADHD cut and thrust of the trailer, that Warlow is about to make her into a vampire.
That would be an extremely unlikely development but still this is True Blood, where practically anything is possible.
Hell we have vampires and faeries, werewolves and witches and gods oh my, so nothing is beyond the realm of possibility.
Governor Truman's pogrom against the vampires continue with all sorts of experiments being conducted on the imprisoned supernatural beings including introducing a few of them to sunlight, Jason doing his best to save Jessica, and the maniacal religious fanatic Sarah Newlin (Anna Camp), who is seeking to dominate politics and the Governor continues her campaign to rid the world of vampires as if its a divinely-given holy calling.
For a wonderfully detailed roundup of what was said at the Comic-Con panel, check out Jen Trolio's detailed rundown of what was said, at tv.com
FAMILY GUY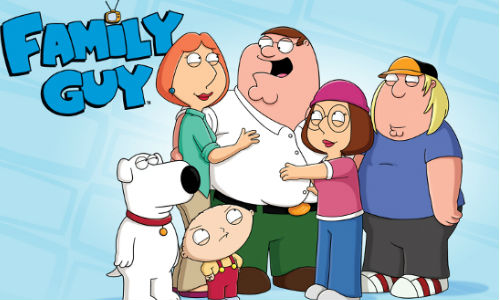 SNAPSHOT
It's topical. It's edgy. It takes political correctness, wraps it in a paper bag and leaves it flaming on Mary Whitehouse's doorstep before ringing the doorbell and running away. Best of all, it's twelve different kinds of funny. Family Guy is comedy for all tastes. If you don't find it funny, there's probably something wrong with you. Or maybe you're just one of the people this clever little cartoon takes a pot shot at.

Come spend some time with the Griffins. Peter's the obnoxious, befuddled father. Lois is the loving mother. Son Chris is often confused, and daughter Meg is too smart for her own good. Speaking of smart, we'll all be in trouble if maniacal genius Stewie (the baby of the family) gets his way. Oh, and don't forget the martini-sipping mutt, Brian. (He talks so much, you couldn't forget him if you try.) This perfectly normal suburban family is the brainchild of mad-genius creator Seth MacFarlane. (source: tbs.com)
Thank the lords of irreverent satire, Family Guy has not lost one ounce of its edge.
With the comic-con trailer, which offers a five minutes snapshot of season 12 which kicks off on Fox on 29 September, offering everything from monkey to camper-than-camp gays and Meg being pushed into her burial plot by her father, it looks like the boundary pushing which has symbolised the show's first 11 seasons will continue apace.
At the Comic-Con panel, which alas didn't feature series creator Seth MacFarlane, who apologised via video that he couldn't be there "shaking a thousand strange hands and being coughed on", one of the executive producers Steve Callaghan made mention of a Family Guy / The Simpsons crossover episode in which there  "may or may not be a five-minute chicken fight between Peter and Homer."
The panel, which also included executive producers and showrunner Rich Appel, executive producer Danny Smith and actors Mike Henry (Cleveland Brown), Patrick Warburton (Joe Swanson), Alex Borstein (Lois Griffin), and Seth Green (Chris Griffin), also hinted at the fact that a major cast member would die, prompting Green to query out loud "Is it Brian?"
By all accounts Steve Callaghan managed to keep a straight face throughout the announcement everyone in the audience to wonder if Family Guy would dare to pull a The Walking Dead or Games of Thrones stunt?
Still it's a cartoon right? Death is surely only an episode long … or is it? (cue meaningful stare at the camera)
Good news for anyone missing Cleveland after his spinoff show was cancelled.
He's back in Quahog with his family and will remain there for the foreseeable future, unless of course his show performs a Family Guy (or Futurama for the matter) and springs from the animated dead (OK that just sounds impossible).
One thing's for sure, what with Stewie as Little Red Riding Hood in a promised Grimm fairy tales send up, and Chris dressing up as a condom for Halloween, it's going to keep on offending the easily offended with glee.
As for the rest of us? We'll be too busy laughing to notice their outrage, which is just the way we like it.
HUSBANDS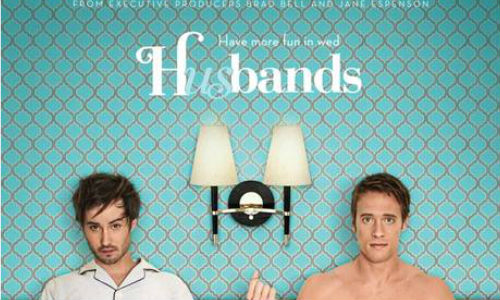 SNAPSHOT
Husbands tells the story of a newly dating couple, Cheeks and Brady. Cheeks, played by Brad Bell, is a controversial tabloid personality. Brady, played by Sean Hemeon, is a professional baseball player just recently out of the closet. After six weeks of courtship, they travel to Las Vegas in celebration of a federal amendment for marriage equality, only to wind up drunk-married to each other. Fearing that a public divorce would be devastating to the cause, they stay espoused. Alessandra Torresani plays Haley, Cheeks' best friend, who is reluctant, but supportive of their decision (source: wikipedia)
Husbands has a lot going for it.
Created and written by Brad Bell and the legendary Jane Espenson, who has worked on such superlative series as Buffy the Vampire Slayer, Battlestar Galactica, and currently Once Upon a Time.
Immensely talented actors in Brad Bell, Sean Hemeon and Alessandra Torresani, all of whom bring brilliant comic timing to their wonderfully-written dialogues.
And an off-the-moment message, borne not of opportunistically leveraging a major cultural issue, but of a passionate heartfelt drive to contribute to the marriage equality with stories that reflect the human side of the debate, one which is often lost in the race to extremist posturing.
It also cleverly makes use of emerging technologies, first via its own channels and the use of its own funding – series two was funded by a Kickstarter campaign that I am proud to say I contributed to – and now via CW's new digital network CW Seed.
It is arguably the most successful web-based series to emerge in recent years and the only one to portray two openly gay actors in a normal, committed relationship.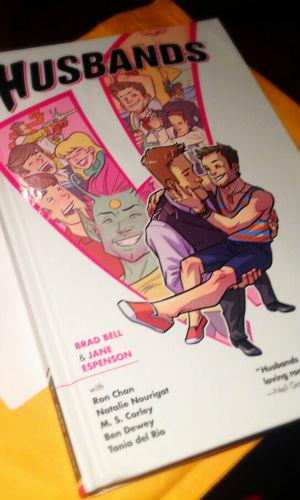 Husbands, of course, made it to Comic-Con this year, holding a panel session on 19 July.
In attendance were co-creators and co-writers Jane Espenson and Brad Bell, co-stars Sean Hemeon and Alessandra Torresani, director Jeff Greenstein, and the multi-talented Amy Acker (Joss Whedon's Much About Nothing) who will play Brady's little talked-about – OK never talked about – long lost fiancee, whose arrival at the couple's formal wedding ceremony, unnerves Cheeks, who is convinced that he knows nothing about the man he is now married to.
As Hemeon remarked on the panel:
"… this is the one moment where it starts getting really real."
According to Marama Whyte at hypable.com:
"The season 3 episodes will run approximately 8 minutes each, and will come out weekly. At the panel, they announced that in addition to Amy Acker, season 3 will guest star Beth Grant (The Mindy Project, Donnie Darko), Michael Hogan (Battlestar Galactica, Teen Wolf) and Seth Green (Family Guy, Buffy)."
I can't wait for the new content to start appearing online, and I'm thrilled that Husbands is continuing to push boundaries, both thematically and technologically.
You can watch the trailer for the next season of Husbands, which is tentatively scheduled to start on CW Seed on 15 August 2013, here.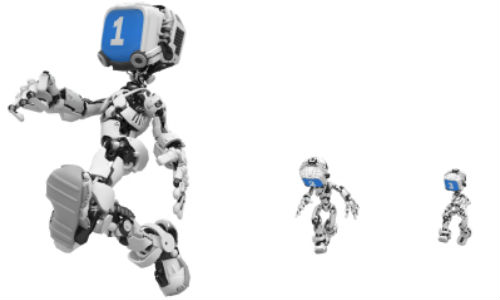 Now I know this post is almost as big as Comic-Con itself but I have five quick trailers to share with you that I couldn't not include.
Trust me, I tried but I couldn't.
GAMES OF THRONES
It's THE Water cooler show of the moment – you need not look any other further than the flurry of tweets and posts that followed the show's infamous bloody "Red Wedding" to get a gauge of its Everest-like levels of popularity – and so naturally they were at Comic-Con too.
Then highlight of the show's appearance was this amazing video that functions as an In Memorium for Games of Thrones's many, many, MANY characters who, in the words of Sam Clench of news.com.au "were stabbed, shot, burned to death or relieved of their heads in the HBO hit's first three seasons."
And here's the full panel appearance by the stars and producers of Game of Thrones:
ONCE UPON A TIME
One of the great success stories of recent years in broadcast television, Once Upon a Time, made its way to Comic-Con to talk to the faithful, with  Executive Producer Zack Estrin, Sophie Lowe (Alice), Peter Gadiot (Cyrus), Michael Socha (Knave of Hearts), Emma Rigby (Queen of Hearts), and Naveen Andrews (Jafar)  at this year's round tables.
You can read a full rundown of what was discussed via this wonderful hypable.com post.
They also debuted these two posts which are gorgeous to look at and hint at all manner of wonderful things to come in this post-modernist fairytale.
OOOOOOO
COMMUNITY
 The recently re-installed showrunner for NBC"s Little Sitcom That Could, Dan Harmon, popped into Comic -Con and sat down with tvline.com's Michael Ausiello to talk all things season 5.
"Among the topics discussed: an upcoming animated episode ('I don't think it'll have a lick of live action') and the Jeff-Annie attraction (I think the energy between them is where the power is'), not to mention how he'll re-introduce Joel McHale's character, who graduated in last season's finale, back onto campus ('I want him back at that table. I want him back in those hallways.')." (source: tvline.com)
Michael Ausiello also sat down with the cast, minus Joel McHale and the departing Donald Glover.
And last but not least, here's the full panel for Community …
FALLING SKIES
In between managing to dodge attacking Espheni aircraft, mechs and skitter, and manoeuvring their way through and around the labyrinthine machinations of Charleston politics, the cast of Falling Skies popped in to chat with both Michael Ausiello at tvline.com …
and hollywoodreporter.com …
HANNIBAL
And finally, NBC's Hannibal, which has been described as "bleak, grim, brutal, and clinically gory (also, outstanding)' by Dustin Rowles at uproxx.com, released, of all things, a gag reel that, Dustin again, has been called "amazingly, unexpectedly adorable."
It just goes to show that no matter how bleak a show may be, that there are still laughs to be had somewhere in there.