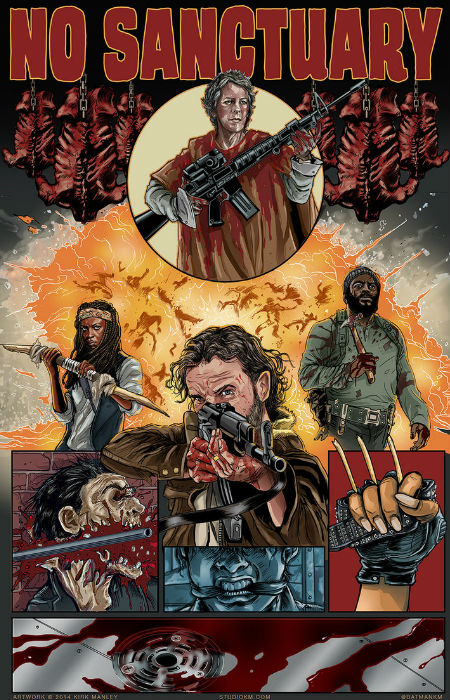 I love our postmodern age where one creative moment begets another begs another until they all merge into one satisfying complimentary whole.
It's often a case of art imitating art imitating art – forget about life itself: who wants that? – to glorious, pop culture-glorifying effect.
The latest person to join those hallowed ranks is Kirk Manley who has created some truly impressive comic art that plays homage to The Walking Dead, which is now a hit TV, zeitgeist-bestriding series based on a massively successful, still running and much-loved comic book series.
Is creating comic book art from something that is now a TV series but once was, and still is, a comic book series a tad redundant?
Not even remotely at all! Manley's art is brilliant, testament to the fact that one artists being inspired by another is a hallmark of our modern creative age – actually of pretty much every age; it's just more immediately obvious these days thanks to the interwebs – and can create art that that stands on its own two, wholly clever, feet.
You can see more of the work of Manley, who io9 points out, "ven did the poster for the upcoming Walker Stalker Con, which takes place December 4 through 6 at the Meadowlands Exposition Center in New Jersey" at his DeviantArt page.