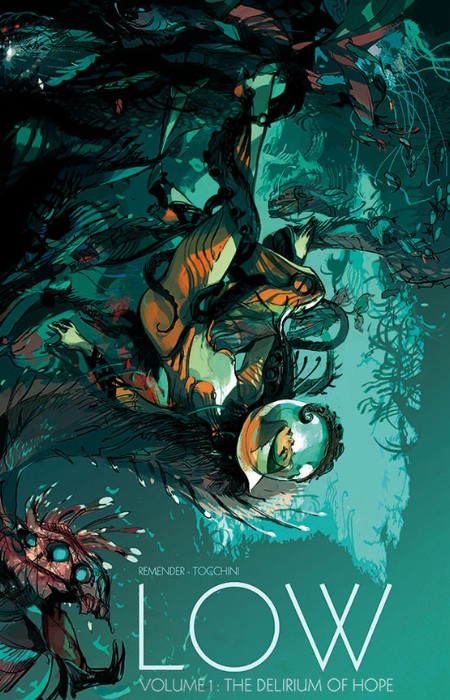 Low is, in every possible sense of the word, EPIC (and yes, the capitalisation is most assuredly warranted and necessary).
Written by Rick Remender with artwork by Greg Tocchini, Low is one of those science fiction comics series that takes its impressively imaginative premise and runs it to every possible place possible.
Writ large as a Shakespearean tragedy for a post-apocalyptic future, Low tells the story of one family, the Caines, and specifically the matriarch of the family Stel, to save humanity from a fiery end which has already caused people to literally dive to the bottom of the oceans to build cities safe from the ever-more-fatal levels of radiation on the surface.
The cause of this death-to-all-life-on-earth radiation spike is the sun's expansion on its way to supernova status – rest assured that is quite some way off so not an immediate threat unlike, of course, climate change – an inescapable development that essentially spells the end of the earth and humanity unless we can find another habitable planet on which to reside.
It's a beguiling premise for a comic book and one that Remender notes could cause you to become utterly nihilistic since it is fair to wonder what the point of anything is if eventually the sun is gobble it all up and render to ash anyway.
Admitting in the foreword that it really impacted him as a child, and caused his natural pessimism to go into overdrive, he began to wonder years later whether it would be possible to remain optimistic in the face of such a cataclysmic threat.
You might think, no, but Remender decided you could be, and so, in the person of Stel Caines, he pours all the sunny side up positivity you could give anyone with the intrepid resident of Salus, one of the three ocean floor cities near the Mariana Trench, believing that one of the probes sent by earth to the stars will eventually come back with good news.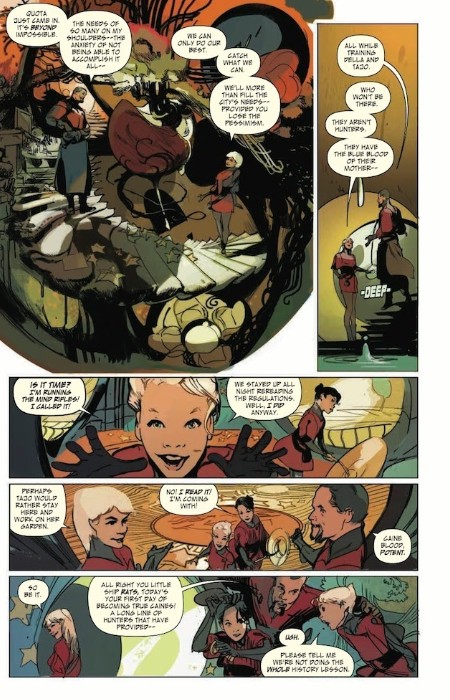 She is astonishingly, joyously optimistic that this will be the case, and while her husband Johl teases her about her ardent optimism, she continues to work away to give humanity some hope in what is in many years a hopeless situation with a known and certain end.
Certainly she is a lone voice in many ways, with the Salusian leadership have long ago given themselves over to hedonistic wind, drugs and orgies, believing there is nothing to be done but partying until the inevitable happens.
Stel is having none of that, but her face is sorely tested when an horrific event affects her family and she is pushed into a grief-washed place of darkness and loss where positivity seems so alien as to be impossible to entertain.
That is, until she receives a ping to say a probe has returned to earth with some damn good news, humanity continuing as a species good news, and her sorely-tested optimism goes back into overdrive and she and her wayward Marik head off in search of what could be humanity's last hope at realising a non-roasted future.
Low is awash in a beguiling mix of hope and despair, the latter more than the former much of the time but Stel's optimism is a tenacious creature and refused to give up even when she is at the end of herself, and Remender brilliantly brings the epic highs and despairing lows to vivid life with dialogue and narrative that is desperately dramatic without once sinking into embarrassingly overdone melodrama.
Tocchini's artwork brings Remender's epic storyline to vivacious, heartstoppingly immersive life with scenes that are steampunk dreamy in their scope and intent, with each moment marked out in colours and design that suggest a constant battle between light and dark.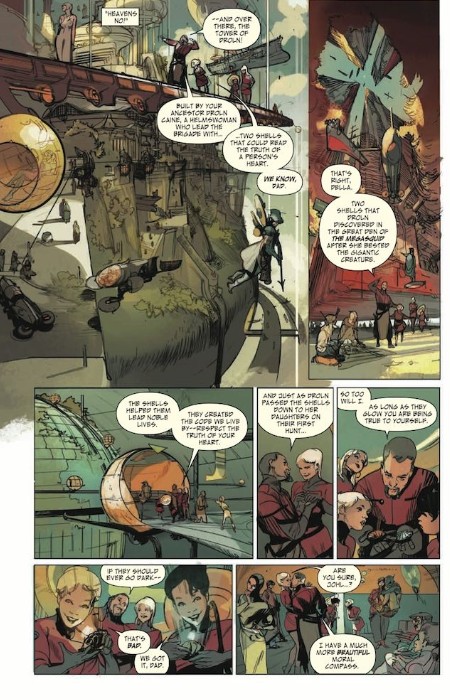 There is a beauty to Tocchini's artwork which means that even in the very worst of times, and they are far more abundant than Stel ever wanted, expected and can often cope with, you are marvelling at how gorgeously he brings the fallen world of Low to agonising life.
That is the amazing thing about the world Remender and Tocchni have created.
It is terrible in its decay, its piratical terrors and its Mad Max-ian sense of brokenness and nihilistic despair, but thanks largely to Stel, it is also still alive with the idea, however faint, that there is future out there for humanity if we can just be bothered looking for it.
The thing to note here is that Stel's optimism takes a hammering pretty much all the time, and so while you might think it's all fey nonsense in the face of such an apocalyptic threat as the sun engulfing its third once-verdant planet, it actually has to become robust, gutsy and muscular, proving that belief often isn't just cutesy, heartwarming ideas, but stuff of which real change-inducing momentum is made.
Stel has a huge amount to contend with from overwhelming grief to nihilism run rampant to cruelty and violence on a societal wide level but personal tragedies aside, and they are considerable, she stays the course, even in the face of an epic cliffhanger which ends this first collected volume of Low's utterly compelling story.
There are three more Low volumes out in the world (which shall be reviewed soon) and with the story continuing to the present, we are a long way from the end of Stel's exhaustingly inspiring tale which if this volume of massive high and cratering lows is any indication, will test her optimism in ways that would leave the rest of us reaching any sort of escapist releases to hand.
But Stel is not that type of person, despite everything she goes through, and while she does react with despair and horror and a sense of temporary futility (she is only human after all; if nothing else, Remender grounds in believable, flawed humanity), she is one of those people who is not easily dissuaded which means we have a great deal to look forward to in coming instalments.