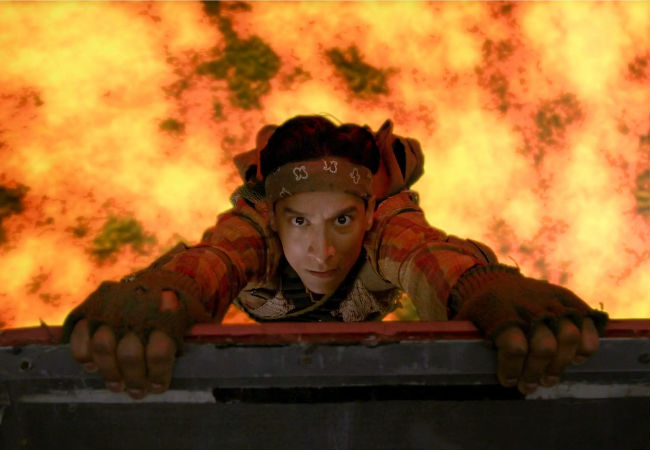 The fifth episode in Community's steadily improving fifth season, "Geothermal Escapism", was a bittersweet episode.
While it saw the show return to the anarchic, rapid-fire pop culture-referencing form which characterised its iconic paintball episodes, "Modern Warfare" (E1, S23), "A Fistful of Paintballs" and "A Few Paintballs More" (S2, E23/E24), it also saw the departure of Troy (Donald Glover aka Childish Gambino off to pursue new music and TV opportunities).
"Welcome to Shirley Island, where all your dreams come true! If you dream of standing on a table and pissing in a jar." (Shirley)
Accepting the offer from the recently departed Pierce Hawthorne (Chevy Chase), who it was revealed in "Cooperative Pollygraphy" had died from semen-producing dehydration, to sail around the world in the appropriately named yacht The Childish Tycoon in order to collect his multi-million dollar bequest from Pierce's will, Troy found himself having to say goodbye to his study group friends.
Naturally, it was not your standard garden variety farewell, thanks largely to BFF Abed's (Danny Pudi) refusal to accept he was actually leaving, with a game of Lava World (the ground is lava; touch it, you're "dead") unleashed upon the school with the Dean's (Jim Rash) permission (largely after he found out the first prize was a first edition comic book worth $50,000).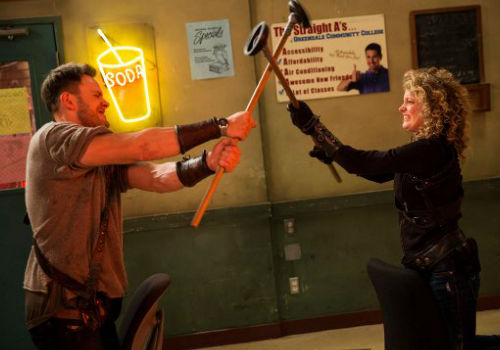 Naturally of course all sorts of farcical hell broke loose, with a Lost Boys meets WaterWorld by way of Mad Max vibe quickly taking over Greendale as everyone battled it out for the prize money in the most hilariously ludicrous of ways.
But while everyone else in the Save Greendale committee, including newly introduced criminology professor, Buzz Hickey (Jonathan Banks) and reprobate psychology professor Ian Duncan (John Oliver) threw themselves into the game with typical surreal-laced gusto, Britta did her best, initially at least, to get Abed to admit to his true feelings.
She failed miserably at first as Abed and Troy, patrolling the halls as Chair Walkers, and battling it out with the likes of Chang's (Ken Jeong) rainbow-coloured punk-lookingLocker Boys and Hickey's apocalyptic chair-crushing machine, ignored her entreaties to face up to the fact that they were soon to be separated:
"Psychology has taught me the human mind has a tendency to re-channel separation anxiety in the form of frivolity and giddiness." (Britta)
Ignoring cries that she was once again Britta'ing things, she persisted with her calls for emotional sanity to prevail until, abandoned to "die" in the hallway by Abed and Troy, she began playing the game in earnest in an alliance with Hickey, with both of them, and some gathered up chair-stomping cronies, attacking Shirley's (Yvette Nicole Brown) Waterworld-recalling Shirley Island fort in the cafeteria.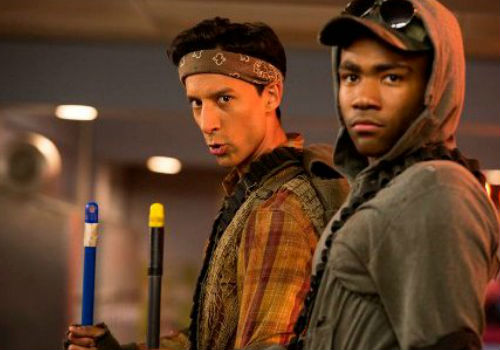 Opposed by Jeff (Joel McHale) and Annie (Alison Brie) – the nonsensical "Knock! Knock!" conversation between Jeff and a now frizzy-haired wild-looking Britta was pricelessly funny – it was only after Britta and Troy were the last two people standing, Abed having sacrificed himself to the lava that he finally admitted was real to him, that she was able to make headway with the two soon-to-be-parted besties.
Britta: "Do you feel like this game's gotten out of hand?"
Jeff: "Nah. Feels normal enough for a school that's on 911's blocked caller list."
But it wasn't psychology that won the day but rather participation in Abed's hyperactive imaginative take on the world that gave him and Tory some form of emotional closure.
And it was this moment when Abed finally admitted how much Troy's departure was going to hurt him that Community really displayed why it is one of the smartest sitcoms out there.
Its ability to mix the  nonsensical with the profoundly touching, to always keep in mind that the heart of any truly classic sitcom is constant awareness that the humour springs not from the lines uttered but the characters that utter them, came to the fore in the final scenes with the group farewell scene on the library steps among some of the most affecting moments this remarkable show has given us.
Dan Harmon's hand was all over this return to form episode, the surreal sitting comfortably alongside the emotional, its hilarious over the top lava world game segueing neatly into Troy's sort of sailing into the sunset moment with, yes, Levar Burton of all people.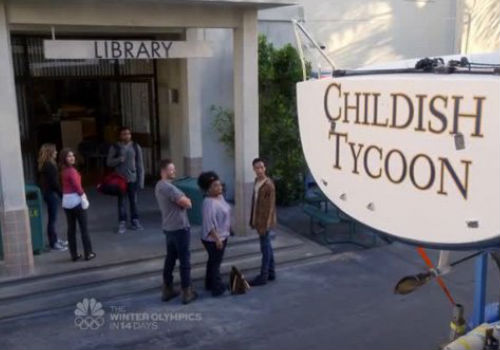 While it didn't feature as much of Troy as you might have expected – although he was part of quite a few Troy and Abed's moment, most humourously Troy and Abed bursting out of Shirley's collapsing island of cafeteria chairs and tables in a giant transparent ball to cries of "Troy and Abed in a bubble!" – his scene with Britta in the basement while they fake cloned Abed was a beautiful thing to watch and emblematic of Community's ability to switch storytelling gears on a dime.
And it gave Troy and Abed a chance to share, with loading up on too much of Britta's syrupy kum ba yah psychobabble, how much they mean to each other.
It doesn't make Troy's departure any easier alas – he was one of my favourite characters on the show – but their soulful goodbye and those with Annie, Britta, Shirley and Jeff were as heartfelt and character-referencing as you could want.
Odd though it might have felt to be shedding a tear or two hundred mere moments after laughing so hard you fell off your chair – or was that just me? – it was classic, beautifully written and acted Community and as fine a send off as you could want for such a beloved character.