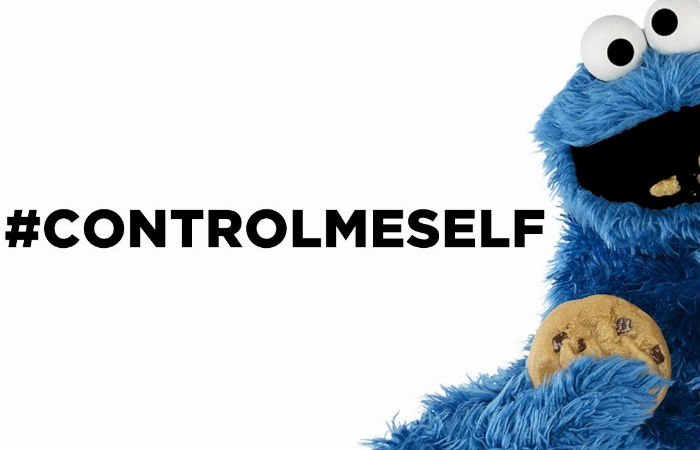 Cookie Monster is back, cookies naturally enough in hand!
But this time he is willing to wait for his tasty treats … well longer than normal at least.
As a  prelude to their 44th season, which launches on 16 September, Sesame Street has unveiled its latest parody song, a playful take on Icona Pop's massive pop hit "I Love It!", now titled "Me Want It (But Me Wait)" featuring none other than everyone's favourite cookie-chomping blue-furred monster.
In line with a 2006 decision to use the show as a way of tackling the growing childhood obesity epidemic by teaching them how to make wise eating choices, Cookie Monster sings of his great love for cookies but also, of course, his decision to resist the urge to eat all them all NOW.
In a press release for their upcoming 44th season, Sesame Street's producers, The Children's Television Workshop, explained the rationale behind the Icona Pop hit parody, part of a new segment in the show called "Cookie's Crumby Pictures" and aimed at teaching kindergarten-aged kids self-regulation:
"For 44 years, Cookie Monster has struggled with intermittent success to consciously control his thoughts, actions and emotions.  Through seven hilarious spoofs, including Life of Whoopie Pie, The Spy Who Loved Cookies, Les Mousserables and The Hungry Games, we'll see Cookie Monster attempt to master executive function skills – a key component of self-regulation.  He'll display self-control (try not to eat the cookie), delayed gratification (eat the cookie later), flexible thinking (think about something else so you don't eat the cookie), working memory (remember a strategy that worked before to keep from eating the cookie) and task persistence (being motivated to not give up while waiting to eat the cookie). Along with Cookie Monster, children will also learn about identifying and managing emotions and empathy."
(source: communityvoices.post-gazette.com)
It's an important message but one cleverly wrapped up in the sort of highly imaginative form that kids, like yours truly, have lapped up for 43 years and counting.
You can watch the fun clip for the parody below …
"Me Want It (But Me Wait)" is the perfect follow up to last year's viral hit in which Cookie Monster also starred, "Share It Maybe", a parody of the Carly Rae Jepsen's hit "Call Me Maybe".
And the latest in a gloriously long line of inspired parodies.
You know you've made it as a musician when Sesame Street, which has a history of creating winning, message-rich parodies such as "Furry Happy Monsters" (REM's "Shiny Happy People") and "Don't Know Y" ("Don't Know Why" by Norah Jones), gives your song it's famously imaginative treatment.
Given the fact that Cookie Monster is set to be a major component of fulfilling Sesame Street's main objectives in the forthcoming season, we know we have a few more delightfully creative parodies coming our way.
Sigh … I want to watch them all NOW!
But me, of course, will wait.
And why not check out the song that inspired Cookie Monster's latest viral masterpiece?