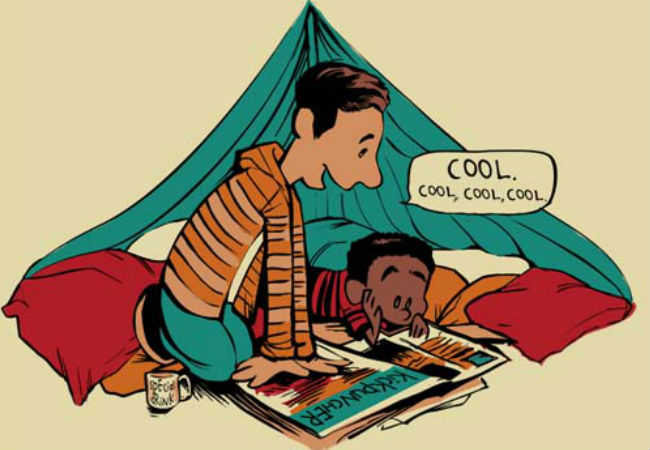 The dream of #sixseasonsandamovie lives!
After sailing far too close to oblivion for any fan's tastes, thanks to Hulu's last minute decision not to carry Community as the June 30 deadline approached when all of the cancelled show's actors were to be released from their contracts, the series, set at a community college with a surreally witty edge, has been picked up by Yahoo Screen for online transmission.
It's thrilling news for anyone who's been following the Greendale gang, the best group of Human Beings in the world POP! POP!!, a wholly unexpected piece of good news after NBC announced on 9 May this year that it wouldn't be renewing the series, leading to these tweets from the stars of Community.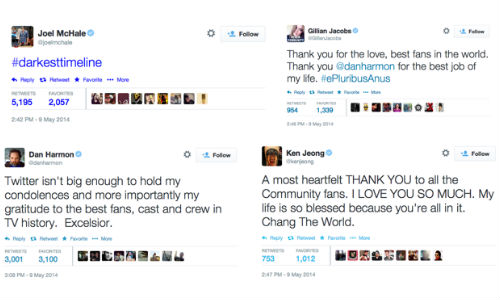 The fairytale renewal pays tribute to both the uncompromising determination of fans to keep the show alive, and also to Community's production company Sony Picture Television's determination not to let the show die, shopping it around to any number of suitors before Yahoo Screen finally said "YES" with less than 24 hours to the contract deadline (meaning of course the entire existing cast is back).
They have promised to keep the production levels as high as they have been and perhaps even extend the length of the episodes as Zack Van Amburg, president of programming and production at Sony Pictures Television indicated to EW.com:
"The budget won't be cut one dollar. We didn't want to be producing the show at any less of the quality or production value that we had been producing. Yahoo came in with finances that were undeniable … If anything I think we will be longer."
And as you'd well understand, it's not only the fans who are cock-a-hoop with delight.
Creator and restored  showrunner Dan Harmon (seasons 1-3 and 5) having this to say about the deal:"
"I am very pleased that Community will be returning for its predestined sixth season on Yahoo. I look forward to bringing our beloved NBC sitcom to a larger audience by moving it online. I vow to dominate our new competition. Rest easy, Big Bang Theory. Look out, Bang Bus!"
His enthusiasm was echoed by Joel McHale whose thrill at being back in the role of Jeff Winger was palpable:
"The reports of our cancelation have been greatly exaggerated.' —Mark Twain (The other version of this quote has been wrong for years). #SixSeasonsAndaMovie is real. Thank you Sony. Thank you Yahoo. Thank you Dan Harmon.  And thank you to the greatest f%$#ing fans in the history of the human race. It's the Internet. We can swear now."
And if it isn't obvious already I'm beyond excited which means of course that the only way to celebrate is with one of DJ Steve Porter's Community theme remixes!
That's nice.
And as for the movie part of the hashtag?
Well Sony won't commit to that just yet but neither is it ruling out Community, the Little Bubble Show That Could, fulfilling the hopes and dreams of its fiercely loyal fandom who have saved it more than once:
"I would have thought that NBC canceling the show would have been the ending. I've learned to take it one step at a time. We're really excited about this sixth season. Beyond that, we will have to see what reveals itself."