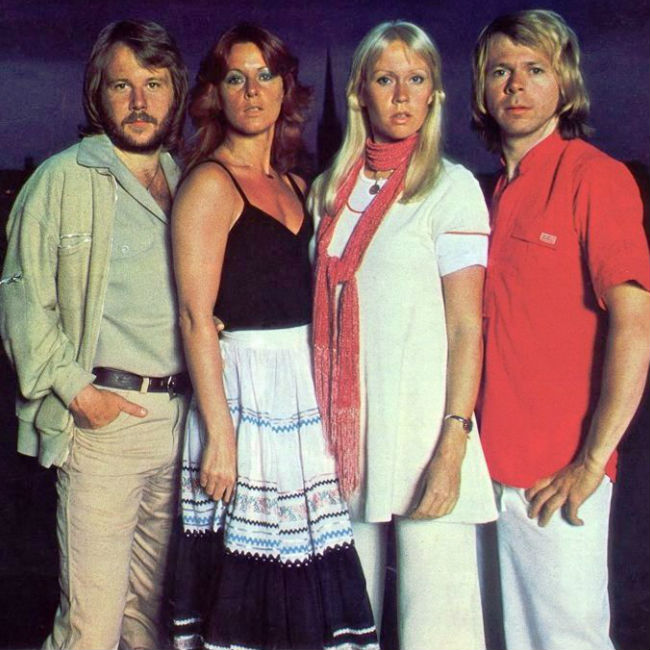 With ABBA set to release (hopefully) their first new music in 39 years, with the announcement scheduled via a worldwide event commencing at 5.45pm UK time today (2.45am Australia – and yes, I'll be up!), and the excitement for this longtime fan at fever pitch, it seems like a good time to re-publish two old posts of mine on the group.

This post originally published 25 August, 2017.
Hi everyone!
I'm Andrew, and I've been an ABBA fan since somewhere around 1975-ish (date is murky – blame my failing memory!). I grew up in a small town, Alstonville, just south of Byron Bay, far enough from major cities to not really be country but so far away that getting to see ABBA in concert in 1977, which I desperately wanted to but didn't, was an insurmountable logistical nightmare. Suffice to say that is one of the great regrets of my life. (I did manage though to spend all my pocket money on ABBA bubblegum cards, magazines, poster books etc and the all-important singles and albums so it kinda evened out. Sort of.)
While ABBA are no longer the be-all-and-end-all for me musically – I listen to everything from Pink to Coldplay to all the new and emerging bands on the web – they are the one band that has had a profound, lasting impact on me, who have their own special enduring place in my heart (sorry Chris Martin but that's just the way it is I'm afraid) and the only one that has shelves and boxes in my home devoted to everything they've ever done. So yes, I would consider myself a lifelong hardcore fan whose big bucket list item, besides going to Jersey Zoo (also a lifelong fan of Gerald Durrell), is going to the ABBA Museum in Stockholm. (Made it to ABBA World twice when it was in Sydney and Melbourne so I have some idea of what's instore.)
Now as far as the list goes, my taste in songs is a mix of expected and quirky – I love me a good B-side! and a lot of the later songs that often get ignored – so expect to see some surprising songs in my top ten and generally. Suffice to say, I had to leave a lot of favourites out, a very Sophie's Choice problem because I can't think of a single ABBA song I don't like in some way.
Anyway here it is and enjoy … I look forward to your thoughts …
1. That's Me
I have loved this song with a fierce passion since I first heard it all the way way back in 1976. Infused with a giddy defiance of others' expectations and a headlong musical momentum that dares anyone to stop it, the song is a delicious, disco-infused statement of mischievous rebellion. Granted it's not everyone's cup of self-proclamative tea – Robert Scott described it in ABBA: Thank You for the Music as merely "a blueprint for such subsequent gems as "Gimme Gimme Gimme" and "Voulez Vous" – but its bright, jaunty and a giddy burst of "I am what I am" joy that never ceases to make me happy.
2. The Visitors
Ostensibly written about dissidents in Soviet Russia, the song is all building tension, jangly nerves and lives on the line, erupting into a right-to-the-depths-of-your-marrow, goosebump-inducing descent into a maddening spiral of "crackin' up". Intense, alive and full to the brim with paranoia and alarm, it's a brilliant blend of removed vocals and pounding beats. Atmosphere plus.
3. Elaine
For a good Christian boy who had been instructed to turn the other cheek to bullies, of which there were unfortunately many in my youth, the idea that you could "hate", "scream" and "swear" was fantastically liberating. The B-side as we all know to 1980's "The Winner Takes it All", "Elaine" was stark, confronting, a captivating melange of dark synth, strident vocals and an unnerving sense that they really were out to get you. As catharsis through songs goes, this is pretty much the apex.
4. Name of the Game
As ABBA fans of a certain vintage will attest, the wait between albums was always interminable. So when "The Name of the Game" dropped as the first single from ABBA: The Album in 1977, I devoured it like it was best pop meal I'd had in ages (to be fair, that was pretty much the case). The plaintive longing in Agnetha's vocals, the glorious way Frida's vocals come in and amp up the wondering tone, the evocative bassline beats, and the way the lyrics convey so beautifully what it's like in the first throes of a romance you really hope will go somewhere, make this an absolute gem. The big lingering question for me – how did this not get higher than #6 in the Aussie charts? I have no idea.
5. Watch Out
I know that the Waterloo album, bar the gem of a title track is not loved by all, and see as a haphazard exploration of what ABBA could or might sound like. But I am rather partial to many of the tracks including this one that is full-on rock goodness with some excoriating snarly vocals by Björn who is surely aiming for eternal rock god status, crunching guitars and a beat that burrows into your soul. It's the first of many tracks that showcase ABBA's rockier side and while it's not perfect, my lord does it have attitude and passion.
6. My Love, My Life
An exquisitely beautiful song that captures the wonders and mysteries of love, its possible tragic loss and sets it to a dreamily lovely melody. I can fall into this song and never get out again; I especially love the very Scandinavian blend of light and dark in the song and its evocation of love's everlasting nature, its persistence even when the relationship that gave it birth is gone.
7. Knowing Me, Knowing You
Love bites the dust in this existentially-tortured song but how beautiful does the death of romance sound? The ethereal vocals, the sweetly mournful melody and the lyrical regret all combine for a song of such wistful power that I find myself lost it in every time. None of us ever want love to die but if it does, then this is the soundtrack you want for it. My fond memories of this song come from its inclusion in an Australian TV special, which also featured the delights of "When I Kissed the Teacher".
8. Waterloo
Thundering out the gate from the get-go, you can well understand why the title track from ABBA's 1974 follow-up to Ring Ring stormed to #1 at the Eurovision Song Contest. It just never lets up, sweeping you up in its tale of a love so powerful you have no choice but to surrender to it.
9. Should I Laugh or Cry
There is an aching brittleness to this song, and a simmering darkness that grabs me every time. Love has soured and curdled and Frida is alternating mourning it and snorting derisively at the fact that it continues to exist at all. The music is haunting, capturing that weird limbo where the relationship continues but only as a despised shell of its former self.
10. Take a Chance on Me
I love how this song makes a heartfelt pitch, with just a little desperation thrown in for good measure for the love of someone that you get the feeling is more than a little out of reach. As longing for the romantically impossible goes, its catchy as hell, danceable fun that contrasts neatly with the imploring nature of the lyrics.
11. Hole in Your Soul
This was supposed to be the first cab of the rank singles-wise for The Album but much as I love it, I suspect it it wouldn't have done as well as "The Name of the Game". What it does have in spades is a rip-roaring, pounding beat, some delicious attitude and energy and one of the best homages to rock's power to heal the soul, and if that doesn't work, to divert it from the pain for a while.
12. On and On and On
More rock and this time a clarion call to hold fast even when life is heading to "impending doom" or, you know, another same-old night out. Finding love can be a chore as much as a delight at times and ABBA catch that unsettling duality perfectly. Plus the song kicks butt, taking you, well on and on and on without pausing for breath once.
13. Like An Angel Passing Through My Room
If ever there a song that captures the end of all things, and the melancholia that accompanies it, it's this metronome-accented song featuring what I think are Frida's most poignant vocals. Loss, regret, memory, all the things you had in life and lost come to settle in this desolate but supremely touching song that captures what it is like to truly live and look back at what was and what is now. The older I get the more it affects me and the more I relate to it.
14. S.O.S.
"Whatever happened to our love?" Agnetha delivers that line with a mix of sadness and genuine bewilderment, beautifully articulating how awful and chaotic and destructive the aftermath of a relationship can feel. And how, even though it's gone and gone forever, how you would give anything to get it back.
15. Gimme! Gimme! Gimme! (A Man After Midnight)
This slice of pumping disco perfection leaped into my consciousness at about the age when I was grappling with the fact that I, a Baptist minister's was gay. It seems faintly hilarious now that I changed the lyrics to "a woman" but that was where I was at the time. Of course, it was in fact the cry of my heart and so it's mix of furious upbeat melody and desperate longing, means a huge deal to as a result, far more than a simple dancefloor burner.
16. When All is Said and Done
When this song was released in 1981, ABBA were effectively at the end of the first stage of their career, and channelled much of their philosophical reaction to things in this song. As a teenager, I didn't quite understand its innate poignancy but now I am tad, just a tad older thank you, it makes way more sense. You don't like to think anything will end when you're younger, but as you get older, you know it's a sad, lamentable part of life and you can either rail against it (gets you nowhere really in the end) or you can accept it, and move on, painful as it is.
17. Chiquitita
The memories associated with ABBA's contribution to UNICEF's worthy coffers are still crystal clear to this day. The night I heard it for the first time, I had rushed home, with my parents' help, from a church social day (where I played cricket! Yes me, the most unsporting person I know) to see the live telecast. This was pre-VCR so miss it and that was it. It was worth all the effort – beautiful, touching, emotionally vulnerable and melodic af.
18. I'm a Marionette
As someone who grew up in a conservative Christian church as the minister's son, I was constantly the prisoner of other peoples' firmly-enunciated expectations. So I related, and still do, to this song's feelings of entrapment, of being used and abused by everyone else, all of whom play you as they see fit without any concern for your welfare, wants, desires or needs. So the stridency and yes, painful beauty, of this song resonate massively.
19. Summer Night City
Reportedly written as a tribute to the vivacity of Stockholm in the warmer summer months, the song sublimely conjures up everything you associate with outdoor parties, time with friends and some, ahem, lovemaking in public places. Armed with a driving, spirited beat and a dance sensibility par excellence, "Summernight City" is brilliantly, effusively alive, the sort of song that makes me feel infinitely more in the moment from the first heady bar.
20. Money Money Money
Who wouldn't want more money huh? Well ABBA certainly got their wish on that score but what the fans get in return is another effervescently rich song that bounces along with an intoxicating bright, light feel. You can practically feel the yearning in the lyrics and when that anthemic chorus hits its stride, who hasn't wanted to join in, especially around credit card bill time?
21. The Winner Takes it All
Written, as we all know, post Björn and Agnetha's divorce, this song has all the feels. Every last damn one of them. It's well-nigh impossible not to listen to this deeply emotionally-resonant song and not ache for the loss of love's promise and hope. The end of a relationship has never sounded sadder, more hopeless or more desperately, gloomily immersive, or truthfully, more listenable.
22. Mamma Mia
Bright, upbeat and popping with the exhilaration of reconnecting with someone you love, will always love and cannot quite, dysfunctional tendencies be damned. Drawing on the Scandinavian penchant and talent for mixing light and dark emotions with devastating impact, the song is an admission that love can often triumph over our better, rational judgement. At least the song admits it likely won't be forever so there's some sense of lingering self-awareness. This holds a special spot in my heart as the first ABBA song that really connected with me despite my lack of love that's all wrong for me at the ripe old age of 9.
23. Super Trouper
I am fairly independent, emotionally self-sustaining guy but when I am away from my boyfriend for extended periods, I really miss him. "Awwww" you may say in a gently-mocking tone, but it means I can really identify with the longing in this song, and the thrill of knowing the one I love will soon be with me. Granted I am not a ridiculously successfully international pop star but the principle is the same and ABBA perfectly encapsulates it in this song that neatly melds melancholy and joy to an infectiously joyous beat.
24. Cassandra
As B-sides go, this is unarguably A-side quality. Anchored by Frida's emotionally-rich vocals, which never failed to capture the inherent emotional truth in a song and a link to classical storytelling that Björn's beautifully retells from a very personal perspective, "Cassandra" is all bitter regret and deep abiding sadness and a wholly affecting piece of work that my more ruminative side can really relate to.
25. The Day Before You Came
I have no idea why this song isn't given more love than it is. It deftly conveys what it is like when the banality of your life is happily ripped asunder by something totally and wonderfully unexpected. As a very young fan, I never really understood fully what that must feel like but now I'm older it all makes perfect sense, having had it happen more than once. Agnetha absolutely nails how lacklustre life feels far too much of the time and how you begin to think nothing will ever change. Until that is … it does.
26. Lovelight
There is an energy and joyfulness to this song that lifts my spirit every time I hear it. It's not just that it's glorying how wonderful new love feels; the music is bright, light, buoyant, perfectly reflecting the lyrical mood of the song. It may have been a B-side to "Chiquitita" but frankly it's A-side pop perfection.
27. Tiger
Lyrically this reminds of "I Am the City" – all urban paranoia, the pressing demands of modern life growing ever more suffocating. Energy-wise "Tiger" is boisterously, insanely full-on, its driving melody, pounding beats matching its lyrical intent with absolute precision. Talk about getting you moving!
28. Dancing Queen
I love this song. It's exhilarating pop perfection from the airy lighter-than-light vocals, the sheer joy of the music and the equally euphoric lyrics. Like everyone else, I love dancing to this song – it makes you feel like you're somewhere else entirely and that anything is possible. The soundtrack to my happy place.
29. Does Your Mother Know
What a gorgeous piece of super-danceable thumping pop rock. The song is playful, cheeky, sexy, awash in so much vivacity that anything could happen. But as Björn makes clear, not everything should happen, no matter how loose and open to possibility the bacchanalian atmosphere may make you feel.
30. Move On
I am not normally one for ballads – more so than at age 11 when I first heard it – but the harmonies in "Move On" and Björn's deep manly narration won me as did the sunshiny brightness and sweetness of the melody and lyrics that together you're moving on to somewhere altogether wonderful. It reflects a lovely '70s optimism that frankly we could do with recapturing today. Maybe it'd help if I played the song even more often than I do?
31.When I Kissed the Teacher
Did I want to kiss my teacher? Oh yeah – Mr Smith was dreamy as hell. Did I though? Sadly no, but thanks to this gorgeously bouncy, upbeat piece of pop longing, I could dream about it. Which, let's face it, didn't help my maths comprehension but then very little did so no great loss. I remember seeing the clip on an ABBA TV special of some kind (ABBA Down Under?) and wishing I could be in that classroom with my musical heroes. Yeah, and Mr Smith …
32. Eagle
There is something so soothing, so tranquil and relaxing about this song that it calms me down on those days when life has got way more hectic than I can handle. I guess with influences like The Eagles and Jonathan Livingston Seagull and the whole post-'60s, mid-'70s mellow thing going on, what else was going to happen? ABBA were about the only group that could make me comprehensively love ballads, especially as an album opener.
33. Kisses of Fire
I was, accent on the "was", a good Christian boy way back when I heard this song – a good friend once posited that male ABBA fans were either gay or Christian; briefly I was both! – so the idea of sexual anything hadn't really crossed my mind. OK I was 13 so it had begun to but I wasn't allowed to really allow my mind to go down those paths. But if ABBA did it, and they did it, in this sensuous piece of lovemaking, I mean music. It starts so softly and sweetly and then kicks into driving desire. Was I sold? Shhh don't tell the minister (my dad) but I totally was.
34. Fernando
As an Aussie, I am pretty much bound by national law to love this song and play it at least three times a day, once in Spanish. Ham kidding. But when a song spends 40 weeks in the charts in 1975-76, 14 of those at #1 – it as there for so long that the national TV music show Countdown started randomly selecting other tracks to play in its place – you have to give it its due; and honestly this is a beautiful, stunning ballad with a chart-topping slab of emotional resonance so loving it is easy, musical legend or not.
35. I am the City
There was a weird brief period between the late '80s and the very early '90s when ABBA dropped off my musical radar. But by 1993 when More ABBA Gold hot the charts, and even in the lead-up to Muriel's Wedding (1994), hit the charts it did, I was back in love with my favourite Swedes and loving the first new song in 11 years. I Am the City recalls Tiger for me – all bristling urgency, soul-stirring emotion, a paean to urbanity that had me from the first radar. This is the ABBA I remembered and loved, with the harmonies sealing the deal.
36. Head Over Heels
I'm an extrovert so I could relate to the lyrical imagery and the frothy pop fun of this song like you wouldn't believe. Granted I never rushed anywhere in a "whirl of lace" – as if I could have managed Frida in that regard! – but there as something about this song that my nascent gay extrovertness really identified with. I wasn't that ballsy yet but I'd get there and this song was my motivation. Plus it was damn listenable synth fun.
37. Lay All Your Love on Me
Yes please! in 1980 when I heard this on the Super Trouper album – my favourites are often drawn from the later albums and B-sides you'll notice, despite me being an ABBA fan from an early age in the mid-'70s – I was grappling with sexuality and the idea of someone, anyone laying their love on me was deeply appealing. Horribly sinful and I was going to burn in hell but appealing nonetheless.
38. The Piper
I have always reacted to songs deeply and emotionally and the dark, melodic mystery of "The Piper" appealed to the part of me that still loves offbeat indie films, idiosyncratic TV shows and dystopian books. Yep, that part of me was very much alive even back in 1980 and this song was its musical cheerleader.
39. Honey Honey
Delicious light frothy pop, this gorgeous 1974 track was one of the first ABBA tracks I can remember coming across. I adored the breathy vocals, the bright, light melody and the sheer love that suffused the song made it an instant favourite. Even now, it's a lovely way to celebrate love in song, its airy, lush arrangement just like falling head over heels and staying there (ABBA alas didn't but for one brief moment in time, this was everything I loved about them as musicians and people).
40. The King Has Lost His Crown
Much as I love "Voluez-Vous" (French language student from way back) and "As Good As New" (declarative optimism is an appealing thing), this song is one of my 1979 favourites. The music is sublimely beautiful, with ABBA contrasting an exquisite melody with lyrics of loss and humbling. I actually felt really bad for the king, no matter what he'd done, since ABBA made his downgraded state feel so lost and forlorn.
41. Me & I
Have you ever felt like you're at war with yourself? I constantly did during my teenage years, trying to reconcile my burgeoning gayness with the fact that I was a Christian and a minister's son. If ever there was a song that captured that great, then-troubling divide, and the angst it caused me, it was "Me & I". And that line "Everyone's a freak". Oh how it made sense to me! Truth in a lyric and infinitely reassuring.
42. Angeleyes
Oh this song was so dreamy. The idea of gazing into someone's eyes and being so smitten and in love/lust/whatever the hell works was something that I longed for, especially as I felt at the time, gay boy in a straight Christian world, that the possibility of this ever happening to me was remote. But with this song on? A boy could dream and hope and fantasise and I did.
43. You Owe Me One
I know some people think this is a throwaway, end-of-active-career song but I love it's effervescently forthright demands for reparations for past romantic wrongs, its jaunty driving synth beat and it's "Head Over Heels"-ness ballsiness. As swansongs go, this was fun, dark, light and twisted all at once.
44. I Wonder (Departure)
I always identified with this song for some reason but it wasn't until I left for uni un early '84 that it really made sense to me. That moment when you know, you just know, everything's about to change forever, and you want it to and you don't all at once? ABBA poured all of that into this remarkable song and fashioned a poignant, affecting melody around it that makes you stop and remember what it's like to move on (wait, that's another song!)
45. Dum Dum Diddle
Frida or Benny or someone might have once said they think it's a bit silly and yeah it won't get Björn into the lyrical hall of fame but as fun, silly, irresistible pop confections go, this is a gem. It's one of those songs that I dance to around the room, pretending I'm a teenager again … well, until my back gives in.
46. Arrival
Up until I heard "Arrival" on an album I only ever owned on cassette until CDs came out – my greatest thrill as a kid was having the DJ on a local community radio show borrow my tape because his had worn out! – I was never really the sort of person, really kid, who liked instrumentals. But oh my god, this was the most beautiful, spine-tinglingly good piece of music I had ever heard, rich with emotion, sublime background vocals that sound like the perfect soundtrack for anyone arriving anywhere. If only I'd been able to afford a helicopter …
47. So Long
Another of ABBA's brilliantly intense, driving rock songs that fairly bursts with punchy emotion and a deliciously defiant air of individualism that excites me to this day. As someone pushed from either side by bullies and over-involved church people (Dad was a Baptist minister) growing up, the idea of telling everyone to get completely and utterly stuffed was so incredibly appealing, especially that sounds so in-your-face good. I never did tell the world to leave me alone like Agnetha and Frida managed but god, this song got me so close!
48. Under Attack
The final single from ABBA had me feeling enormously sad. At 17, I wasn't used to say goodbye to many people or things and losing a group that had been my musical and life bedrock for years was devastating. As farewell songs go, "Under Attack" was the perfect send off – melancholic with a sense of things being overwhelmed and taken. I always was, and still am, a very emotional guy and this song affected me very deeply.
49. King Kong Song
If ever I wanted really let loose, go all ape shit crazy (definite deliberate use of language there), this was my go-to track. I had to watch myself growing up in the religious fishbowl I called my childhood and this song gave me the kind of release, musically and lyrically, that real life couldn't manage. Plus it's a freaking, driving, wildly alive piece of rock 'n' roll that to this day gets the blood rushing. If ever I was a boxer going into the ring, this'd be my warm-up song.
50. Nina Pretty Ballerina
Poor Nina – shy, uncertain, and considered a bore but my lord could the girl dance. I loved this song because it was a slice of bright, pretty pop but I loved the idea of someone living a secret life, of having something special and wonderful that was just hers. Let everyone think what they will. Nina was OK thank you.