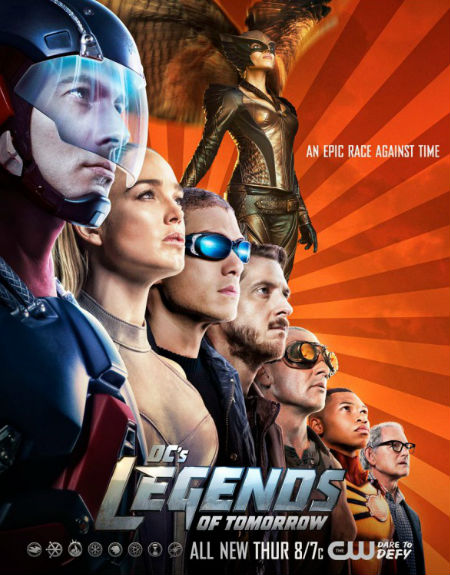 *SPOILERS AHEAD FOR SEASON 1 … READ ONLY IF YOU WATCHED SEASON 1 OR CAN GO BACK IN TIME AND FORGOT YOU READ THE FOLLOWING BEFORE WATCHING SEASON 1 WHICH COULD CREATE A PARADOX … AND NEVER MIND*
SNAPSHOT
After the defeat of the immortal villain Vandal Savage and the corrupt Time Masters who colluded with him, a new threat emerges. Dr. Nate Heywood (Nick Zano), an unconventional and charming historian, is thrust into the action upon making a shocking discovery – the Legends are scattered throughout time.

Nate must find a way to rescue season one's beloved team of heroes and rogues, including billionaire inventor Ray Palmer (Brandon Routh), who has created an exo-suit with the power to shrink him to miniscule size, as the Atom; Sara Lance (Caity Lotz), the White Canary, a trained assassin; Professor Martin Stein (Victor Garber) and Jefferson "Jax" Jackson (Franz Drameh), who together form the meta-human Firestorm; and Mick Rory (Dominic Purcell), aka Heat Wave, a career criminal. When the Legends encounter the J.S.A (the Justice Society of America, the precursor to DC's Justice League) in the 1940s, Amaya Jiwe (Maisie Richardson-Sellers), aka Vixen, joins the team. While the team reunites, a mystery looms – the fate of former captain Rip Hunter (Arthur Darvill).

Once reunited, the Legends continue their new mission to protect the timeline from temporal aberrations – unusual changes to history that spawn potentially catastrophic consequences. When Nate, the grandson of J.S.A. member Commander Steel, unexpectedly finds himself with powers, he must overcome his own insecurities and find the hero within himself. Ultimately, the Legends will clash with foes both past and present, to save the world from a mysterious new threat." (synopsis via DC Legends of Tomorrow wikia)
So as you might expect when an entire series arc gets ready wrapped nicely and neatly with a pretty red temporal bow, there is change afoot for DC's Legends of Tomorrow.
Given that Vandal Savage has been despatched to chronological oblivion, as have the Time Masters with whom he was colluding, it stands to reason that Hawkgirl (Ciara Renée) and her newly-restored fellow immortal paramour Hawkman (Falk Hentschel) won't have much of a role to play in season 2.
Captain Cold (Wentworth Miller) who valiantly sacrificed himself to save his close friend Mick Rory/Heat Wave (Dominic Purcell), is gone too for the most part, with only recurring roles on Legends and another DC TV universe show The Flash.
The plan has always been, according to Legends co-creator/executive producer Marc Guggenheim (quoted on Deadline) to give each season an anthology-feel, with each containing a discrete cast and storyline that loosely links to the former but isn't entirely beholding to it:
"We always wanted Legends to be distinct season to season, not only in terms of the composition of the team but also in terms of mission statements. The team's mission statement for Season 2 is more compelling than Season 1, and at the same time, it is more streamlined. It's a little bit higher concept, a very clean notion that will allow the show to do things that it does best."
So same rough idea with a different narrative and some but not all of the old cast, which frankly is a genius idea from a creativity perspective.
Alas poor old Dr. Ray Palmer/The Atom (Brandon Routh) will be left without his dear love but then he'd pretty much lost when Hawkman turned up again anyway … and then, you know, left again.
Time for a change then! (That Dad-joke level pun was brought to you by a desire to throw another time-related piece of "hilarity" in there somewhere; trust me Professor Martin Stein/Firestorm (Victor Garber) would be proud …maybe.)
Season 2 of DC's Legends of Tomorrow premieres 13 October on CW.
<