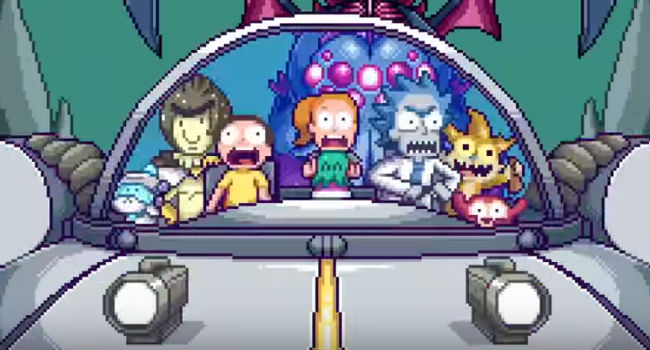 Rick and Morty, the titular stars of the epic cartoon series created by Dan Harmon and Justin Roiland, are no strangers to zipping to the past, present or future, here on Earth, far out in space or in weird alternate dimensions populated by hilariously crazy, odd creatures, many of whom want them dead or to eat them.
So it makes perfect sense that their episode intros would be redone in 8-bit style since that's the kind of thing Rick would do in a wubba lubba dubs dubs heartbeat.
Or would he? He could just as easily belch, dismiss it as stuff and nonsense and jump off to some daring new, ill-thought out adventure that endangers his grandson Morty and yet miraculously ends well.
But having watched this inspired 8-bit re-do of the series introduction, created by Paul Robertson and Ivan Dixon, and released by Adult Swim who screens the series, I can't help but think that he and Morty would approve.
It's makes all the witty craziness look that much goofier, and while that kind of hilarious animated insanity is not in short supply on the show, I can't help but think it makes things even wackier.
And it's a great way to fill in time while we're waiting for series to bow sometime this year.
If you'd like to see the actual intro next to the 8-bit version, you're in luck! YouTube user Song Comparisons has neatly lined them up side-by-side …