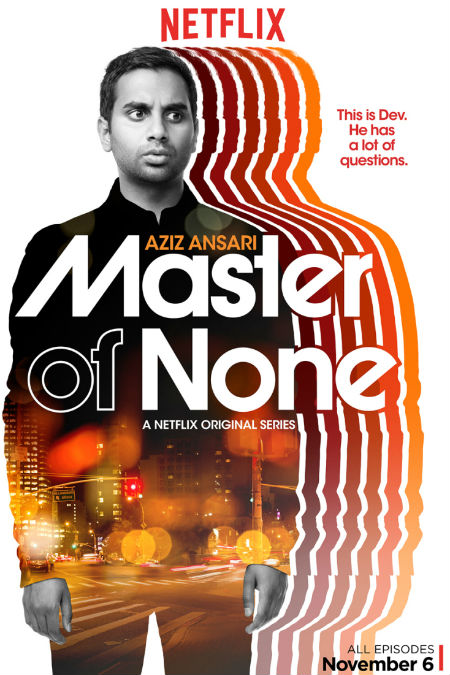 SNAPSHOT
Master of None follows the personal and professional lives of Dev, a 30-year-old actor in New York who has trouble deciding what he wants to eat, much less the pathway for the rest of his life. Ambitious, funny, cinematic, and both sweeping in scope and intensely personal, Dev's story takes him through subjects as diverse as the plight of the elderly, the immigrant experience, and how to find the most delicious pasta for dinner. (synopsis via TV Calendar)
http://zap2it.com/2015/10/master-of-none-trailer-aziz-ansari-noel-wells-netflix/
http://zap2it.com/2015/10/master-of-none-trailer-aziz-ansari-noel-wells-netflix/
http://zap2it.com/2015/10/master-of-none-trailer-aziz-ansari-noel-wells-netflix/
http://zap2it.com/2015/10/master-of-none-trailer-aziz-ansari-noel-wells-netflix/
"In Aziz Ansari's new Netflix comedy Master of None, the Parks and Recreation alum plays an actor named Dev, his real parents play Dev's parents, there's a running subplot where he takes a supporting role in a "black virus movie" called "The Sickening," and there are cameo opportunities for everyone from Claire Danes to Busta Rhymes.

"With that description, it would be safe to assume "Master of None" would be another showbiz navel-gazer, made by people — Ansari co-created the series with fellow "Parks and Rec" alum Alan Yang — only capable of, or interested in, writing about the world that's immediately around them.

"But what makes "Master of None" so special — and instantly not only one of Netflix's best series, but one of the best shows on TV — is that it's the thematic opposite of that. What defines Dev isn't that he spends a lot of time on movie sets, and gets to hang out with Busta Rhymes at a Knicks game, but that he keeps reminding himself to be curious about people and things well outside of his comfort zone."
It's that perspective, that willingness to learn about the way others think and feel and the way in which they see the world that provides much of the "excitement, laughter, and pathos" that comes from Master of None.
And it's why, popcorn in hand, and a trigger-happy remote remote finger at the ready, that I will bingeing this promising show first opportunity I get.
All the episodes of Master of None S1 is currently available on Netflix.