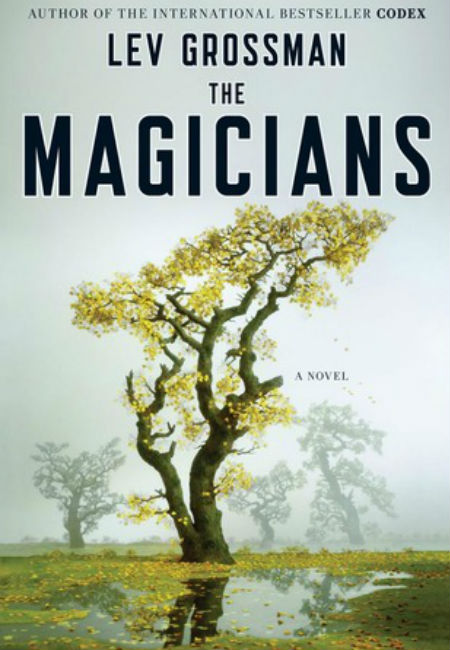 SNAPSHOT
Based upon Grossman's books— the first of which was published in 2009 — The Magicians stars Jason Ralph (A Most Violent Year) as Quentin Coldwater, a brilliant grad student who enrolls in Brakebills College for Magical Pedagogy, a secret upstate New York university specializing in magic. He and his twentysomething friends soon discover that the magical fantasy world they read about as children is all too real — and poses a grave danger to humanity. Stella Maeve (Chicago P.D.), Hale Appleman (Teeth), Arjun Gupta (Nurse Jackie) and Summer Bishil (Towelhead) also star in the one-hour drama. (Synopsis via io9)
You've got to hand it to Syfy.
When they said they wanted to substantially ramp up the number of original scripted dramas on the channel, particularly those of a more magical or sci-fi nature in keeping with its founding raison d'être, they weren't kidding.
It joins, notes io9, a lot of other shows already in development on the newly resurgent syfy:
"The Magicians joins Syfy's roster of scripted and development projects, including the upcoming 10-part series The Expanse, starring Thomas Jane; Arthur C. Clarke miniseries Childhood's End, also set to premiere this December; Gale Anne Hurd's 13-episode thriller Hunters; David Goyer's Superman prequel Krypton; and Incorporated, a thriller pilot from Matt Damon and Ben Affleck."
Part of this push to be less Sharknado and more Battlestar Galactica – there had been a proliferation in recent years of schlocky B-grade telemovies and an associated drop in the sort of quality dramas they'd once been known for – is the new 12 part series, which begins filming this US summer, The Magicians, based on Lev Grossman's books, which have been lovingly referred to as "Harry Potter for grown-ups".
And certainly the first trailer for The Magicians, which features the immortal line "Do some goddamn magic!" – the faculty has what you might refer to as a rather muscular teaching style that pushes for results – and some rather acrobat sexual machinations, is world's away from the innocence of Harry and his cohorts (although as time went on Hogwarts lost a great deal of its innocent glow too; such is the nature of growing up, I suppose).
Io9 reports that Grossman, as most authors would be, is pretty happy to finally see his books, which have been in a mild development hell of sorts since 2012 finally make it on to the small but increasingly influential screen:
"Ever since The Magicians was published, I've wanted to see this story onscreen. The people, the school, the other worlds, the magic. I'm so thrilled that it's finally happening, and I'm beyond thrilled that we found the right people to do it."
No word yet on exactly when The Magicians will burst onto our screens but look for it sometime in 2016.