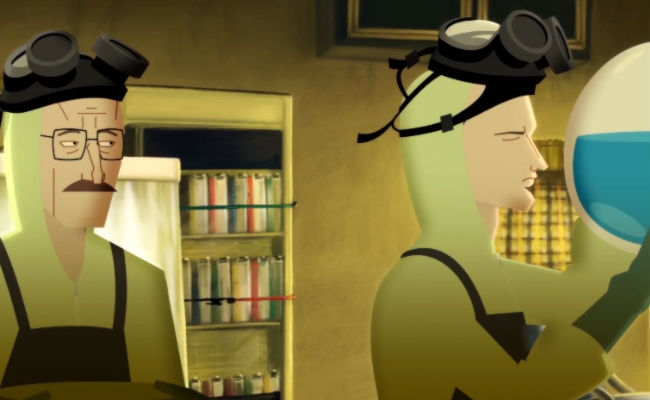 * IF YOU HAVEN'T BINGE-WATCHED BREAKING BAD YET THEN … SPOILERS! *
Awww Breaking Bad finally has a theme song people and it's wonderful!
It's all thanks to Frozen, which truth be told, is not the first thing you would associate with Walter White and his ultimately corrupting plan to get rich from cooking meth, and the the very animated people at animeme, who simply describe themselves as "The internet, animated."
And as Popwatch at EW observes, it encompasses everything you could possibly want in a Breaking Bad theme song:
"The Disney-esque mash-up serves as a quick recap of the series, from the RV days to Gus' demise and every fly in between. Sure, there are minor details (and Nazis) missing, but can you really fault a video that works in Jane's overdose?"
Granted building a snowman is probably far less illegal; OK it's not illegal at all, and notably far less corrosive to the soul but it ain't gonna more than comfortably set your wife and kids up for life after you've gone now is it?
Parody though it may be, and littered with hilarious visual bon mots such as Walter's pants falling to the ground in public, it actually takes a fairly serious emotional look at the highs and many lows of Walter and Jesse's descent into the dark side, including its gripping series finale.
I dare you not to sing along.