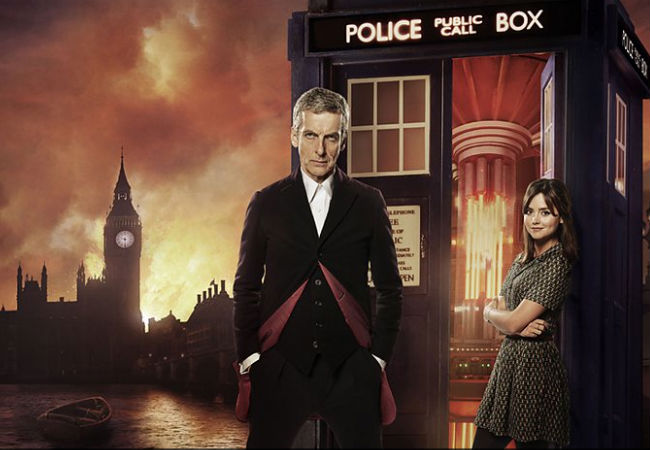 You could be forgiven for expecting Doctor Who, newly moved on from massive 50th birthday celebrations last year, and about to induct a new Time Lord occupant of the TARDIS, Peter Capaldi, as the 12th Doctor, to lay on the gravitas and serious drama for "Deep Breath", the first episode of the new era's 8th season.
And while there is drama aplenty, not least the Doctor trying desperately hard to remember who he is exactly – as with all Doctors before them, there is some post-regenration temporary dementia and identity uncertainty – and companion Clara Oswald (Jenna Coleman) trying to work how she feels about this changed man before her, the episode, gleefully and happily kicks off with a Tyrannosaurus Rex storming along the Thames River in Victorian London, moments before it vomits up a goo-draped TARDIS on the muddy shore.
Along with the almost comic book appearance of Sontaran soldier-turned-butler Strax (Dan Starkey), Silurian detective Madame Vastra (Neve McIntosh) and her wife Jenny (Catlin Stewart), regulars of the reincarnated franchise and major characters in their own right, and some witty TARDIS door opening and closing repartee and dinosaur sweet-talking – apparently Time Lords can speak Rex which makes sense really if you think about it – "Deep Breath" clearly aims to have some fun with Doctor Who before settling down to the business of scaring us once again.
Well, attempting to scare us really.
For while Half-Face Man (Peter Ferdinando), the leader of a race of ancient clockwork robots trapped underground in London for millions of years who are pillaging body parts from unsuspecting late 19th century Londoners, is diabolically freaky and also oddly melancholic, a being lost in time and space not unlike the Doctor in some ways, his role, and that of his spooky compatriots is less as a threat than as a necessary foil for Doctor Who, an older, wiser Doctor Who with spectacularly large eyebrows, to work out his kinks and get a grip on what it means to be this incarnation of the universe's favourite Time Lord.
The scenes involving Half-Face Man are chilling to a degree yes, and you are invested in finding out whether Clara, abandoned by the Doctor in the robots' lair in what may or may not be a sign that the Doctor is more brutal and colder than his previous incarnations or simply good old dithering forgetfulness, but largely this storyline simply exists to provide us with some insight into how the new Doctor, played with welcome gusto by Capaldi, will react to a threat to those he isn't quite aware he cares about yet.
Nor are we sure that the Doctor, who behaves a little cruelly at times, taking a heavy winter coat off a vagrant, played by Brian Miller the husband of Elisabeth Sladen who played beloved companion Sarah Jane Smith, at one point, and blithely leaving people to their own devices at the other, is someone we are going to particularly like.
Gone is the brusque but cheery brio of David Tennant's 10th Doctor, and the flippant, almost cavalier manic energy of Matt Smith's 11th Doctor, replaced with a man who looks like he is harder, colder, less inclined to flirting (thank goodness for that; Doctor Who as sex symbol always sat a little oddly within the franchise) and more open to do whatever pleases him rather than what is good for those around him.
But then moments of clarity become more common place, the Doctor remembers who he is and just as importantly why he is, and in Capaldi's assured and eminently capable hands, we are introduced to a new version of the Doctor who gives every suggestion he is going to be a ball to watch, as well far more substantial and measured than at least his immediate predecessor.
Thrown by the new Doctor's appearance and behaviour, Clara is understandably unnerved, as anyone would be, unsure if she wants to be travelling the length and breath of time and space with a man she barely knows anymore (to be fair for much of the episode the Doctor barely knows himself).
Confronted by a deliberately cold and unreasonably Madame Vastra, who works hard to provoke a reaction from a shocked and dithering Clara, the Doctor's companion is given some of her finest screen time yet, sorting through how she feels with an almost aggressive, and yet also emotiionally-nuanced determination, and reminding us that The Impossible Girl is both a force to be reckoned with but also a fragile, vulnerable human being.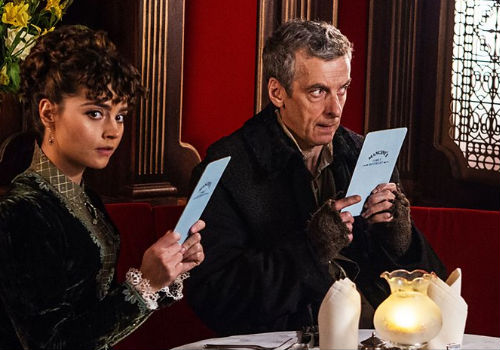 The character re-setting for both Capaldi's Doctor, who could be the making of this modern era of the franchise, and Coleman's Clara is impressively first rate (helped along by a surprise cameo) and tied in nicely to characters old – the return of Vastra, wife Jenny and unintentional comic genius Strax (whose scenes with Clara are pure comic gold – and new, especially the introduction of the enigmatic Missy, hidden away in what is religiously referred to as "Paradise" or "The Promised Land".
The only failing of this stellar episode was the rather bloated storytelling with rather more time than needed given to the Doctor's befuddlement, and the robots who were never going to be the main game in town anyway.
But as showrunner Steven Moffat-helmed episodes go, and many of his efforts, for all their inspired underpinning ideas and dazzling execution, are messy, confused and go nowhere in any sort of meaningful or satisfying narrative style, "Deep Breath" did an excellent job of introducing us to Capaldi's more serious, grave yet curious Doctor, a newly-tense and uncertain Clara, and the mystery of who Missy is, and which unknown woman has orchestrated the Doctor and Clara to come together and stay together, not once but on multiple occasions.
If Moffat can keep a tight rein on the storytelling, as he did in the brilliantly-realised 50th anniversary special The Day of the Doctor, and continue to methodically develop the new Doctor's personality and his nervous relationship with Clara, and why it matters that they are together, then season 8 (which comes with an impressively original new fan-designed opening sequence) could turn out to be a finest journey we have undertaken with the last Time Lord for quite some time.
The second episode of season 8 sees the return of the Daleks in "Into the Dalek" …