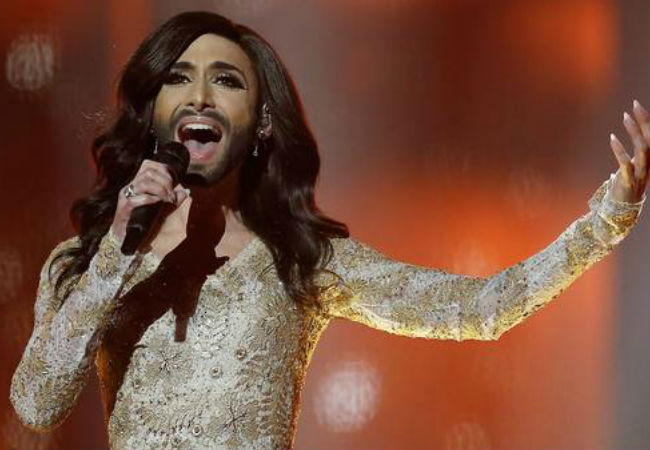 Bring on the kitsch! Bring on the kitsch!
Semi final 2, was in contrast to the relative blandness of semi final 1 – which nonetheless featured some impressive songs and performances – a veritable richness of traditional Eurovision kitschy extravagance.
And I absolutely loved Georgia (a parachute-wearing drummer? Yes please!), Lithuania (S&M fetish wear and slinky robotic dancing? Yes please again!) and the laundry porn (heavily-bosomed Slavic woman and washboards? You got 'em) of Poland's oddly discordant entry.
Loved them for their quintessential Eurovision-ness yes even if the songs in question were of suspect musical worth.
As it was only Poland actually made it through to the final, a surprise result fuelled I suspect by heterosexual men voting en masse for the act, if Twitter is any guide (and it usually is in these matters).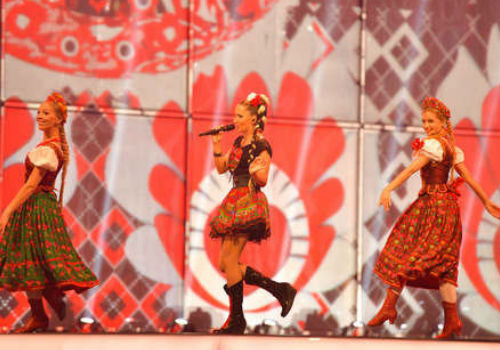 Away from gimmicks, however fanciful, fun or lustful, designed to distract voters from lacklustre musical numbers, we were treated to the immense vocal range and talent of one Conchita Wurst from Austria who powered through "Rise Like a Phoenix" with all the passion you could ask for, making her a real contender for the Eurovision crown.
It was a show-stopping moment, one that had the rapt audience, silent, attentive and in the palm of her beautifully gesturing hands which swept in and around a figure-hugging gold dress in perfect time with the deeply felt-emotions of the song.
Kitsch it most certainly wasn't and a highlight of the vastly more interesting second semi final.
Another act that grabbed a lot of attention was Teo from Belarus and his tuxedo-wearing Rat Pack-inspiredback singers.
While I would have preferred them to take the cheesecake motif to the most extreme visual possibilities imaginable – they should've grabbed Greece's giant trampoline and bounced into and out of a giant cheesecake; messy to clean up but so enjoyable to watch while it was happening! – it was classy, seductive and full of damn good innocent fun thanks to Teo's smile and the sense that he was having a ball on stage.
It may not have been the most substantial of songs but who cared when it was in full classic Hollywood-inspired mode?
And F.Y.R Macedonia were impressive too, although, alas, despite Tijuana's powerful vocal presence and staging that was awe-inspiringly good, they failed to progress to the final.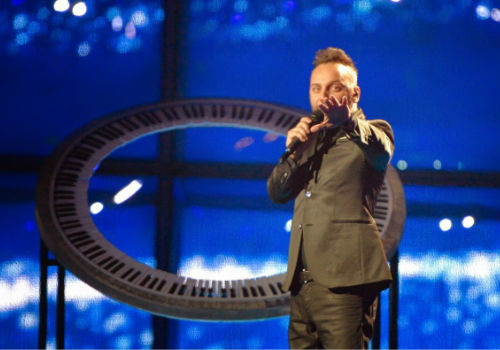 Romania too were a feast for sore eyes, managing to sing The Lady and the Tramp-style, intertwined in each other's arms and singing out their hearts while OVI played a circular piano (which let's face it may not actually be a working model).
You can see why Romania sent them back to Eurovision for another bite at the pan-European singing prize apple – they're a class act with vocal prowess and stage presence to burn (which sadly they didn't; man it would've added to the act!).
Ireland, however, despite Casey Smith's somewhat questionable but thoroughly over the top and thus eminently Eurovision-appropriate Aztec Princess out fit, failed to make the final for the first time since 2009, largely due to a performance that was more damp squib than sizzling bravura performance.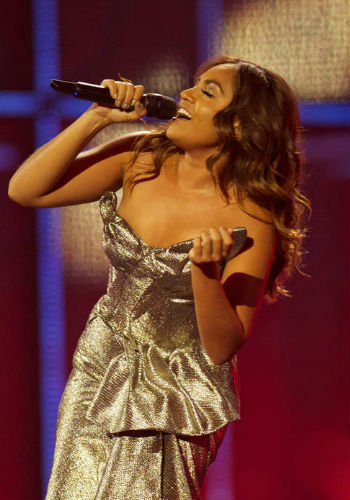 Of course the highlight for any Aussies in the audience and the hundreds of thousands watching around Australia, was the appearance of our very own soul diva Jessica Mauboy as the interval act for the second semi final.
Performing a song she had co-written, and dressed in a hard-to-miss gold evening gown, she dazzled in front of the 180 million strong viewing audience (even if the vocals were a little patchy at times, thanks largely I suspect to nerves).
It was the first time a non-Eurovision act had performed at the contest in any way, shape or form and for that alone made it a hugely historic event for a nation that owes much of its modern nationhood to the many European immigrants who flocked here in large numbers over the 20th century.
(Unfortunately the Australiana-themed song and dance number that preceded her was cringe-worthy at best.)
And now of course to the final, which at the time I write this has happened in Europe but has not been shown on Australian TV (which I am ignoring in any way shape or form so as to avoid the inevitable spoilers).
Here are my top 10 picks for the final (in no particular order other than alphabetical, although I am picking either Austria or Hungary to win; at heart I am leaning to Austria whose Conchiat Wurst stole the semi final 2 show):
Armenia
Austria
France
Greece
Hungary
Iceland
Italy
Montenegro
Sweden
Ukraine
Of course like all years, picking who will make the top 10 is a complete and utter crapshoot, with the average Eurovision addict like myself having more chance of winning a mega-millions lottery than picking who makes it up on the Eurovision stage.
But that has never stopped me trying so fire up the wind machine, switch on the LED screens and may the best overly emoted song win!