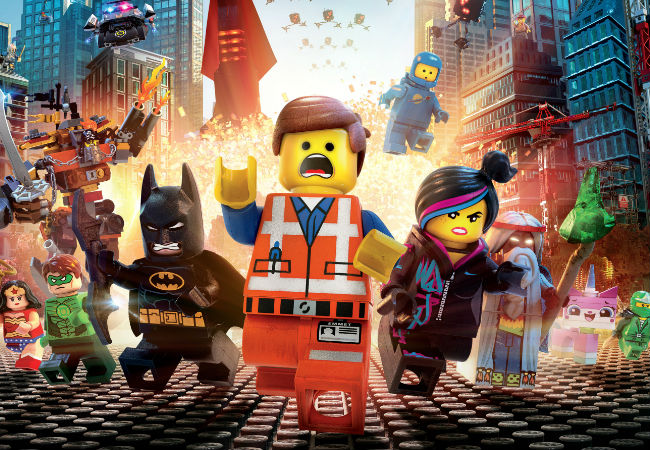 SNAPSHOT
A lowly Lego figure (voiced by Chris Pratt) joins a group intent on battling an evil force after a case of mistaken identity in this computer-generated comedy from the filmmakers behind Cloudy With a Chance of Meatballs and co-director Chris McKay (Robot Chicken). Will Arnett co-stars as the voice of Batman, who along with Superman, make appearances in the Warner Bros. picture. Elizabeth Banks, Morgan Freeman, Will Ferrell, Liam Neeson, and Alison Brie head up the rest of the voice cast. (synopsis by Jeremy Wheeler, Rovi via fandango.com)
It takes an awful lot these days to make me feel like a kid again.
It's not that I have lost my sense of wonder or fun, my ability to see the ridiculous when necessary or my love of insane amounts of giddiness-producing sugar.
No, it's more that as life has gone on, the ability to be transported to a place of utter glee and joy seems to be harder and harder to get to, barricaded by all the cares and responsibilities and been-there-done-that ennui that comes with adulthood.
Well, I am happy to see I may finally have found my childlike happy place once again with these new clips from the upcoming The LEGO Movie leaving me feeling like a kid again, ready to assemble all kinds of fun from a multitude of tiny coloured bricks.
While I can safely say that none of my LEGO figures ever came alive while I was playing with them, except of course in my fertile imagination, if they had sprung into action in real life, I am certain they would've sounded just like the characters in The LEGO Movie (especially Emmet who is an absolute delight and Batman who is over the top silly and pretty much steals every scene he is in).
In all of the clips (below), every single one of the characters act with all the fun and silliness I would've expected of LEGO figures; it's odd because I never really gave much thought to exactly how the LEGO figures I played with would sound but I am sure that this is just how they would've acted, talked and behaved.
And I am excited like a little kid about seeing The LEGO Movie when it opens on 3 April 2014 (yes we have to wait 'til school holidays alas; thankfully my niece and nephew will be free to come and see it with me!).
* Thanks to joblo and cinemablend for sharing these clips with the world.