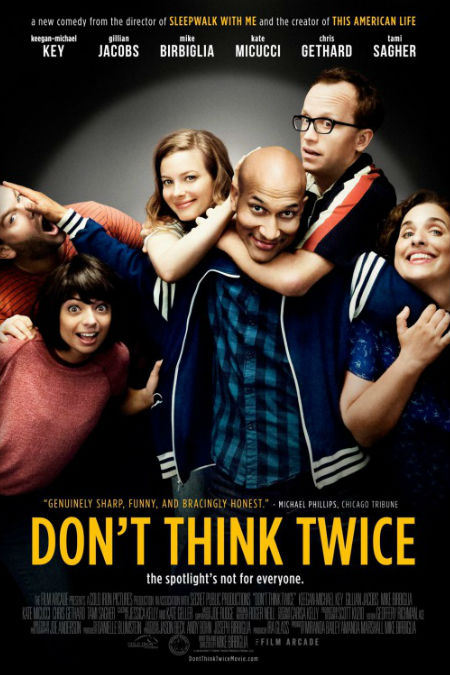 SNAPSHOT
"The film revolves around best friends who are inseparable members of a well-regarded NYC improv troupe. But after two of them audition for a coveted spot on a hit TV show and only one of them lands it, the tight-knit group of friends and collaborators is thrown into disarray as they start to realize that not everyone is going to make it after all." (official synopsis via Teaser Trailer)
Let's be honest – even though we all do what we creatively do for the love of it, we all hope, deep down, and often not-so-deep down that someone will notice we're doing it and love it as much as we do.
But whether we get noticed or not, and getting noticed sits at the heart of Mike Birbiglia's rapturously-reviewed new film Don't Think Twice, the key thing is it enough to simply keep the art alive? Is there enough sustenance in that or is something more needed?
It's that conundrum that lies at the heart of the movie notes Indiewire:
"If comedy is tragedy plus time, improv is the purest expression of its instability, since every moment turns on the desperation of finding the way to a joke. Don't Think Twice, Mike Birbiglia's sharply directed follow-up to his acclaimed debut Sleepwalk With Me, captures the essence of that communal practice through a tight-nit gang of New York performers struggling together to keep their art alive. A delicately wrought ensemble piece with first-rate turns by Gillian Jacobs, Keegan-Michael Key, and Birbiglia himself, Don't Think Twice scrutinizes its playful setting and finds an ideal entry point for exploring creative desperation."
When one member of the improv troupe gets a coveted gig and increased fame on Weekend Live, a thinly-veiled take on Saturday Night Live, everyone in the group begins to wonder if all that effort and creativity is worth the meagre returns:
"Yet even he grows envious when one of his former disciples lands the plumb gig, and joins the chorus of voices hoping to land a favor from the newly minted star. Meanwhile, Miles also copes with the mounting sense that he's outgrown the profession, and the claustrophobic apartment space that it affords him. " (Indiewire)
It looks like a penetrating, affecting examination of the lure of creative work and the joy of undertaking that with others, and whether in the end the purity of the art itself is enough or whether we need more.
It will be interesting to where it lands on that issue.
Don't Think Twice opens 22 July in USA.