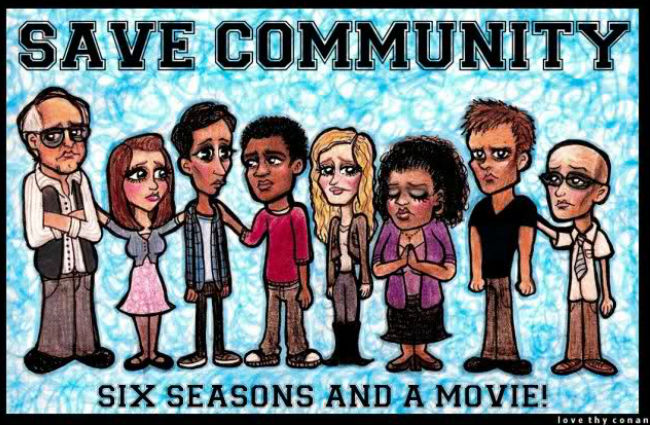 Way back in 1965, Mitch Leigh (music) and Joe Darion (lyrics) penned the song "The Impossible Dream (The Quest)" which went on to become the most popular song from the musical Man of La Mancha, the story of Don Quixote by novelist Miguel de Cervantes Saavedra.
It was variously used as the theme song for the Boston Red Sox pennant-winning season in 1967, featured on Gomer Pyle, U.S.M.C. where it was sung by Jim Nabors, and was even quoted from during Robert Kennedy's 1968 unsuccessful campaign run.
And it's a song that still has relevance today if you're a devoted and long suffering fan of NBC's Little Engine That Could sitcom Community, which two seasons ago, in the final episode of season 3 featured the immortal hashtag #SixSeasonsAndAMovie, admittedly in reference to a now defunct show The Cape.
But it triggered a groundswell of enthusiasm from fans who dared to believe this could be Community's mantra, however unlikely the prospect of it being fulfilled seemed at the time.
It became the plucky little sitcom's own impossible dream, popularised by the show's quirkily brilliant creator Dan Harmon, who used to rally the fans to press NBC to keep the show on the air.
And stay on the air Community did, although sadly not without Harmon who was fired from the show for the rather lacklustre season 4, only to be brought for the almost completed season 5 which saw the ratings-challenged series regain its once luminous and decidedly quirky, creative spark.
While the show is now without original cast members Dan Glover (Troy) and Chevy Chase (Pierce Hawthorne), it doesn't appear to have skipped a beat even if Troy's absence has meant that Abed (Danny Pudi), bereft of his partner in wacky imaginative endeavours and one half of "Troy and Abed in the mor-ning!", has had to do some growing up fast.
Abed now has a girlfriend (played by upcoming actor Brie Larson), is engaging more actively with the rest of the "Save Greendale" committee which the study group has morphed into, including recently added Criminology Professor Buzz Hickey (Jonathan Banks) and along with Jeff (Joel McHale), Britta (Gillian Jacobs), Annie (Alison Brie), Shirley (Yvette Nicole Brown) and Ben Chang (Ken Jeong) will be even more animated than usual in an upcoming cartoon-themed tribute to G. I. Joe.
It's yet more proof than Community is as creatively fruitful as it's ever been, with ratings that have held steady since season 3 (t's not a ratings blockbuster but more than holds its own on NBC's current lacklustre slate), leading many to believe including Dan Harmon, that a sixth season is looking promising, if not a virtually guaranteed.
Harmon had this to say on the possibility of a sixth season to Eric Goldman from IGN at Community's recent Paleyfest panel:
"It's a win/win, right? Now it's going to be equally historical whether we get it or don't. That's the weirdest thing about it. Can you think of anything weirder than getting the sixth season? Yes, one weirder thing… Not getting it! Either way, it's going to be the most incredible story ever. Because you can still call the book about Community 'Six Seasons and a Movie,' if the story ends at Season 5. It will just be a story of this thing that never got to happen."
It was a sentiment backed up by Harmon's co-executive producer and showrunner Chris McKenna, also speaking to IGN:
"I really never try to count the show out. It's insane that even though we wrapped in December, we're still producing these last few episodes. That's really what I'm focusing on right now. I don't know. I keep on hearing threatened rumors of a sixth season. It's got to be something that people feel… that the gods that be, who are the money guys, must determine that they can ring some more money out of the show that way, then fine. But it would be exciting to have this sort of thrown off joke in the second season, which fans embraced, turn into this reality."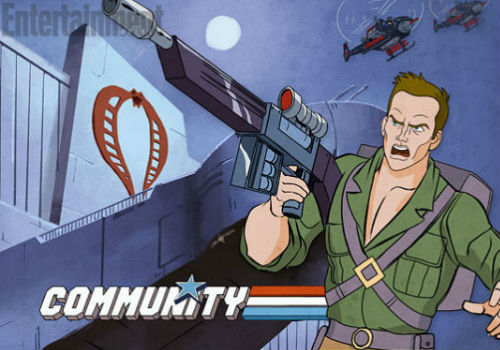 If a sixth season does come to pass, and given the fact that Community remains profitable for NBC thanks to parent Universal's part ownership of the show and very profitable syndication on Comedy Central, then could a movie be that far behind?
Absolutely if Harmon has anything to do with it:
"If the movie has to be made out of clay and duct tape in my basement, then that's how the movie will be made, because there has to be closure." (source: Den of Geek)
While speculation now abounds on what form the movie would take, and who would direct it – hot wishful thinking tips include veteran Community director Justin Lin, and Joe and Anthony Russo –  what most fans want now is simply the assurance of that much longed for sixth season.
After which let the campaigning for the movie get underway in earnest!
Here are the some of the videos created by passionate fans who fought hard to keep the show on the air …