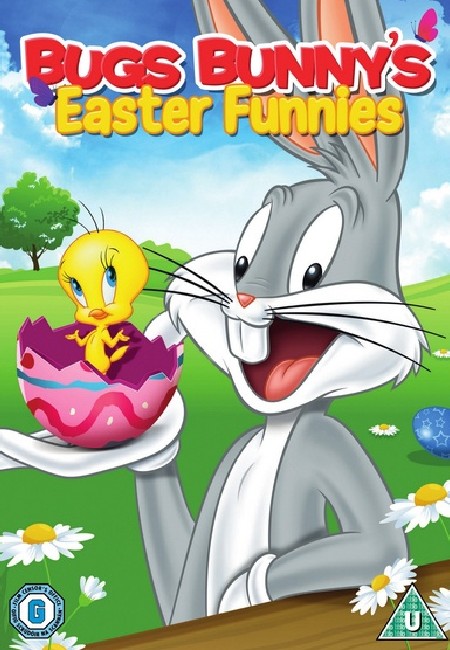 SNAPSHOT
The Easter bunny is ill, Granny needs to find a replacement for him and suggests Bugs Bunny. When she reaches the Warner Bros. lot, she finds to her disappointment that Bugs is tied up in filming Knighty Knight Bugs but offers to work out a solution after filming wraps up. Meanwhile, Daffy Duck, partially overhearing the conversation, eagerly offers Granny his services, but always dresses up in the wrong Easter-related outfit (such as an Easter egg or an Easter basket). Still tied up after filming two more shorts, Bugs decides to suggest other Looney Tunes stars, who are likewise unable or unsuited.

In the end, Bugs offers to serve as the bunny's replacement if the work can be delayed until a week after Easter; Granny considers this unacceptable, but the Easter Bunny, apparently well, arrives, and thus Bugs's services are no longer needed. In the end, the supposed Easter Bunny reveals himself to be Daffy in an Easter bunny suit (finally getting it right), which neither surprises nor disappoints Bugs or Granny, having known all along it was Daffy. (synopsis (c) Wikipedia)
Can anyone but the Easter Bunny deliver eggs?
"Surely not" you might cry; why that's as seasonally treasonous as saying that someone else besides Santa can drop down chimneys at Christmas and give good boys and girls their toys, or that it's entirely acceptable for another small and impossible to see creature other than the Tooth Fairy to reward children for doing what comes dentally naturally!
But in Bugs Bunny's Easter Funnies, an entertaining pastiche special that premiered on 7 April 1977 on CBS in the United States drawing on Looney Tunes cartoons from its 1950s golden era, that is the great dilemma facing Granny (June Foray) whose good friend the Easter Bunny – that's one hell of a social circle she's mixing in! – isn't feeling well and can't fulfill his sacred task of distributing eggs to chocolate-addicted kids (and adults) everywhere.
What to do? WHAT … TO … DO?
Granny does what anyone would do, well, anyone who's starred in Looney Tunes cartoon anyway – she goes to see Bugs Bunny, who is by species fit alone, the perfect candidate for the temporary job.
But Bugs is busy being a big cartoon star, contractually obligated to burrow to the wrong locations, mutter "I should've taken that left turn at Albuquerque" and defiantly tell characters who had wronged him that "This means war!" and he can't spare the time to sub in for another famous rabbit.
Granny decides to ask all of Bugs' friends, with his help of course if they'd be willing to take on the acting role of a lifetime but each of them isn't suited for one reason or another, something we find out by watching one or two of each of their cartoons.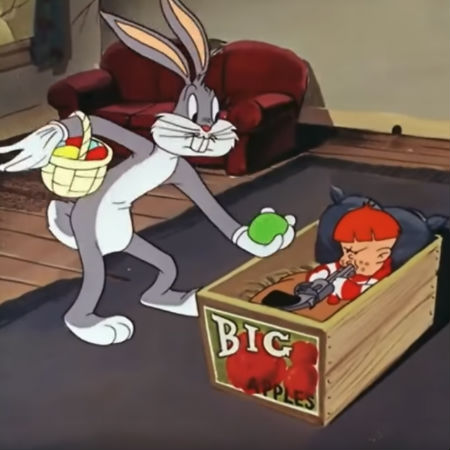 It may be a contrived reason to watch a lot of brilliantly good cartoons – "Knighty Knight Bugs", "Rabbit of Seville" and "Robin Hood Daffy" are the highlights of an inspired slate of hilariously lunatic cartoon brilliance – but it works a charm largely because the shorts are so freaking good.
Looney Tunes was a hit because it mixed pitch-perfect characterisation, visual comedy and witty wordplay to devastatingly funny effect, and as we watch Bugs best a Spanish bull in "Bully For Bugs" or Tweety once again get the better of Sylvester in "Birds Anonymous", the sheer genius of Friz Freleng, Mel Blanc, Robert McKimson, Chuck Jones and a host of other very talented people becomes gleefully obvious once again.
With Looney Tunes no longer a cinema darling, creating a special like Bug's Bunny's Easter Funnies, the story created by David Detiege and Friz Freleng, was a very clever idea, keeping Bugs and the gang in the public eye in a period between their height of glory and the renewed interest that followed the release of the cartoons on DVD and now streaming platforms.
You would like to think that the kind of comedic brilliance that propelled Looney Tunes to greatness in the mid-twentieth century would never be forgotten, and as far as real aficionados go, that is always the case, but the majority of the public, the only way to keep Bugs and Daffy Duck, Elmer Fudd, Foghorn Leghorn, Sylvester Sam and all the others in the heart and minds of the public was to keep their cartoons circulating by means of these kinds of specials.
The second of fourteen such specials which all featured Bugs Bunny as the undisputed lynchpin and star, Bug's Bunny's Easter Funnies is a gem, a TV show that doesn't feature Easter-centric cartoons, bar all the linking themed segments, so much as use the holiday to remind why we need Bugs and the gang, not just when the Easter Bunny is suck but all through the year.