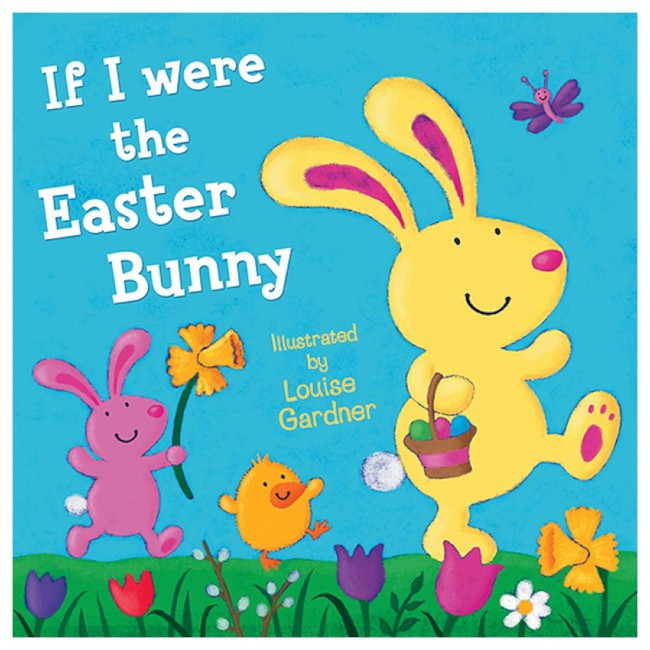 If you were the Easter Bunny, and who knows you may well be, I imagine you, like I would be a wholly happily giving type of bunny, right?
I mean, it stands to reason; how could you be in charge of dispensing so much selfless joy, all in brightly-coloured chocolatey form and not be the very spirit of generosity, joy and happy times?
You couldn't obviously and so it is in If I Were a Bunny, a thoroughly delightful picture book, illustrated with primary colour fabulousness by Louise Gardner, in which the Easter Bunny is the bringer of all things good and wonderful.
He wakes all his friends up early – it's not recorded how well this went down on a public holiday when sleep-ins are near mandatory but everyone is smiling as they emerge from the burrow so they're at least skilled in public displays of bonhomie – gathers a considerable amount of precariously-balanced Easter eggs in his basket (no sign of a shop or a factory so you have to presume some kind of child-friendly witchcraft summoned them) and then hides them all across the meadow for his friends to find.
Is that not the very essence of Easter-ly selflesssness?
It is, of course and his peppy and happy friends, who've clearly had their espresso shots, follow all this Easter egg hunting with a hopping competition, an egg-and-spoon race, and an Easter parade with everyone giddily sporting Easter bonnets.
Exhausted by all this activity, none of which the friends seem to have much say in? Fear not, for after giving their all for Easter, they are treated to, and I quote, "a yummy picnic tea" with lollies, gingerbread bunny heads (that may seem cannibalistic by association but we eat gingerbread men so not so much then?) and cupcakes and cakes.
Too full to eat it all? Fear not, for the Easter Bunny, who is never without a delightful smile on his or her face, gives them all a treat to take home.
Could it get any better? Not really, which is why the Easter Bunny after a day of selfless giving, deserves the delightful lone egg he or she keeps for themselves.
So happy Easter everyone and may you have a time, even in the midst of COVID-19, that is every bit as gorgeous, colourful and good-humoured as the one depicted in If I Were the Easter Bunny.