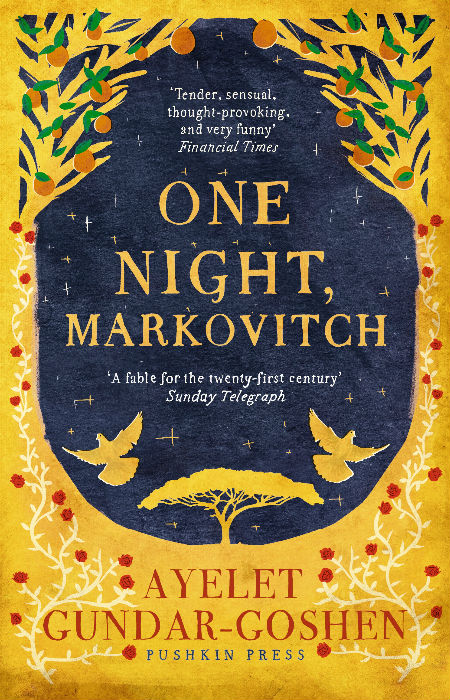 One of the fascinating things about life is how it can be intensely-intimate and majestically-epic all at once, and how these two extremes, as far apart as the poles of the earth, can be so closely related that one cannot exist without the other, nor keep themselves from influencing what happens in each other's spheres.
It's an age-old dynamic that is explored with an almost brutal poignancy in One Night, Markovitch by Ayeet Gundar-Goshen (translated from the Hebrew with prose that's beautifully emotional and unflinchingly honest by Sondra Silverston) which tells the story of Zionists who move to Israel pre-World War Two when it was still Mandate Palestine to fight for the country they intrinsically believed was theirs.
Anti-British, the Irgun, as they were known, committed a range of violent acts against the people they saw as an occupying force, in pursuit of a homeland that became theirs in 1948 once the madness and cataclysmic horror of World War Two had run its bloody course.
What makes One Night, Markovitch so compelling is that regardless of what you think of the politics or the methods employed to realise its intent, there were real people involved in this fight for nationhood, people like the titular Yaacov Markovitch and his best friend Zeev Feinberg, two men who couldn't have been more different and yet were there for each other right to the very end of their lives.
As you read this gorgeously-written book, which brims with humanity and wry, good humour in voluminously-pleasing quantities, you come to understand how such an enduring friendship could survive the tumultuous decades between meeting and parting.
"Yaacov Markovitch wasn't ugly. Which is not to say he was handsome. Little girls didn't burst into tears at the sight of him, but neither did they smile when they saw his face. He was, you might say, gloriously average. Moreover, Yaacov Markovitch's face was remarkably free of distinguishing features. So much so that your eyes could not linger on him, but slipped onward to other objects. A tree on the street. A cat in the corner. It required enormous effort to keep looking at the barrenness of Yaacov Markovitch's face." (P 11)
And it was tumultuous to an almost achingly-existential degree.
Again, politics aside, of which this book remarks only in passing, this is a story of people working for something they believe in against a backdrop of great change, the kind that could so easily derail the small but important lives caught up in its machinations.
Yaacov and Zeev, as unquestioningly-loyal members of the Irgun, duly follow their deputy commander, Ephraim's order to go to Europe with a number of other young men, marry young Jewish women and bring them back to Palestine where they would divorce them.
The aim was not so much matrimonial harmony as saving Jewish women from the coming horrors of the war and populating the hoped-for country with people who could be instrumental in its future (utilising a loophole in British immigration laws which banned further Jewish arrivals but allowed men already resident to bring their wives from Europe).
It might sound rather callous, but there were higher purposes at work here, and great stakes, so the faithful of the Irgun believed, and whatever loss came from divorcing these women, all of them arranged marriages, couldn't compare to the greater calling of the possible, and longed-for state of Israel.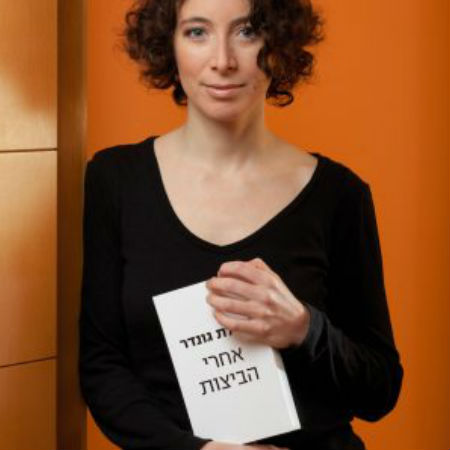 Yaacov Markovitch knows this in his headm but in his heart? Well, that is another matter entirely.
One look at Bella Zeigerman and Yaacov is a lost man, utterly surrendered to her compelling beauty and grace, the kind that is so potent that everyone in the room is aware of it – the men lustful and admiring, the women, envious and yet accepting.
The snag here is that these are false marriages, enacted in the service of greater political destiny, but as they journey back to what is soon to be Israel, Yaacov realises that he, a man who has never known love or lust to any great measure (while his friend Zeev Feinberg has known not, and in neverending amounts) cannot relinquish Bella.
Not now or ever, a notion that is understandable, not to mention impossibly romantic, but which plunges Yaacov, Bella, Zeev and his eventual real wife Sonya into all kinds of strife and trouble thought much of it percolates down through the years as allegiances and relationships shift, judgements are made, gossip is dispensed, and love is lost, found and muddied and ruined beyond all repair.
Gundar-Yoshens has created a masterfully-affecting book, full to the hopeful brim with compelling characters and some beautiful elements of magical realism and deliciously-evocative and vividly-realised prose that draws you in so completely that you cannot help but lose yourself in a story that is epically-large and yet so touchingly-intimate, often on the same page.
"The right eyebrow of the deputy commander of the Irgun rose slightly, lending his face an expression of amused puzzlement tinged with a touch of disdain. As a young man he had practiced raising his eyebrow exactly that way in front of the mirror for hours, as if he had guessed how useful that gesture would be to him when he wanted to undermine his opponent's position in an argument years later." (P. 263)
While the book's setting is quite period specific, a time that the author brings alive with all its challenge and promise, its hopes and dashed dreams, there is a universality of human experience at work here that reminds how much we give up in order to gain our dreams.
Or, in the case of Yaacov Markovitch, some semblance of it, one that comes with all kinds of caveats and which never quite delivers to him what he is hoping for, though there is some joy along the way.
Suffused with the intimacy of the human condition at its most vulnerable and raw, Gundar-Goshen beautifully extols the idea that while history might seem like a sprawling, expansive landscape populated by people who look and act with the infallibility and actions of gods, the reality is that its actors are mere mortals, people who dream big and act in accordance with them, but who, and this is compellingly-refreshing, are ultimately men and women with feet of clay whose lives are often as flawed as their motivations.
Rather than take away from the grandeur and majesty of history, the illuminating reality of One Night, Markovitch enriches it, not only shining a light on a pivotal moment of nationhood but reminding us that it is people who makes these lasting moments in time happen, and that while their actions may seem epic, their lives are intimate, real and true, and never quite what they plan or hope for.