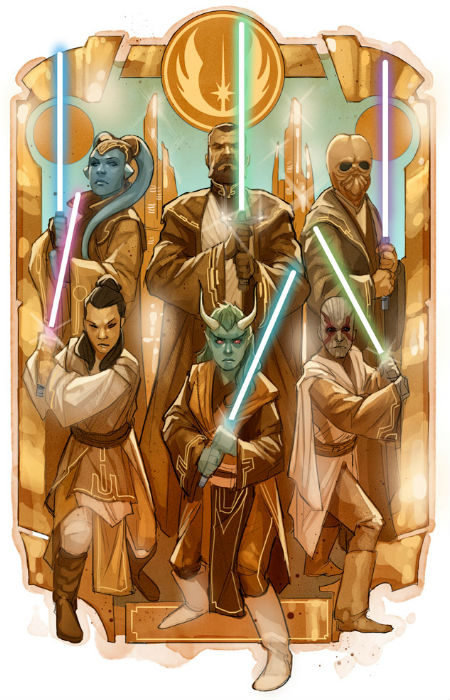 SNAPSHOT
"'Star Wars: The High Republic features the Jedi as we've always wanted to see them — as true guardians of peace and justice. This is a hopeful, optimistic time, when the Jedi and the Galactic Republic are at their height. But of course, into this glorious new era something wicked this way comes,' says Lucasfilm publishing creative director Michael Siglain. 'This initiative will give readers young and old a new corner of the galaxy to explore through rich, meaningful stories. Plus, readers will learn what scares the Jedi.'

"'This was a golden age for the Jedi, and also a time of galactic expansion in the Outer Rim. So expect there to be rich tales of exploration; charting out the galaxy, meeting new cultures, and discovering what pioneer life in the Outer Rim was like. This is an incredible sandbox for our storytellers to play in, both within publishing and beyond, and we can't wait to see the great fiction they build within it,' says Lucasfilm vice president, franchise content and strategy James Waugh."
With the end of the Skywalker Saga, for now at least, with The Rise of Skywalker, the big question looming for the Star Wars franchise is "where to next?"
You won't be surprised to learn that Lucasfilm has not only asked the question but answered it definitively with an announcement that Star Wars is heading even further back in time in the galaxy far, far away.
Hundreds of years in fact to a time when the Republic was largely peaceful but wicked things lay in wait as they always do when life as we know it seems locked securely away in a bucolic idyll.
It can't last, of course but while it does, the storytelling possibilities are almost infinite, something that The High Republic looks set to make merry with releasing tales for adults (novels and graphic novels), young adults and middle-grade readers.
The first titles including Star Wars: The High Republic: Light of the Jedi by Charles Soule (25 August) for adults and Star Wars: The High Republic: Into the Dark by Claudia Gray (13 October) with the first books and comics set to debut at Star Wars Celebration Anaheim in August 2020.
It's exciting news that should usher in a thrilling new world of storytelling possibilities in a franchise that has never been short of thrilling adventure.
For the full story and details of the various initial titles, go to "Lucasfilm to launch Star Wars: The High Republic publishing campaign in 2020″