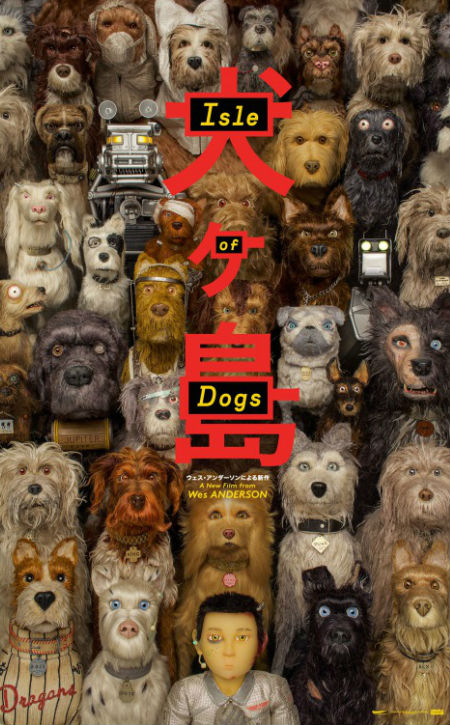 SNAPSHOT
Isle of Dogs tells the story of Atari Kobayashi, 12-year-old ward to corrupt Mayor Kobayashi. When, by Executive Decree, all the canine pets of Megasaki City are exiled to a vast garbage-dump called Trash Island, Atari sets off alone in a miniature Junior-Turbo Prop and flies across the river in search of his bodyguard-dog, Spots. There, with the assistance of a pack of newly-found mongrel friends, he begins an epic journey that will decide the fate and future of the entire Prefecture. (synopsis via Laughing Squid)
As a devoteed watcher of films that are both quirky and substantial, I am utterly, completely and irrevocably enamoured of the films by gifted auteur Wes Anderson.
The man responsible for such richly-told, visually-memorable cinematic delights as The Grand Budapest Hotel, The Life Aquatic with Steve Zissou and Moonrise Kingdom, Anderson has a demonstrable gift for creating films that dance with idiosyncratic fabulousness while still being rooted in tremendously meaningful ideas and observations.
It's a rare combination, one that is full glorious display in the latest trailer for Isle of Dogs, an emotionally-resonant stop-motion animated tale of loss, love and belonging, and yes, dogs, that looks like being one of the viewing highlights of the year.
The trailer also demonstrates that Anderson's gift for offbeat humour and winning, fully-formed charactrisation has not dimmed one bit, and once you stop laughing, it becomes immediately apparent what a banquet of riches awaits us when the film opens.
Just holds the maggots (cute though they are in stop-motion land) will ya?
Isle of Dogs opens in USA 23 March and Australia 12 April.