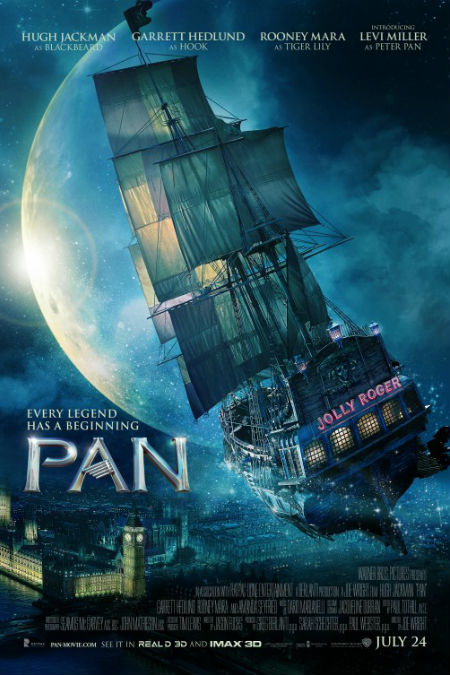 SNAPSHOT
From director Joe Wright comes "Pan," a live-action feature presenting a wholly original adventure about the beginnings of the beloved characters created by J.M. Barrie.Peter (Levi Miller) is a mischievous 12-year-old boy with an irrepressible rebellious streak, but in the bleak London orphanage where he has lived his whole life those qualities do not exactly fly. Then one incredible night, Peter is whisked away from the orphanage and spirited off to a fantastical world of pirates, warriors and fairies called Neverland. There, he finds amazing adventures and fights life-or-death battles while trying to uncover the secret of his mother, who left him at the orphanage so long ago, and his rightful place in this magical land. Teamed with the warrior Tiger Lily (Rooney Mara) and a new friend named James Hook (Garrett Hedlund), Peter must defeat the ruthless pirate Blackbeard (Hugh Jackman) to save Neverland and discover his true destiny—to become the hero who will forever be known as Peter Pan. (synopsis via Movieweb)
There is something utterly alluring about someone, anyone, discovering their manifest destiny.
It's becomes an even more compelling story when the person in question has come from humble beginnings with not much in the way of prospects, only to find out they are indeed someone of great import and value.
Think Harry Potter, Jupiter Jones (Jupiter Ascending) and now Peter Pan, a boy writ large in fantasy lore.
While we know him well from his adventures with Wendy, the Lost Boys, mermaids, pirates and fairies – all drawn from the 1911 novel by J. M. Barrie, Peter and Wendy (in turn inspired by his 1904 play Peter Pan, or The Boy Who Wouldn't Grow Up) – we haven't really seen too much of how Peter Pan came to be Peter Pan.
Well, now thanks to director Joe Wright (Atonement, Anna Karenina), working from a screenplay by Jason Fuchs, we are going to see where Peter Pan came from, and how a small orphan boy from a decrepit orphanage in London came to be the true hero of Neverland.
Starring newcomer Levi Miller as Pan, along with Hugh Jackman as his arch nemesis Blackbird, Garrett Hedlund as Hook (in the prequel they are friends) and Rooney Mara as Tiger Lilly, Pan has just had a new lush trailer released which gives little away in terms of plot – essentially Pan is the Chosen One of Neverland come to vanquish the tyranny of Blackbeard – but much in the way of Neverland itself which is shown to be quite magical, immersively vast and visually striking.
We are witness to mermaids, malleable transparent giant globes of water full of fish floating in the sky, ships travelling through the stars,a giant crocodile, colour, movement, celebration and the promise of great battles to come.
This is a world to lose yourself in, and if the story is every bit as good as the visuals, Pan is going to be an immensely rich viewing experience indeed.
Pan opens in Australia on 10 September 2015, USA on 9 October and UK on 16 October.