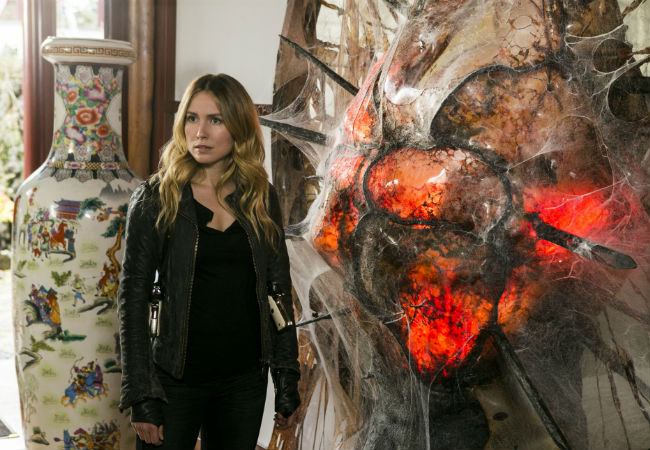 The quiz show alluding-title aside, Falling Skies was this week less like Wheel of Fortune or Jeopardy – "What is a destructive, genocidal, invasive alien species for $50 please Alex?" – or any TV game of chance to be honest, than it was a replay of every bad Christmas you've ever had.
Think Bad Santa or Surviving Christmas, where all the joy and expectation of being with family is replaced suddenly with the sickening realisation that you have somehow forgotten about the same tired, dysfunctional patterns that play out every festive season.
Before you know it, hugs, and kisses and sweet whispers of  "It's so good to see you" give way to murderous plans to see off your kid sister who has suddenly cocooned herself into a giant Espheni chrysalis and who could emerge at any moment as …
Wait a second, wait a second, that's not just anybody's Christmas – it's a Mason family Christmas!
And it's every bit as bad as every family get together those of you with aggressively dysfunctional families may recall from years past.
In the early stages when Tom (Noah Wylie), Weaver (Will Patton) and Matt (Maxim Knight) unexpectedly rendezvous with Hal (Drew Roy), Pope (Colin Cunningham) and Tector (Ryan Robbins) at Lexi's (Scarley Byrrne) Oasis of Trippy Alien Lovin' and Barely Disguised Collaborative Harmony, there are great whoops and hollers of delight and more Spielberg-ian family moments than you can poke an overly sentimental holiday gift card at.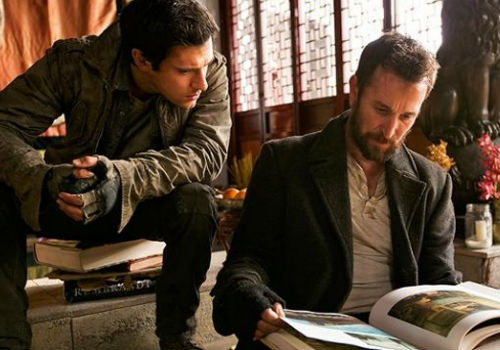 While it made sense that we would see the return of the verging-on-mawkish moments that threatened to sink Falling Skies like a downed Beamer into the ocean in previous seasons – this was after all the king of all reunions where the 2nd Mass., were finally back together again – I blanched at their preponderance after a season where the over-sentimentalising was sparely-expressed and appropriate.
Thankfully the greeting and counter-greeting and counter-counter-greetings as Tom hugged Hal, Hal hugged Matt, Ben (Connor Jessup) hugged Tom and Matt and Hal, and Tom kissed and hugged Anne was kept to a minimum, largely thanks to the fact that the final member of the Mason clan, who'd grown a bit since Tom, Hal and Matt had last seen her, had woven herself into a glowing orange, pulsing cocoon, butterfly style.
This kind of put the kibosh on the full-blown family reunion with all the trimmings as the Masons either wanted to smash it wide open (the Volm say no because it might explode; Anne, queen of impulsive moves and motherly care, ignored that and said hell yeah, let's smash it to bits!) or touch it (Don't Weaver! Ouch!) or wait and see what happens when Lexi emerges in the mother of all freakishly-unknown presents (Hal and Ben and Matt).
Hal, newly minted leader and king of grave leader-like conversations and facial expressions – who, after a single successful movement of the 2nd Mass., from point A to point B through the spooky Espheni-free corridor, thinks he is Hannibal meets Alexander the Great meets General Macarthur – was the exception, joining with Maggie (Sarah Carter), Tector and Pope in calling for Lexi to be done away with and NOW (to be fare Maggie later recanted after an entreaty from Ben to listen to the happy, kinder angels of her nature).
Naturally the angry mob, who it will not surprise you was fuelled by Pope being a right royal redneck dick again (kind of disappointing after his character growth this season to see him revert right back to Pope the Angry A-hole), who didn't so much try to storm Lexi's Pagoda of Peace and Possible Explosiveness (again if you believe the Volm who were being cagey as always) with torches and pitchforks as with guns and sputtering Pope-isms.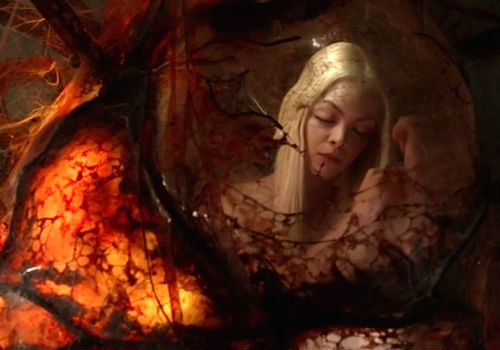 Oddly enough, and this was driven by Tom's understandable desire to be a protective father (something Weaver affirmed in another sweet but Spielberg-ian family moment), a situational alliance of necessity formed between the Masons and Lourdes' (Seychelle Gabriel) hippie-robed groupies who stood their ground as the mob came surging angrily forward.
Lourdes, who frankly has graduated from drinking the Kool-Aid to bathing in it to being connected to a 24/7 drip full of Kool-Aid, Peyote and whatever they were serving at Matt's re-education camp, thought the cocoon was the start of something wonderful, and like a giddy kid on Christmas eve or morn (again the episode recalled arguments about when to open the stash of pressies 'neath the tree), was hardly able to contain her excitement at the exciting prospects for unity between human, Espheni and Lexi.
Leaving aside her deplorable math ability – 1 plus 1 now equals three in the cult second-in-command's dreamy world of alien/human oneness – Lourdes was like the family member who thinks that the brawling, drunken name-calling and near-rioting on Christmas Day is the prelude to a kum bay yah moment over dinner that night.
No one, not even Tom or Anne, who spent much of the episode re-living, via Dr Kadar's (Robert Sean Leonard) barbiturate cocktail, some horrible repressed memories including the affectingly tragic death of her son early in the invasion, and her cocoon imprisonment on board an Espheni ship with Lexi and Karen (Jessy Schram) in order to find a way to help her daughter "escape" her glowing pod, think that Lexi's butterfly-like transformation is going to be all Christmas carols and eggnog sing-alongs.
But they didn't want to just get rid of Lexi on the basis of suspicion, fear and ugly mob rule.
Fair enough.
Time and again, Tom made the point that if necessary he would do what needs to be done, which on past behaviour may go either way since he has shown a marked reluctance to take the hard decisions until the last possible moment if it involves someone near and dear to him.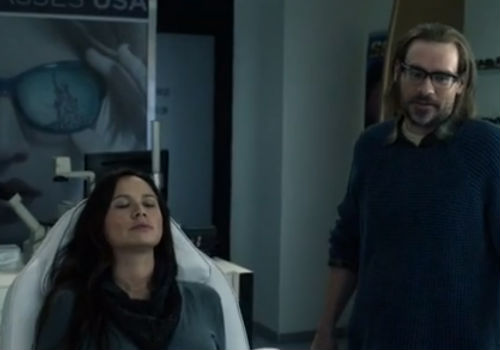 The whole episode, which essentially revolved around waiting for Lexi to do something, anything – there was genuinely touching moment near the end of the episode when Anne and Lexi place their hands against each other on either side of the pod – was an exercise in the realities of disparate people struggling to come together for the common good.
While it was an excellent dissertation on the fractiousness of human groupings, which are never the bastions of peace and harmony we idealistically think they will be – Example 1 the United Nations; example too ALL of humanity of aliens should ever invade – it relied on some characters acting, well, a little out of character, to serve the plot.
Hal, who has barely led anyone anywhere to be fair but now thinks he is the King of all Leaders, was suddenly admonishing an exhausted, tired Tom who simply wanted to stop for a day to be there for his family, for not wanting to dash straight out and storm some ghettoes, release children from the re-education camps and take the fight back to the Espheni while Pope, who has grown into a semi-reasonable, occasionally self-sacrificial soul reverted back to self-aggrandizing turd-bomb in no time flat.
I appreciate that both characterisations served the story well but they smacked of the writers taking the easy route out to keep tension flowing in the absence of any big fights with the Espheni, and did neither character any real good.
What "Door Number Three" did accomplish rather nicely was giving Anne some more backstory, set things up for a love triangle between Ben, Maggie and Hal, and more importantly prime things for a nail-biting what will Lexi become moment, and what will that mean for the human race, and what might be a looming battle between two Espheni overlords, which I guess will form part of next week's far more violent, action-packed post-Christmas Day-ish episode.
Here's the promo for the next episode "Saturday Night Massacre" …
And while you're idling in-between episodes, why not check out these interviews with the cast of
Falling Skies
at San Diego Comic Con this year, the highlights of which have been wonderfully summarised at
Buddy TV
…